Jameela Jamil Defends Sam Smith After Trolls Body-Shamed Them
"Happy, confident, and thriving Sam Smith is sending people over the edge."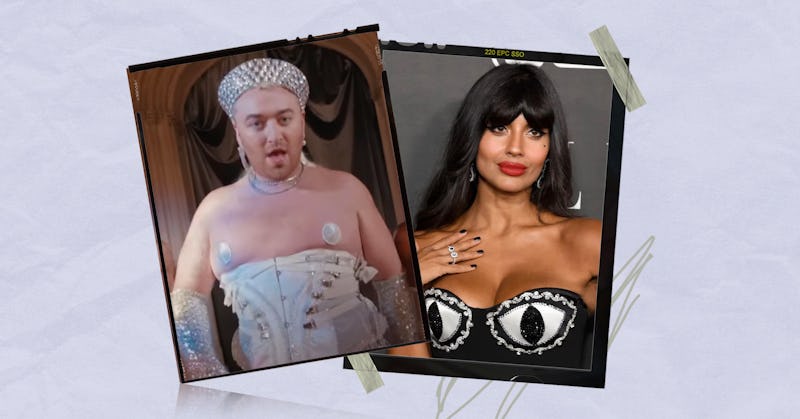 Jon Kopaloff/WireImage/Getty Images/YouTube/Sam Smith
Another day, another instance of body-shaming and conservative nonsense. Sam Smith is facing body-shaming from Twitter users and Instagram trolls alike after wearing a corset and nipple pasties, among other luxe looks, in the new video for "I'm Not Here To Make Friends," which has also been met with backlash from conservative figures. Smith has yet to comment on the outcry, but actor and activist Jameela Jamil has stepped in to defend them.
Taking to Instagram on Jan. 31, The Good Place star pointed out the difference in how people were reacting to Smith's image and music when the singer was writing sad songs compared to now, as they are actively celebrating themself and their body. "People were OK with Sam Smith having curves when they were singing about being sad and lonely," she wrote. "But happy, confident, and thriving Sam Smith is sending people over the edge."
Jamil went on to explain how "severe body image issues" are pervasive within LGBTQ+ communities. "Yet in 2023, people from within that very community even, jump at the chance to shame anyone who challenges the status quo," she said. "What threatens you about proof that you can be loved and love yourself without a (slightly pointless) 8-pack?"
Smith's video has also garnered backlash from conservative figureheads, who have argued that it's overtly sexual and inappropriate for children, despite many other artists across genders and genres creating videos with similar material, as fans like @AidanJohnMoffat are pointing out on Twitter. British journalist Alex Phillips even equated the video to "extreme hardcore pornography," according to the Daily Mail, despite there not being any explicit and uncensored nudity or sexual acts in the clip.
Many fans are pointing out the hypocrisy of Smith's detractors on Twitter, claiming that the artist wouldn't be faced with this much ridicule if it weren't for Smith's gender expression and pride in their body. "The backlash against Sam Smith is absolutely about people not wanting people to be overtly sexual unless they're skinny," @marcusjdl tweeted. "If they were doing that routine with exposed abs there would be no articles about this debating if it's suitable for children."
Smith doesn't appeared to be bothered by the backlash, as they've gone back to business as usual promoting the video on their Instagram.