Watch Jennifer Aniston's Emotional Reunion With A Friends Child Star
"That felt amazing to see her."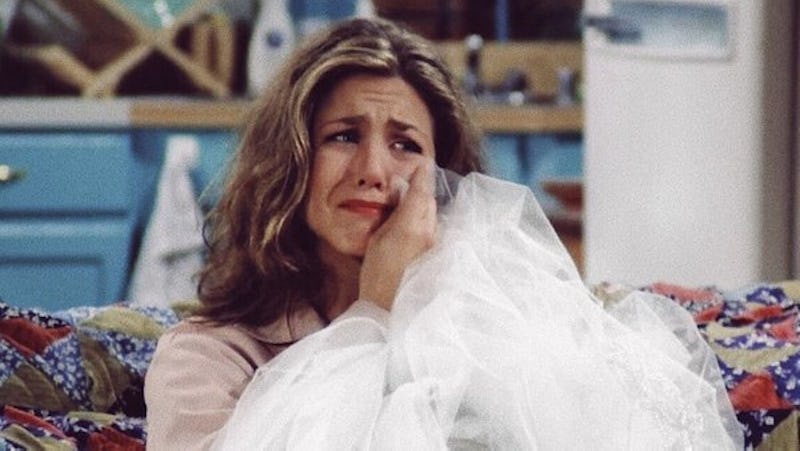 Warner Bros.
As fans of the beloved '90s sitcom know, Friends welcomed a string of guest stars throughout its decade-long run, including Brad Pitt, Reese Witherspoon, and Maggie Wheeler, to name just a few. On March 22, Jennifer Aniston (aka Rachel Green) had an unexpected, and very emotional reunion with one of the show's earliest guest stars, Mae Whitman, who made a memorable appearance during Season 3.
While backstage at Live with Kelly And Ryan, the Morning Show star crossed paths with Whitman, who appeared on the Friends episode "The One Where Rachel Quits" as Sarah Tuttle back in 1996. In a heartwarming behind-the-scenes clip, Whitman embraces a visibly surprised Aniston, telling her: "I just wanted to say hi because you were so kind to me. It was my favourite show, and you really made me feel like I was a part of the cast." The Good Girls star continued: "You were so kind and you hugged me. Thank you. It's always stayed with me. It's so nice to see you. You're amazing."
During her interview with hosts Kelly Ripa and Ryan Seacrest, Whitman — who is known for her roles in Arrested Development, Scott Pilgrim vs. The World, and The Perks Of Being A Wallflower — looked back on her Friends guest stint.
"I [was] eight years old, I think, and I got a call that I was cast on Friends, and it was my favourite show at the time," she recalled. "I remember Jen was so kind to me, she made me feel like I was part of the cast and she took such good care of me, and I wept hysterically when I wrapped. And I made her a Christmas ornament with her name on it." Speaking of her backstage reunion with Aniston, Whitman added: "That was the first time I've seen her. That was a big reunion. That felt amazing to see her. She's so cool. Such a cool person. The universe has its ways."