23 Years Later, Reese Witherspoon Still Knows Her Friends Lines
The actor appeared as Jennifer Aniston's onscreen little sister Jill Green.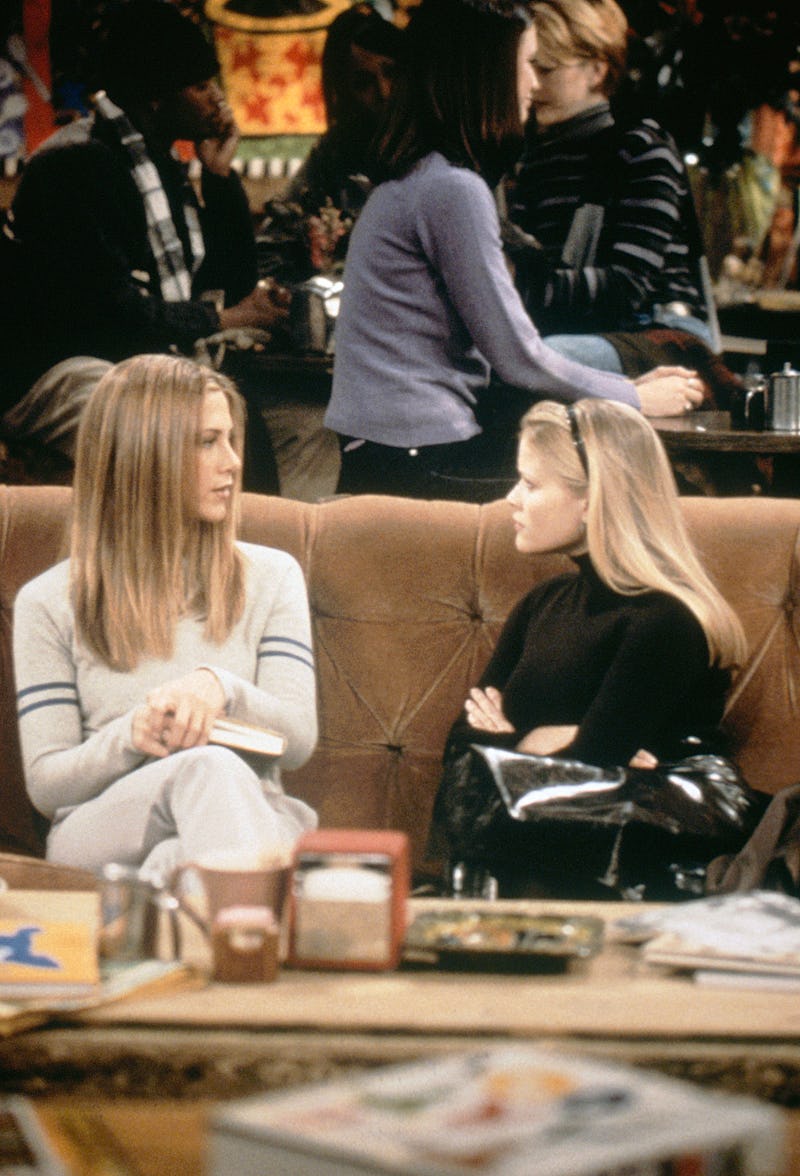 NBC/NBCUniversal/Getty Images
Reese Witherspoon is ready for the Friends revival — if it ever happens, that is. During a Feb. 8 interview on Late Night with Seth Meyers, Witherspoon revealed that she still remembers her lines from Friends over 23 years after she guest-starred on two episodes in 2000. Before starring alongside Jennifer Aniston in The Morning Show, the Legally Blonde star played her onscreen little sister Jill Green in Season 6 episodes "The One with Rachel's Sister" and "The One Where Chandler Can't Cry."
In her first episode, Jill started flirting with Ross, with whom Rachel had the most infamously complicated relationship of all time. "The funny storyline was that I started dating Ross 'cause [Rachel] and Ross were 'on a break,'" Witherspoon recalled, referencing the iconic debate. "And she gets really jealous and she's like, 'You can't date Ross.' And I was like, 'I can't? The only thing I can't have is dairy.' I still remember the lines." The actor went on to explain that she still has "all sorts of funny, famous Friends lines stuck in my head," just like the fans do.
In August, the Morning Show co-stars recreated that scene in an Instagram video as they reminisced on a photo from the Friends set. As promised, Witherspoon knew all of her lines, but she had to help Aniston remember hers, covering their faces with the photo so she could remind her.
Witherspoon previously reflected on working with Aniston for the first time on Friends, which kick-started their close relationship today. The actor said she took the guest-starring role after having her first child Ava Phillippe in 1999 and watching "every single episode" of Friends during her downtime. "It was just so wonderful," she said on The One Show in August 2021. "Jen was so incredibly nurturing and sister-like. You just saw the magic of these people who were the best at what they can do."
Fans will see them together onscreen again soon, as the upcoming season of The Morning Show just wrapped filming. "Last days of shooting @themorningshow!" Witherspoon announced in an Instagram post on Feb. 8, including photos with Aniston in her slideshow. "Season 3 is on the WAY!"