VMAs Viewers Have Questions About Billie Eilish's Reaction To Jennifer Lopez
Twitter wasted no time analyzing the awkward moment.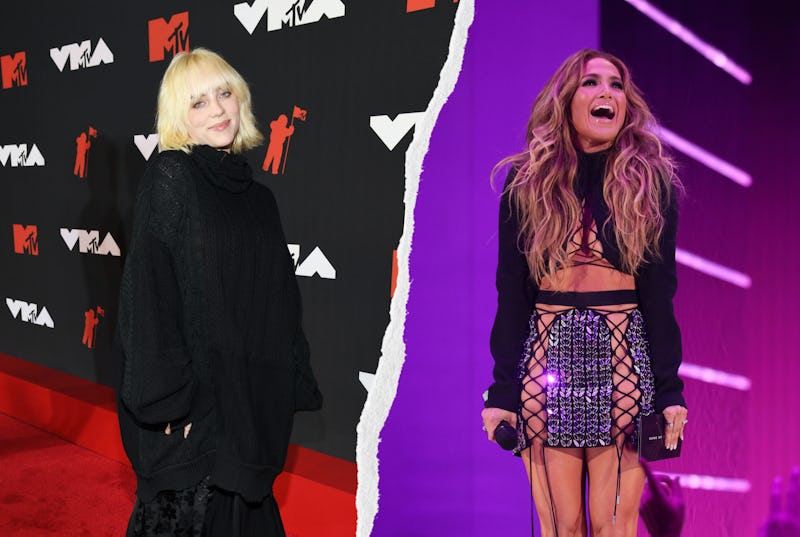 Kevin Mazur/MTV VMAs 2021/Getty Images Entertainment/Getty Images & Theo Wargo/Getty Images Entertainment/Getty Images
J. Lo's surprise appearance at the MTV Video Music Awards thrilled fans — including Olivia Rodrigo, to whom Lopez presented the Song of the Year award for "Drivers License." But according to some viewers, there was one audience member who seemed less than thrilled: Billie Eilish. Several Twitter users shared a clip of Eilish not clapping as the "Let's Get Loud" singer took the stage. User TeeTypes called the moment "a mood." As JadenJewel put it, Eilish was "Mariah Not Careying" about Lopez, and vmydrizzle said her look "felt a bit shady." Several users shared similar observations, wondering whether there was conflict between the musicians.
However, some unspoken beef probably isn't the reason for the awkward moment. For starters, it's unclear if Eilish's reaction was actually in response to J. Lo's appearance or, well, literally anything else — the "Happier Than Ever" singer was up for five VMAs, for starters, so she had plenty to focus on. And it's not the first time a confusing awards show moment had viewers suspicious. Remember Leonardo DiCaprio's literal eyebrow-raising reaction to Lady Gaga at the 2016 Golden Globes? As the actor clarified to Entertainment Weekly, there was a boring, logical explanation for his look. That's likely the case here, too.
Of course, that didn't stop Twitter from analyzing the moment anyway.
Here's the thing, though — Eilish and Lopez do have history together, but it's a friendly history. Last year, Lopez recounted on The Corp with A-Rod and Big Cat the time she met Eilish with her daughter, Emme. "We had a real moment ... it was a mind-blowing experience for me," Lopez said of the meeting, which left Emme in happy tears. "It made me appreciate what I do more, my fans more, what Billie did for my daughter … it was like a full-circle moment. But yeah, we love Billie."
Lopez even cited Eilish as one of the young singers she's most inspired by today, and a photo of Lopez, Eilish, and Emme in an embrace makes it seem as though the admiring vibes are mutual. So while it's always natural to wonder about behind-the-scenes celebrity tiffs, we can likely chalk this one up to awkward timing.