20 Years Ago, J.Lo Was Supposed To Kiss Madonna With Britney At The VMAs
"I guess they got somebody — they got Christina Aguilera ... and I didn't wind up doing it."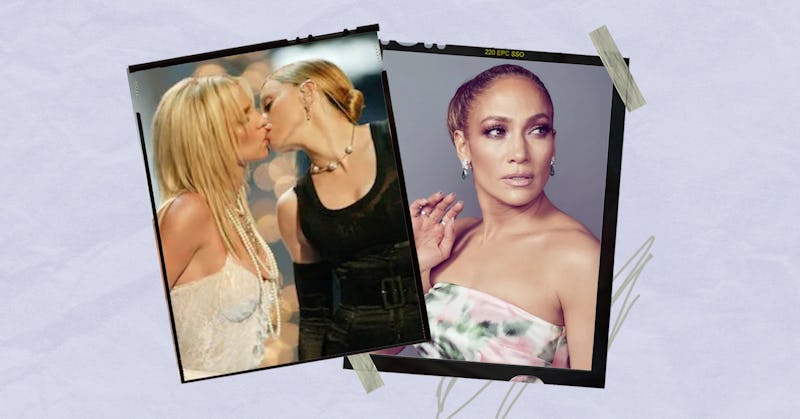 Christopher Polk/FilmMagic/Getty Images; Variety/Penske Media/Getty Images
Madonna almost kissed a different pop star at the VMAs. On Jan. 16, Jennifer Lopez revealed that she was supposed to be a part of Madonna and Britney Spears' infamous 2003 MTV Video Music Awards performance, confirming years of rumors. However, due to a previous obligation 20 years ago, she couldn't make it happen, and Christina Aguilera was brought in instead.
"Yes, that was actually true," she told E! about the rumors. "I was filming a movie in Canada, and we had met — me, her, and Britney — to do it at her home. Then I just couldn't get off the film, and so we couldn't do it. Then I guess they got somebody — they got Christina Aguilera, I think, to do it, and I didn't wind up doing it."
While she lost the opportunity, J.Lo didn't lose her affections for Madge. "I love Madonna, I'm a huge fan, always have been," she said. During the interview, she also said that her favorite karaoke song was the Queen of Pop's 1984 classic "Like A Virgin," and decided to sing a lyric to her Shotgun Wedding co-star Josh Duhamel.
However, even if J.Lo was able to perform that night, viewers likely wouldn't have seen her kiss Madonna anyways. During the performance, Spears kissed Madge first, but instead of showing Xtina's kiss next, cameras immediately flashed to the "Gimme More" singer's ex-boyfriend Justin Timberlake, who had quite the reaction amid other shocked celebrity audience members.
Spears and Madonna have very fond memories of their onstage kiss, even recreating it at Spears' wedding in June 2022.
Aguilera took issue with how cameras focused on Timberlake instead of capturing her moment with Madonna, calling it "weird" in a 2018 interview with Andy Cohen. "I saw the newspaper the next day and it was like, 'Oh — well I guess I got left out of that one.'" That said, she wasn't too upset about it, considering she had a solo performance of her hit "Fighter" later that night.
"It was a kickass performance, so I was OK with that," she said. "She can have her kiss, it's OK."