Madonna's Cover Of Britney Spears' "Toxic" Will Blow Your Mind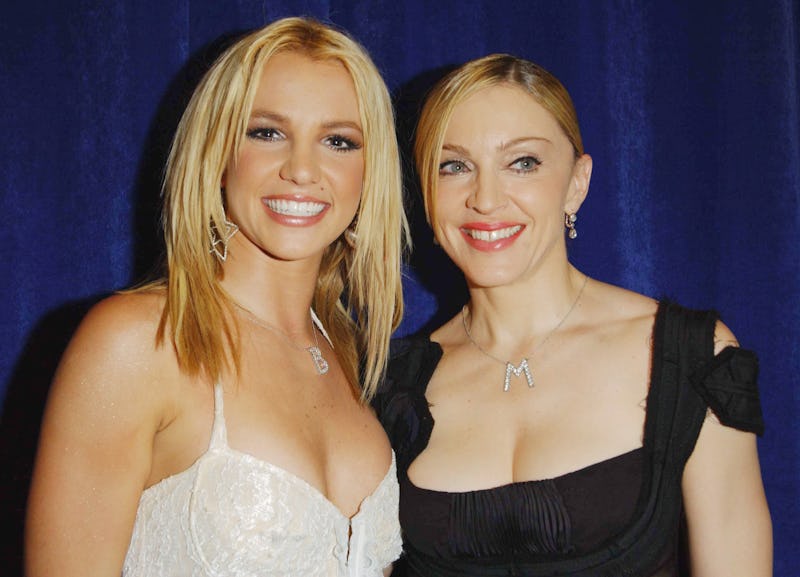 Frank Micelotta/Getty Images Entertainment/Getty Images
Is there anything more rewarding than iconic pop stars sharing their adoration of each other? In honor of World AIDS Day on Dec. 1, Madonna covered Britney Spears' "Toxic" on Instagram. She dedicated the song to both the cause and to Spears, since her birthday happens to be on Dec. 2. And from the sound of Spears' response, the "...Baby One More Time" singer couldn't be more excited about Madonna's gesture.
Using Instagram's infrared filter for optimum coolness, Madonna shared an acoustic cover of "Toxic" that will likely leave you wanting to hear more. The singer captioned her video, "Silence=Death!. Song For World AIDS Day! @britneyspears. Happy Birthday!!"
As if that wasn't enough awesomeness, Spears responded to Madonna's shout-out by telling the "Like a Prayer" singer that she had inspired her to film her own video. While hearing Spears cover Madonna would have been amazing, Spears' opted to honor the King of Rock and Roll, Elvis Presley. And she did it with major style.
Spears wrote on Instagram,
"I was really inspired yesterday by @madonna's post. She's right… silence = death! These words really stuck with me, because they are so true. I've always wanted to do a performance like this… singing in a pretty little black dress, with a simple 360, one take shot! I figured since it was my birthday, why not go for it?! So boom When the clock struck 12:00, I did it!!! Thank you all for the beautiful birthday wishes, and for letting me do what I love. I appreciate you more than you will ever know!!!!"
Seeing Madonna inspire Spears to do something she has always wanted to do is the kind of mutual appreciation among artists that everyone can get behind. In fact, Madonna was so happy that she could help make Spears' birthday sweeter that she offered up a lovely comment on the singer's post. She wrote, "Beautiful Girl! Beautiful Song! Happy Birthday!"
Madonna and Spears' friendship goes back to at least 2003, when they performed together at the MTV Video Music Awards. Since then Madonna has routinely had Spears' back — even when the pop star didn't need defending. That was the case earlier in the week when Madonna responded to a meme that she thought was daring to dis Spears' "Toxic" (it was actually celebrating it).
Despite Madonna misunderstanding the meme, the moment still highlighted just how much she seems to adore Spears. The Queen of Pop can be fierce when it comes to defending her fellow artists — and inspiring them to fulfill their musical dreams.
That seems to be how the world ended up blessed with Spears' gorgeous rendition of "Can't Help Falling In Love." Much like Madonna's "Toxic," Spears' cover of the classic will probably leave you wanting more. Spears belts out the classic song in what appears to be her home, and her voice needs no embellishment.
Madonna isn't the only pop star who was loving Spears' impromptu performance. Miley Cyrus also chimed in on Spears' post asking the artist to sing some Dolly Parton, and dedicate it to her. Cyrus is a major fan of Parton's music (and she's also her goddaughter) — they even did a duet of "Jolene" together. The fact that Cyrus wants Spears' to sing some Parton goodness for her adds a whole other layer to this multi-generational pop star love fest.
The respect and admiration that Madonna, Spears, and Cyrus all seem to have for another is a beautiful thing. These women look to each other for encouragement and inspiration not just on their birthdays, but every day. And when their appreciation of each other's work leads to killer covers everyone wins.