John Mulaney & Olivia Munn's Relationship Timeline Features Baby Malcolm On Tour
The couple brought their son to New York while Mulaney performed his From Scratch comedy tour.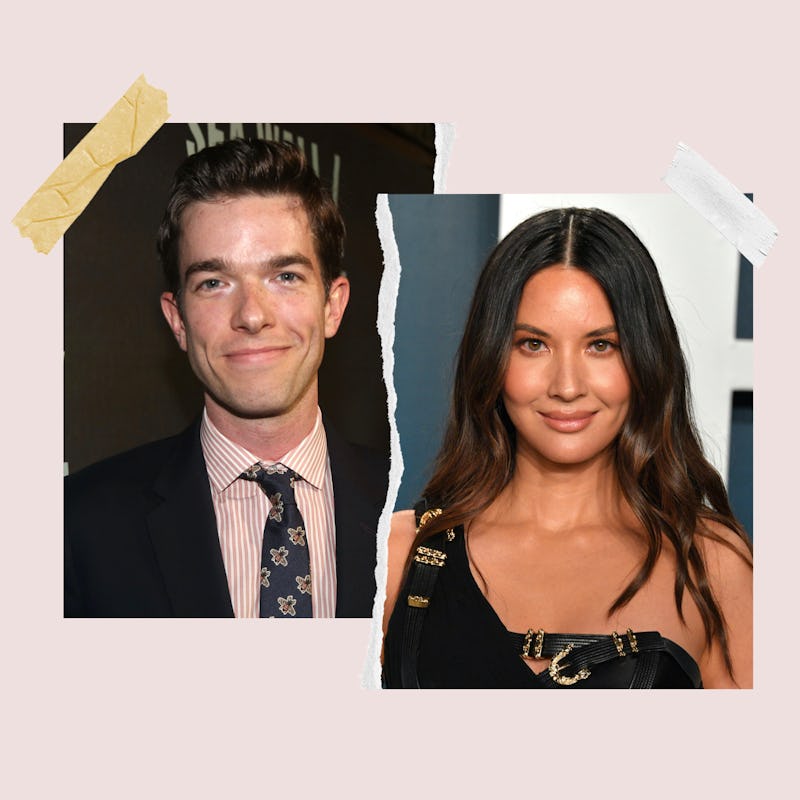 Bruce Glikas/FilmMagic/George Pimentel/Getty Images
Comedian John Mulaney has had a hectic couple of years. In September 2020, the Saturday Night Live star checked into rehab for one month following a drug relapse. After relapsing again a few months later, his friends, including Late Night host Seth Meyers, staged an intervention in late 2020 that caused Mulaney to check back into a treatment facility for two more months. At the time, many stars tweeted their support for Mulaney, including his current girlfriend Olivia Munn.
After Mulaney left rehab in February 2021 and continued treatment as an outpatient, the news surfaced in May that he and his then-wife Anna Marie Tendler were divorcing after six years of marriage. Their split ultimately opened the door for the comedian's romance with the Love Wedding Repeat star later that month. Munn, for her part, had been single for many years before deciding to take her relationship with Mulaney to the next level. Although she's dated other men in the past, the SNL star's announcement that they were expecting their first child together proved that this time, things were serious.
The couple welcomed their son, Malcolm, on Nov. 24, 2021, and have both been sharing cute snippets about their new family including Malcolm's firsts (his first restaurant visit), how Munn celebrated Mother's Day (with a bucket of chicken), and other relatable parenting posts. They've taken him on tour during Mulaney's From Scratch shows (during which he recorded his Netflix special Baby J). Malcolm continues to bring joy into the couple's life — they're both constantly sharing updates on Instagram.
So, how did the lovebirds go from casually dating to starting a family together in just four months? Look no further than this complete timeline of their relationship.
January 2015: Their Meet Cute
Mulaney and Munn's timeline actually started years ago. In 2015, the X-Men: Apocalypse star told HuffPost Live that they met at a mutual friend's wedding. "We were at a wedding together and I was like, 'Oh, my gosh, do you and your fiancée want to go have dinner or something and go hang out?'" she recalled. "At first it was cool, and then I kept going up to him at the wedding like, 'So, you having fun?' I was just so obsessed with hanging out with and talking with him." Munn added that she tried to keep in touch with Mulaney after the event via email, but he never responded. "I might've got the wrong email — probably," she said. "That's what I tell myself."
December 2020: Munn Supports Mulaney Online
When the news broke that Mulaney would be returning to rehab for the second time, many celebrities showed their support for the comedian on social media. Munn was among those who sent well wishes his way. "Sending SO MUCH love and support to John Mulaney," she tweeted at the time with a red heart emoji and lightning bolt. "You got this."
May 2021: Mulaney Gets Divorced
In Spring 2021, Mulaney and Tendler ended their six-year marriage. "I am heartbroken that John has decided to end our marriage," his ex-wife said in a statement. "I wish him support and success as he continues his recovery." Mulaney didn't personally address the split, but his rep confirmed that the former couple was calling it quits.
"John will not have any further comment as he continues to focus on his recovery and getting back to work," his rep said in a statement. That same month, a source confirmed to Us Weekly that Mulaney had already moved on and was dating Munn. An insider also dished about their relationship to People at the time. "This is very new, they're taking it slowly," the source told the magazine on May 13. "They met at church in Los Angeles."
June 2021: Dating Rumors Spark
The following month, their relationship seemed to be heating up. Not only were they spotted on a lunch date at Rick's Drive In & Out in Los Angeles, but Munn was also spotted leaving Mulaney's house later that month. At that point, Munn and Mulaney hadn't addressed their relationship publicly. However, several sources told Us Weekly that things were getting serious.
"She has been sneaking into some of his shows and loves them," one insider told the magazine. "Olivia is so smitten." And apparently, the feeling was mutual. "John thinks Olivia is really smart and she makes him laugh too," the source added. "They both have a very dry sense of humor."
September 2021: A Baby Is On The Way
During an appearance on Late Night with Seth Meyers, Mulaney made it clear that his relationship with Munn was further along than anyone thought. "In the spring, I went to Los Angeles and met and started to date a wonderful woman named Olivia," he told Meyers before revealing that they're "having a baby together." "I was nervous when I was about to say the news. I'm going to be a dad."
The 39-year-old comedian continued to gush about Munn, 41. "I got into this relationship that's been really beautiful and with someone incredible," he said, telling Meyers that the Predator star stuck by his side through the ups and downs of his recovery. "That's been very incredible," he continued. "She's kind of held my hand through that hell." And according to People, they are very much looking forward to this next chapter. "They are both extremely excited about the baby," a source close to the couple revealed. "They couldn't be happier."
October 2021: They're Plagued By Breakup Rumors
Roughly one month after Mulaney announced the baby news, the soon-to-be parents may be experiencing some relationship woes. "This has been an imperfect relationship from the start," a source told Us Weekly on Oct. 23. "Even though Olivia's going to be a wonderful mother and has great support behind her, Olivia's friends just don't see these two being a couple in a year's time."
Together or not, those close to the couple are confident that they will "make great parents." However, what remains unclear is if "they are going to do that together or apart." "Olivia and John still have to decide what kind of future they're going to have together, if any," the insider continued, adding that it's a "time of uncertainty" for the pair. "[They] are a long way from deciding and locking in what their relationship is going to be going forward." Bustle has reached out to the couple's reps for comment and will update this story when we hear back.
Us Weekly's report was published one day after gossip account Deuxmoi posted an anonymous tip on their Instagram that Mulaney and Munn have already called it quits. "I've heard recently from a fairly reliable source that this B-C list celebrity and her baby daddy A list comedian have recently called it quits," the tip read. "Source is a friend who works in publicity, so make of that what you will."
It's worth noting that shortly after the rumors surfaced, Entertainment Tonight reported that they were false. And in an interview with Munn for her new film Violet, she told the outlet about what she's most excited about when it comes to motherhood. "Justine [Bateman, director of Violet] and I had a long conversation about [motherhood] the other day, honestly, I'm just excited about meeting whoever it is, and bringing a little person into this world," she said. So far, Mulaney and Munn have not addressed the rumors themselves.
December 2021: Baby Malcolm Is Born
On Dec. 17, TMZ reported that Munn gave birth to a baby boy on Nov. 24 in Los Angeles. Exactly one month after reportedly welcoming their newborn, the new parents took to Instagram on Dec. 24 to introduce him to the world. "Meet Malcolm Hiệp Mulaney," the SNL star wrote. "He has his whole life ahead of him. He hasn't even tried seltzer yet. I'm very in love with him and his whole deal. Happy Holidays."
Munn, for her part, called their son her "Golden Ox baby" and also wished her followers a happy holiday.
January 2022: The Family Is Thriving
It hadn't even been two months since Munn and Mulaney welcomed Malcolm into the world, but parenthood appears to be going very well. At the start of the new year, the Buddy Games actor shared a selfie of her lying beside her newborn and staring lovingly into his eyes. "Happy New Year," she wrote.
Exactly one week later, on Jan. 8, Munn took to Instagram again to share a photo of Mulaney loving on their baby boy in front of their Christmas tree, which they still have not taken down. "The smooshiest smoosh 💋 (And yep, our Christmas tree is still up 🙈)," she captioned the adorable snapshot.
February 2022: Baby's First Visit To SNL
Mulaney served as the host on Saturday Night Live's February 26 episode, with musical guest LCD Soundsystem. While he was prepping for the show, he was visited by his love and his new son. Munn shared several pictures from the trip, including one which she captioned, "Malcolm visited SNL Thursday afternoon. Here he is looking like your uncle being carried out of a wedding because he went too hard." She also posted a simple pic of the program's title card, which at the time featured Mulaney and Malcolm, and all she said was, "Proud of my guys."
May 2022: Munn Celebrates Mother's Day
Last May, when Malcolm turned six months, Munn posted a sweet update about her son and his blossoming personality. "6 months ago today Malcolm made me his mama. It's so much fun getting to know him," she wrote on Instagram on May 22, before listing down his newly-formed traits. She also made a special callout to Mulaney and their sweet father-and-son relationship. "[Malcolm] lets out a squeal and kicks his legs whenever his daddy comes home." A few weeks before, on Mother's Day, she shared a photo of her baby bump and thanked her two dogs, or as she wrote, "the pups who made me a mom first." In another Mother's Day post, she wrote, "Thank you to @johnmulaney for knowing that all I wanted for Mother's Day was a bucket of chicken, a box of biscuits and for him to take over all nap duties today."
June 2022: Mulaney Celebrates Father's Day
On Father's Day, first-time dad Mulaney posted a sweet photo with his son where Mulaney was beaming. He didn't write a caption but he low-key marked the occasion by geotagging it "Father's Day." Munn, too, posted a cheeky shoutout on her Instagram Stories and wrote, "Happy Father's Day to Malcolm's assistant." Fatherhood seems to sit well with Mulaney. Just a couple of weeks prior, Munn let her followers in on what Mulaney's like behind closed doors with a video posted to Instagram of Mulaney making Malcolm laugh. "When he squeezes his eyes shut from laughing so hard," she wrote.
June 2022: The Family Goes On Tour
Munn and Malcolm accompanied Mulaney on his From Scratch tour, and the comedian gave an update on traveling as a family during an appearance on Late Night With Seth Meyers. "Malcolm loves being on tour," Mulaney gushed. "He loved Saratoga Springs. He loved the Westin in Buffalo." He also spoke about Malcolm's latest "thing." "His new thing is when I turn the phone on and it's in selfie mode and I put it on video, he grabs it and slowly brings the camera into his mouth. So, all his films have the same twist ending."
November 2022: Malcolm's 1st Birthday
The Newsroom actor celebrated her and Mulaney's son's first birthday with a sweet Instagram tribute, complete with chocolate frosting and a crocheted crown. "Just got back from celebrating ONE YEAR of the most joyful baby being in this world and in our lives. My son, my joy. Happiest Birthday Malcolm Hiệp! I love you so so so much," she captioned the post.
February 2023: Father-Son Time
Munn shared a sweet video of Mulaney and Malcolm bonding over an animal book. In the clip, the comedian pointed to a snake, making a hissing sound, which Malcolm repeated. Mulaney doubled over with laughter when the one-year-old made pig sounds.
March 2023: Family Beach Vacation
Munn and Mulaney took their son to the beach in March, and Malcolm doesn't seem too impressed with the sand.
April 2023: Baby J Premieres On Netflix
Munn celebrated Mulaney's latest Netflix comedy special Baby J on April 25 with a cheeky Instagram Story. "Malcolm's dad's special 'Baby J' drops tomorrow on Netflix" she joked, sharing a clip from the program.
This article was originally published on