Jojo Siwa's TikTok "Love Triangle" With Her "Clout-Chasing" Exes, Explained
The Dance Moms alum called out her exes without naming them, but one of them isn't standing for it.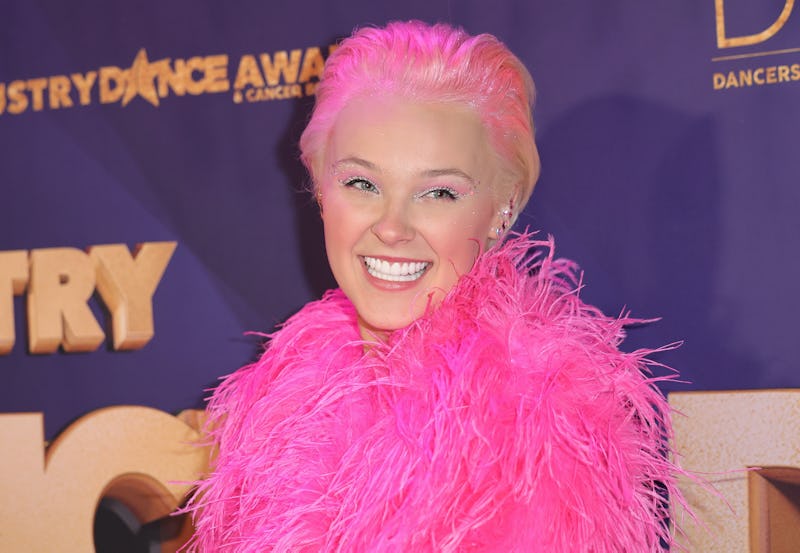 Momodu Mansaray/Getty Images Entertainment
JoJo Siwa has never been shy about sharing her dating history online, even when things get messy, but now, her exes are fighting back. The former Nickelodeon star has been embroiled in some TikTok drama with reported ex-girlfriend Katie Mills — drama that also involves another one of Siwa's exes, Avery Cyrus. However, there's no active "love triangle" to be found. They're just getting messy on TikTok, and it's just as confusing as it sounds.
It all began on March 28, when Siwa posted a TikTok video of her running to the voice of her former dance coach Abby Lee Miller and jokingly dodging "red flags" from her past (as if Miller wasn't a red flag). "Me trying to find love," she wrote on the video, which showed her first running from "clout chasing" and "love bombing" before simply her "exes" nearly made her fall over. Siwa only has three public exes, making her targets pretty easy to narrow down.
Siwa dated her first public girlfriend Kylie Prew in February 2021 before calling it quits that October. However, it doesn't seem that Siwa was referring to Prew, given that they ended on good terms. She went on to date TikTok influencer Mills for only a month, splitting in January 2022, before dating Cyrus for three months at the end of the year. Fans speculated that the romance didn't end well when Siwa's mom Jessalyn posted an Instagram Story of her daughter getting asked why she was angry. ''Cause I got used!" she answered. "For views and for clout, and I got tricked into being told that I was loved, and I got f*cking played!"
Mills, assuming she and Cyrus were whom Siwa was referring to, did not appreciate the jabs, stitching her response directly to Siwa's TikTok and defending herself and Cyrus in her video. "You sent me and Avery through hell for months and gave us no explanation why," she said, before arguing why they weren't the "clout chasers" and "love bombers" that Siwa inferred.
"Weren't you the one that decided that we needed to go to the Hollywood Blvd., Disney, and the Lakers game?" she asked. "That wasn't my idea. And anytime I posted something, I asked for your permission first, and I have the text receipts to prove it, so don't come at me saying that we were clout chasers... Knock it off. You know me and Avery can't defend ourselves so stop attacking us. Leave us alone."
The Dance Moms alum reportedly split with Mills over social media comments that resurfaced in December 2021. In 2018, she reportedly questioned if trans women are "actually women" on Twitter and retweeted several posts in support of Donald Trump. Mills addressed the controversy in a Twitter thread, apologizing for her words but stating, "There is stuff that Trump did that I DO support, and there is stuff that I DID NOT support. It's the same way for [Joe] Biden."
Cyrus has yet to comment on the latest drama, but it doesn't seem like she harbors the same feelings of resentment toward Siwa. Some fans thought that Cyrus was dissing her ex in a March 12 TikTok, where she joked that she didn't have any crushes because "everyone gives me the ick." However, when a followers asked in the comments section, "But Jojo didn't?!" she responded, "No lol." At least there's one part of this saga that isn't a total mess.