Jon Hamm Confirms He Almost Starred In This 2014 Ben Affleck Movie
Gone Girl starring Don Draper would have been...interesting.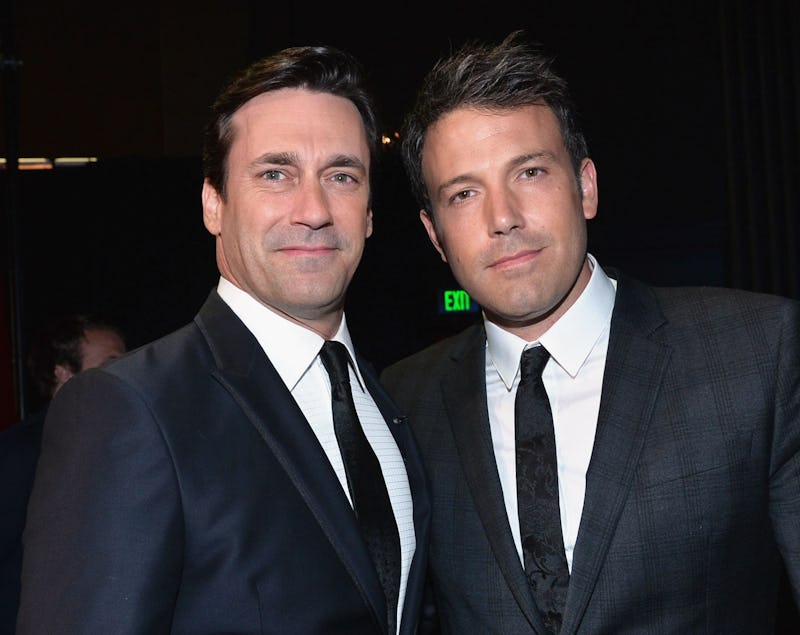 Alberto E. Rodriguez/Getty Images Entertainment/Getty Images
Ben Affleck's performance in Gone Girl is considered one of his best, but what if Jon Hamm had portrayed Nick Dunne instead? During a June appearance on Watch What Happens Live With Andy Cohen, Hamm — joined by his Mad Men co-star John Slattery — confirmed longtime reports that he was up for Affleck's role in the 2014 movie, but that his Mad Men filming schedule, unfortunately, conflicted with filming.
The revelation came about from a fan video calling into WWHL, asking Hamm about the casting rumors: "Is it true that you were in for the starring role of Gone Girl but then it went to Ben Affleck [and you] couldn't do it because of the Mad Men role?"
"Yeah," Hamm said. "I was down to the very end of that. It was meant to be me, but we had to film the continuing adventures of Mr. Draper." He also noted that the main character of Gone Girl is from Hamm's native St. Louis, which would have been fitting. "Poor Ben, a Boston guy, had to wear a Cardinals hat," he quipped of his The Town co-star. "He's not very happy about that."
Page Six reported back in 2015 that Hamm's Mad Men contract wouldn't allow him to spend time making Gone Girl. "Matt [Weiner, Mad Men's showrunner] would not let Jon out of his contract to do Gone Girl," a source told the column at the time. "Jon was really upset about it at the time — and is still upset, because he's thinking about the future of his career as Mad Men comes to a close." Another insider noted that the AMC series' filming schedule would have conflicted with the movie's as well.
Hamm starred in Mad Men from 2007 to 2015 and won an Emmy for portraying the advertising executive in its final season.