Keri Russell & Matthew Rhys' Relationship Timeline Started In A Parking Lot
He got a role in 2023's Cocaine Bear thanks to her.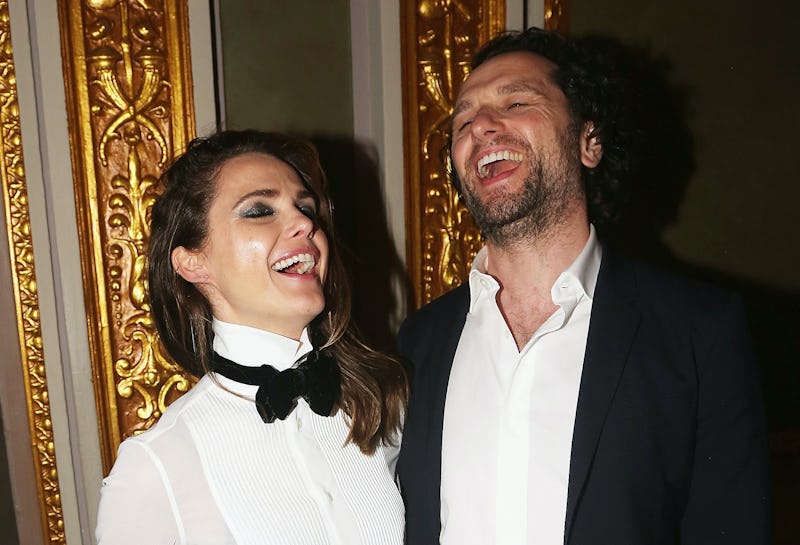 Bruce Glikas/FilmMagic/Getty Images
Couples who work hard together, stay together. That's the case for partners Keri Russell and Matthew Rhys. One might even say that life was imitating art during their tenure on The Americans, the Emmy-winning show they starred on. But their relationship didn't start the way their characters did. Russell was previously married to Shane Dreary, with whom she shares two children. Dreary and Russell separated in 2013, shortly after production began for The Americans.
Not long after the couple confirmed they were dating in 2014, Russell told The Los Angeles Times about working with her partner. "What I enjoy is [Rhys] makes it so easy," she said. "You feel you're in safe hands, and it's enjoyable to work like that because you're sort of like, let him do all the hard stuff." The pair have since reconnected onscreen for 2023's Cocaine Bear (along with their The Americans castmate Margo Martindale). Separately, Rhys' second season in Perry Mason kicked off in March 2023. Meanwhile, Russell will star in Netflix's The Diplomat.
Here's a closer look at their relationship timeline.
2002: Matthew Drunkenly Asks Keri Out
Their relationship timeline starts more than 20 years ago, when Rhys asked for Russell's number, thanks to some liquid courage. "I very drunkenly asked her for her number when she was a young, single slip of a thing," he admitted on Watch What Happens Live With Andy Cohen, adding that the exchange took place in a "very romantic" parking lot. The pair didn't seem to cross paths again until The Americans. Russell noted that Rhys brought it up while they were rehearsing and training for the show, saying that they met at a "kickball party." She immediately remembered.
2013: The Americans Premieres
The Americans premiered in 2013, introducing the world to a complicated relationship between a married couple who are secretly KBG spies living outside of Washington, D.C., in the '80s. When asked about what attracted him to the role, Rhys told The New York Times: "You have two people who have led the most incredibly strange life together with incredibly high stakes, in this scene of domesticity that is an absolute lie, and at the end of the pilot they're finding each other for the very first time."
Russell echoed his sentiments. "Regardless of whether you're spies, how much do you really know somebody? How much do you really choose somebody?" she posited. "Or does circumstantial life and all of that stuff mean more in a marriage? But the spy element makes it exciting and crazy and you're having sex with other people, which tests all of those boundaries."
January 2014: House Of Spies GQ Photoshoot
One could argue that dating rumors reached a peak in early 2014 when the co-stars posed for a provocative GQ photoshoot. The actors mentioned that they tend to get violent onscreen — and offscreen, too. "The smack usually comes the second before they say 'Action,'" Rhys told GQ of how Russell gets into character for those scenes. "Basically, I am starting every scene with a slightly shocked look on my face and a red handprint on my cheek."
April 2014: Matthew & Keri Confirm They're Dating
PEOPLE revealed that the actors were indeed a couple after they were spotted out on a date night in New York City. Rhys and Russell went to see The Library at the Public Theater and apparently looked cozy in the audience. The month before, Rhys reportedly said that their dating was the best rumor — and that even his mother would ask him about their relationship.
May 2016: They Welcome Their First Child
The couple welcomed their first child together in May 2016, as per Us Weekly. "Keri and Matt both look overjoyed and are over the moon to be new parents," an insider told the outlet. "They are always snapping pictures of the baby, and family and friends have been sending gifts." Russell shared the name and sex of the baby in a Today Show appearance weeks later. Their son, Sam, is "big and fat and nice," Russell raved at the time.
2018: The Americans Finale Airs
The final season of the Emmy-winning show aired in 2018. Rhys told Us Weekly in May that he would miss working with Russell "For many, many different reasons." However, the end of the television series doesn't mean he wouldn't see Russell again: "We'll still spend every day together in some spy-like situation where she will probably be trying to attack me with weapons and I'll fend for my life!"
September 2018: Matthew Shouts Out Keri At The Emmys
When accepting the Emmy Award for Outstanding Lead Actor in a Drama Series, Rhys took a moment to thank Russell. "And finally, to the woman who truly got me this award, who just stands in front of me every day and just puts up with me," he gushed. "I don't have the words, or the time, neither which would do you justice, Keri Lynn, except thank you."
2023: Keri Gets Matthew Into Cocaine Bear
Rhys got a part in the slasher comedy Cocaine Bear thanks to Russell. "I unashamedly jumped on my partner's coattails," Rhys told The A.V. Club. He had been reading the script for the movie and asked Russell about one part at the start of the movie. Russell said it had already been cast, and Rhys suggested she ask director Elizabeth Banks if he could take on the role. And as they say, the rest was history. "That was a very quick pop for me," he said of shooting his brief but memorable scene. "They set up an old airplane with a big wind machine, and a stunt team, you know, for the pratfall, and that was it. They put on loud '80s music, and we had a lot of fun."