Everything To Know About Kesha's New Album, Gag Order
Her fifth studio album was inspired by a "really beautiful, scary, and intense spiritual awakening."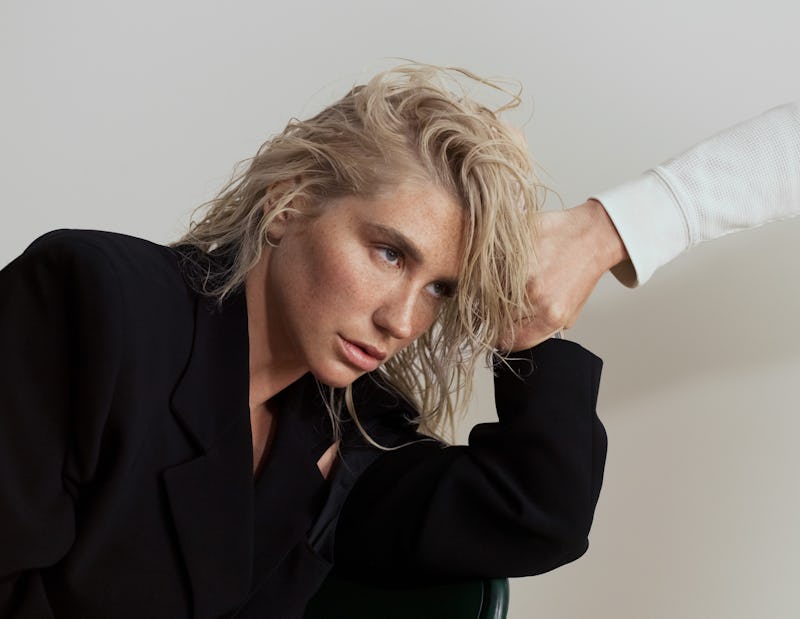 Vincent Haycock
Kesha may be under a gag order of sorts due to her ongoing legal battle with her former producer Dr. Luke, but she's not letting that stop her from speaking out on her new album. On April 25, the "Praying" singer announced Gag Order, her fifth studio album and first since 2020's High Road.
Kesha previously told Bustle that the ghost-hunting escapades captured on her docuseries Conjuring Kesha informed her then-unfinished fifth album. "Conjuring Kesha completely 100% informed the direction of my music, and the experiences I had absolutely have woven their way into the lyrics and the tapestry of the new record," she said, noting that one specific "insanely beautiful experience" formed the basis of what is now known to be called Gag Order.
Gag Order promises to be "an album unlike anything she has created thus far in her career," reads a statement about the project. Executive produced by Kesha and co-produced with Rick Rubin, she even created a whole new genre, describing Gag Order as "post-pop."
Here's everything you need to know about Gag Order.
Gag Order Release Date
Gag Order will be released on May 19. Kesha also shared the unsettling Gag Order album cover, which simply shows her suffocating in a plastic bag. Two new songs, "Eat the Acid" and "Fine Line," will be released on April 28 to precede the album's full release.
What Is Gag Order About?
A press release describes Gag Order as "a full-bodied collection that flows like a stream-of-conscious journey through the psychedelic dark depths of the human psyche followed by basking in the cleansing light when finally reaching the surface." Kesha expanded on this in an interview with Rolling Stone, explaining that she had a "really beautiful, scary, and intense spiritual awakening" brought on by her beloved siamese cat Mr. Peeps, who brought her headphones at just the right time. "I fully thought I was having a mental breakdown," she recalled. "I called my therapist and my doctor. They all were like, 'Oh, you had a spiritual awakening. Yay! Good job.'"
"Eat the Acid" recounts that life-changing night and ends up forming the basis of the record.
The album title is partially inspired by her legal issues with Dr. Luke, which she's legally not able to speak about in-depth. "I feel as if there has been an implied gag order for a very long time now," she said. "With my ongoing litigation hanging over my head, I have not been able to speak freely because I know everything I say is scrutinized." However, according to Rolling Stone, she gets close on "Fine Line," which includes lyrics calling out "all the doctors and lawyers [who] cut the tongue out of my mouth."
Gag Order Tracklist
Kesha has yet to reveal the Gag Order tracklist, but she did talk about several tracks in her Rolling Stone interview. Aside from "Eat the Acid" and "Fine Line," other track titles include "Living in My Head," "Only Love Can Save Us Now," "Too Far Gone," "All I Need Is You," and the album's finale "Happy."
This post will be updated as more details about Gag Order are unveiled.