Kesha Was Moved To Tears During Her Heart-Wrenching Grammys Performance Of "Praying"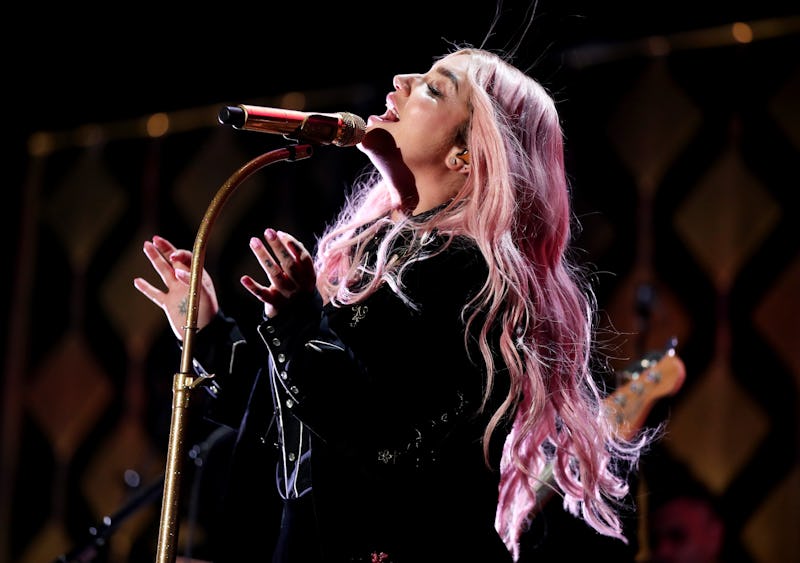 Christopher Polk/Getty Images Entertainment/Getty Images
At the moment that Janelle Monae introduced Kesha's performance, you knew it would be powerful. During Kesha's 2018 Grammys Performance of "Praying" the singer fought back tears. She was joined on stage by Cyndi Lauper, Camila Cabello, Julia Michaels, Bebe Rexha, Andra Day, and the Resistance Revival Chorus. All of them wore white, and seeing them standing alongside Kesha during her performance was a moving sight.
Kesha's performance of "Praying" has so much significance at the moment, as Janelle Monae's introduction suggested. Kesha wrote it during her legal battles with producer Dr. Luke. In an Instagram that Kesha posted on Saturday, the singer said, "When I wrote praying, with Ben Abraham and Ryan Lewis, I just felt as if I had gotten a huge weight off of my shoulders. It felt like an emotional raw victory for myself, one step closer to healing."
The fact that Monae made a statement about Time's Up while introducing Kesha makes the performance all the more relevant to the incredible shift happening for the way women talk about sexual assault and harassment. In many ways, Kesha was ahead of the #MeToo movement. In 2014 the "TiK ToK" singer sued her producer, Dr. Luke (whose real name is Lukasz Gottwald), accusing him of raping and verbally abusing her. Kesha signed with Dr. Luke's label imprint, Kemosabe, when she was 18. Kesha claims that Dr. Luke date raped her in 2005, the year she'd signed with Kemosabe. Nine years later, when Kesha sued Dr. Luke, both she and her mother, Pebe Sebert, became entangled in a web of lawsuits and counter-suits, which prevented Kesha from releasing new music for over two years.
The legal battle between Dr. Luke and Kesha culminated in 2016 when a New York judge ruled that the singer could not get out of her exclusive contract with Dr. Luke. The public outpouring of support for Kesha manifested online with the hashtag #FreeKesha. At the time, Dr. Luke took to Twitter to defend himself. "I didn't rape Kesha and I have never had sex with her. Kesha and I were friends for many years and she was like my little sister," Dr. Luke said in a tweet.
A few months after the New York judge denied Kesha's appeal to get out of her contract with Dr. Luke, the singer dropped her lawsuit in California. At that time, according to Billboard, the singer announced that she would continue a preexisting lawsuit against Dr. Luke in New York, and that she planned to release new music. In June 2017, the defamation lawsuit filed by Dr. Luke against Kesha's mother was dismissed, and the two released a joint statement regarding the decision. Still, Kesha remains involved in Dr. Luke's countersuit, which claimed the singer defamed his character.
Almost a year later, Kesha released her single, "Praying," which the singer wrote about in an essay for Lenny Letter. "I have channeled my feelings of severe hopelessness and depression, I've overcome obstacles, and I have found strength in myself even when it felt out of reach," the singer said. Knowing the history of Kesha's legal battles and her fearless attempts to separate herself from her alleged abuser makes her 2018 Grammys performance even more incredible.
"Praying" serves as a powerful anthem for perseverance and hope. "This song is about me finding peace in the fact that I can't control everything — because trying to control everyone was killing me," Kesha wrote in her essay for Lenny Letter. In August 2017, Rainbow came out under Kemosabe, though the controversial producer is not credited on any of the album's songs, as Vox points out.
In many ways, Kesha's fight to end her contract with Sony's record imprint, Kemosabe, and Dr. Luke had disappointing results. As BuzzFeed points out, the singer still has to release two more albums with Dr. Luke's record label, and that just shows why movements like #MeToo and Time's Up are so important. Kesha is not free yet, but now that she has the support of the popular feminist movements gaining attention, hopefully she can continue to find hope following her darkest days.
If you or someone you know has been sexually assaulted, call the National Sexual Assault Telephone Hotline at 800-656-HOPE (4673) or visit online.rainn.org.