Kim Kardashian Reacts To Kanye West's Diss Song "Eazy" On The Kardashians
The track's lyrics attack Kim K, their kids, and her boyfriend Pete Davidson.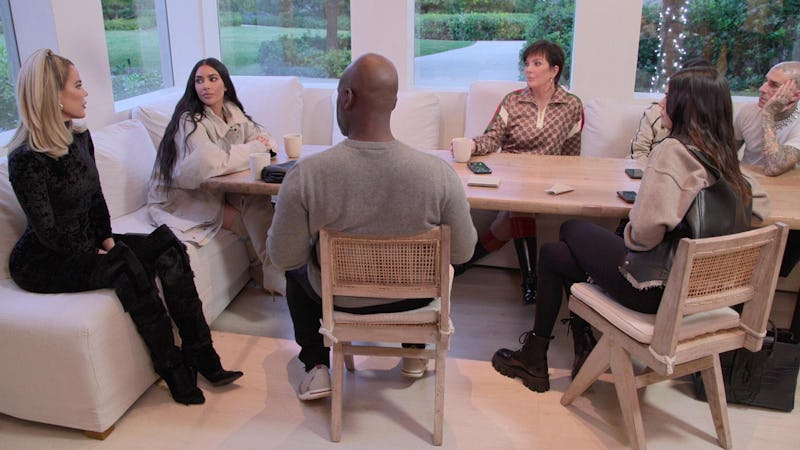 Hulu
Even Kanye West's estranged wife isn't safe from his diss tracks. On the May 26 episode of Hulu's The Kardashians, Kim Kardashian was warned that her estranged husband was going to release a new song presumably about her. "It means he's talking mad sh*t about me and probably saying whatever," she told her family after receiving the news. "Well, very classy."
The warning came to fruition in January 2022 when West released "Eazy," a collaboration with The Game that addressed his strained relationship with Kim and attacked her boyfriend Pete Davidson, rapping that he was "saved" from his 2002 car crash "just so I can beat Pete Davidson's ass." He even addressed their children North, Saint, Chicago, and Psalm West, calling them "boujee and unruly rich-ass" while attacking the Kardashian family's parenting. "The cameras watch the kids, y'all stop takin' the credit," he raps. "When you give 'em everything, they only want more."
In response, Kim vowed to take West's antics gracefully without sacrificing herself. "I never stoop," she said. "I think that I will never stop being me. All I can do is control how I react to something. I can't control how he treats me or how he's always treated you guys, and I protected that for so long. But I said, 'I will never let that happen to you guys again.' For once in my life, I feel strong. I'm not gonna let anyone treat you guys a way, or myself."
While it's not known whether Kim had heard the song prior to filming, her family came to her defense while preparing her for any potential outcome. "Most men are not trashing the mother of their kids like that, publicly," her sister Khloé said. "We don't have to sit here and throw stones back, so we take it on the chin." Their mother Kris Jenner also added, "You're the mother of his kids and have done nothing but be great to him."
In a confessional, Kim explained that she also wanted to use the opportunity to assure her family that West's actions wouldn't affect them in any way. "I do recognize the impact that my relationship has had on my family, and I've never had the opportunity to just say, 'I'm sorry, guys,'" she admitted.
However, Kris seemed most worried about her grandkids and how they would deal with the drama in the distant future. "When people are saying disparaging things about any of us, it hurts all of us because one day, your kids are going to read all of it and see all of it," she said in a confessional. "That's something that everybody really has to be aware of."