The Kim Kardashian, Kanye West & Pete Davidson Drama Keeps Getting Messier
A timeline of everything that's happened, including Pete potentially getting her kids' names tattooed on his neck.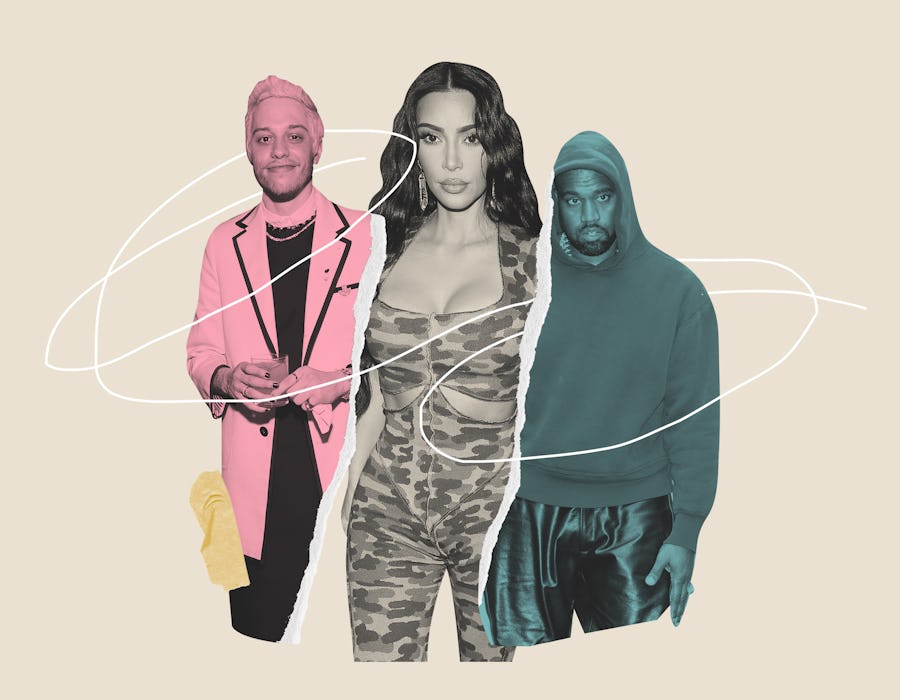 Kim Kardashian and Pete Davidson's relationship is getting serious, and Kanye West is not here for it. After the reality star's October appearance on Saturday Night Live and several date nights with Davidson in New York City, reports surfaced that the two were "casually dating." But now that the SNL star referred to the Skims founder as his "girlfriend" for the first time ever in early February, it seems as though they've taken their relationship to the next level.
On March 11, Kardashian posted photos of Davidson to her Instagram for the first time ever for her 291 million followers to see. "Whose car are we gonna take?!" she wrote in the caption. Sister Khloé Kardashian immediately commented, "I love this."
Kim posted photos of Pete on March 11.Instagram/Kim Kardashian
As their connection grows, so too does the number of West's public outbursts. The rapper blasted the comedian in his lyrics and on social media, claimed he wasn't invited to his daughter Chicago's 4th birthday party, and called out Kim K for letting 8-year-old North post on TikTok. He's also been begging to reconcile with his estranged wife and has pleaded with God to bring his family back together. However, Kardashian isn't budging, and on Feb. 23, she stated in a court filing that West's posts are causing her "emotional distress" and asking to continue the divorce process.
So, how did Kardashian and Davidson go from "casually dating" to officially being boyfriend and girlfriend? And at what point did Kardashian and West stop peacefully co-parenting their four children and start feuding on Instagram? And has Davidson even responded to West's many social media posts about the situation? Here's our complete timeline of the trio's explosive drama.
January 2019
Kardashian and Davidson's relationship timeline actually began in 2019, long before the reality star filed for divorce from West. In January that year, she shared a series of photos from Kid Cudi's birthday celebration. It's likely that she was behind the camera, capturing multiple shots of West smiling alongside Cudi, Davidson, and actor Timothée Chalamet.
October 2021
While it's unclear if Kardashian and Davidson remained friends after Cudi's birthday party, what we do know is that they shared an undeniable connection when the KKW Beauty founder hosted SNL on Oct. 10, 2021. The duo joined forces for an Aladdin-themed sketch and shared what technically might have been their first kiss, even though they weren't dating at the time.
Later that month, it became clear that their onscreen connection was real when they were photographed holding hands at Knott's Scary Farm on Oct. 29. However, an insider told People that the two were just friends at the time. "They hang in the same circles, so they will be together from time to time," the source said. "It's just friends hanging out."
November 2021
Kardashian and Davidson further fueled speculation when TMZ reported that they went for a "secret dinner" at Campania on Nov. 2, which is said to be his favorite restaurant in his hometown of Staten Island. "Pete arranged a dinner on the rooftop privately," a source told Page Six. "It was just the two of them." The next night, they were spotted out again at Zero Bond in NYC.
The following week, a source told Entertainment Tonight that they were "casually dating. At the time, ET's insider said that "Pete is really into Kim and excited about her. Kim likes Pete as well, but isn't rushing into anything serious." On Nov. 10, a source told Us Weekly that she was "falling for" Davidson. "He makes her feel good and she's excited to see what happens," the insider said.
On Nov. 17, they were caught holding hands in photos obtained by Daily Mail. The next day, he made their relationship IG official (kind of) by sharing a photo from his birthday party. In the picture, Davidson, Kardashian, and Kris Jenner were all wearing matching flannel pajama sets courtesy of Skims.
"[Kim K is] constantly giggling. Pete has made her feel like the clock has moved 20 years back. She seems happy."
That same day, a source told E! News that they were "really happy and seeing where it goes." Kardashian, for her part, was reportedly still telling people that they weren't "super serious," but that they were exclusive. "She's trying not to make a big deal about it but is super into him," the source added. And after explaining that she feels "giddy" around him, the insider said that "he makes her laugh the entire time they are together, and she is completely enthralled by him."
On Nov. 19, a Page Six source confirmed Kim K's feelings for Davidson. "She's acting like a teenager," the insider said. "She's constantly giggling. Pete has made her feel like the clock has moved 20 years back. She seems happy." A few days later, the pair enjoyed a romantic date at Giorgio Baldi Italian restaurant in Santa Monica. On their way out of the restaurant, the King of Staten Island star was photographed with an apparent hickey on the left side of his neck.
This was a lot for observers to handle, especially West. During an appearance at the Los Angeles Mission's Annual Thanksgiving Event on Nov. 24, he admitted he wants to mend his relationship. "We've made mistakes. I've made mistakes," he told the crowd. "I've publicly done things that were not acceptable as a husband." He also asked the audience to pray for his family, and said he "[needs] to be back at home" and "next to [his] children as much as possible."
On Thanksgiving, West shared a five-minute prayer on Instagram that addressed his mental health, his broken marriage, his failed presidential bid, and more. "All I think about every day is how to get my family back together and how I heal the pain that I've caused," he confessed before taking "accountability" for the actions that led to the couple's February 2021 split. But despite his best efforts to win her back, she continued to pursue Davidson.
On Nov. 27, Dutch music journalist Paul Barewijk told People that he randomly ran into the new couple at The Beverly Hills Hotel, which he documented on social media. "All of the sudden I looked to my right and saw Pete Davidson," he said. "I talked further with my mom and then I thought, 'Who is he talking with?' Because I know the latest dating rumors. And so, it was Kim Kardashian!" Barewijk managed to snap photos with the couple, despite the pair wanting to keep their budding relationship on the down-low.
December 2021
Although Kardashian did run back to West after he pleaded for forgiveness, she revealed there are no hard feelings between her and her ex-husband at the 2021 People's Choice Awards. On Dec. 7, while accepting the Fashion Icon Award, she thanked her ex for introducing her to the world of fashion and helping her develop her personal aesthetic.
The next week, Kardashian filed legal documents requesting to expedite their divorce. "[Kardashian] has been attempting to settle this manner since she filed her Petition for Dissolution of Marriage in February 2021," the documents said, according to People. "[Kardashian] and her counsel have reached out to [West] and his counsel several times in an attempt to move this case forward to a speedy and amicable resolution. [West] has been non-responsive."
The filing also stated that their marriage has "irremediably broken down" and there was "no possibility" of getting back together. The KUWTK star then doubled down, explaining that her relationship with West was beyond repair. "No counseling or reconciliation effort will be of any value at this time," she stated. "[West] and I both deserve the opportunity to build new lives. Therefore, I am asking that my request to bifurcate and terminate our marital status be granted."
Kardashian proved once again she was ready to move on when she and Davidson hit up a Staten Island theater on Dec. 18 for a screening of Spider-Man: No Way Home with Scott Disick and some friends. Days later, Daily Mail reported that the comedian walked out of Kardashian's hotel in New York with "an extra pep in his step" after "spending the night." Kardashian was also spotted exiting Davidson's Staten Island condo before jetting back to Los Angeles together.
On Dec. 21, the pair went for an early morning breakfast at The Beverly Hills Hotel. Later that day, he was spotted leaving a jewelry store before hopping into her Rolls-Royce. West didn't sit back as Davidson continued to get closer to his estranged wife. After Christmas, the Daily Mail reported that West purchased a $4.5 million home across the street from her and their children in the Hidden Hills neighborhood of Los Angeles County.
January 2022
According to images obtained by the Daily Mail, Kardashian and Davidson kicked off 2022 in the Bahamas, but their relationship wasn't the only one that was heating up. In a Jan. 6 photo essay for Interview, Uncut Gems star Julia Fox detailed her whirlwind romance with West and wrote about their "instant" connection. "Everything with us has been so organic," she wrote. "I don't know where things are headed but if this is any indication of the future I'm loving the ride."
Although Ye appeared to be in a new relationship, he couldn't keep his mind off of Kardashian and her new boyfriend. On Jan. 14, the 22-time Grammy winner took a swipe at the SNL star in a track called "Eazy." "God saved me from that crash / just so I can beat Pete Davidson's ass," he raps, referencing the near-fatal car accident from 2002 that inspired his track "Through The Wire."
On Jan. 15, West attended his daughter Chicago's 4th birthday party, but he claimed he wasn't invited and had to get the address from rapper Travis Scott. "I wasn't allowed to know where her party was," he said on Instagram Live, per Us Weekly. Kardashian was reportedly confused because they had allegedly agreed on celebrating their daughter's birthday separately. "Kim was shocked to learn that he released a video about not being invited to her party — that's not true and as soon as he asked to come he was given the location," a source told the magazine.
That wasn't the first time West claimed he was denied access to his children. In a January interview with Hollywood Unlocked, he said Kardashian barred him from entering her house to visit their four kids. He also said that the same rules didn't apply to Davidson, who has been allowed "in the house that I can't even go to." He also insinuated that their onscreen kiss was to spite him. "How you gonna bring me to SNL and kiss the dude you dating right in front of me, and everybody's like, 'Aw, that's cool,'" he asked.
Kardashian seemed somewhat unbothered by Kanye's ramblings. On Dec. 19, she shared photos from her beach getaway with Davidson on Instagram. The comedian wasn't featured in any of the pictures, but the solo bikini shots of her may have hinted at their relationship. In the photos, the mom of four wore a baseball cap with the letter "P." She also snuck a "P" emoji into the caption, which read: "Beach Party."
The following week, on Dec. 25, the couple reportedly attended a dinner party in Los Angeles hosted by billionaire Jeff Bezos. According to TMZ, the pair stayed at the event for several hours before heading over to The Beverly Hills Hotel, where Pete was staying. The following night, they joined Khloé Kardashian and other friends for Korean BBQ. According to People, they all did an escape room after dinner, proving that Davidson is well-liked in Kardashian's inner circle.
February 2022
February started off messy for Kardashian and West, who fought publicly on Instagram about North's presence on TikTok. The Donda artist posted his first of the now-deleted Instagram posts on Feb. 4. "SINCE THIS IS MY FIRST DIVORCE I NEED TO KNOW WHAT I SHOULD DO ABOUT MY DAUGHTER BEING PUT ON TIK TOK AGAINST MY WILL?" he wrote next to a screenshot of North on the app. The photo was taken from the @KimAndNorth account, which the 8-year-old shares with her mom. They currently have 6 million followers.
Kardashian responded on Feb. 4 via her Instagram story. "Kanye's constant attacks on me in interviews and on social media is actually more hurtful than any TikTok North might create," she wrote. "As the parent who is the main provider and caregiver four our children, I am doing my best to protect our daughter while also allowing her to express her creativity in the medium that she wishes with adult supervision — because it brings her happiness."
"Divorce is difficult enough on our children and Kanye's obsession with trying to control and manipulate our situation so negatively and publicly is only causing further pain for all," Kardashian continued. "From the beginning I have wanted nothing but a healthy and supportive co-parenting relationship because it is what is best for our children and it saddens me that Kanye continues to make it impossible every step of the way."
Kardashian also said that she would prefer to handle matters involving their children privately. Their public spat didn't end there. "What do you mean by main provider?" West responded in a now-deleted post on his Instagram Story. He then claimed that his estranged wife tried to "kidnap" Chicago by not giving him the address to her birthday party. The allegations didn't end there. According to the musician, she accused him of stealing and being on drugs. She also allegedly wouldn't let him play with their son without security in the house. West deleted every trace of their feud from Instagram on Feb. 7.
That same day, Davidson and Kim K's relationship took a giant leap forward. In an interview with People (The TV Show!), he referred to the reality star as his girlfriend for the first time while chatting about life in the spotlight. "Well, I don't really have Instagram — I don't have Instagram or Twitter or any of that stuff. So, most of my daily life is getting into cars and showing up to a set," he said. "Or, if I'm off, I just either hang with my friends or chill with my girlfriend inside." He also gave host Kay Adams a tour of his bedroom and appeared to have a Kardashian candle on his dresser. "That is exactly what that is," he confessed.
Two days later, West pleaded for his family back (again). Alongside a now-deleted collage of family photos from Kardashian's March 2022 Vogue photoshoot, he wrote, "GOD PLEASE BRING OUR FAMILY BACK TOGETHER." Fox, who had been in an "open relationship" with West for more than a month, wasn't bothered by his desire to reunite with Kim K. "I'm sure there's still some residual feelings and that's normal. It's human," Fox said on the Feb. 8 episode of the Call Her Daddy podcast. "I also know that he's with me now and that's all that matters."
West seemed more focused on how he felt about Davidson than Fox. In fact, he started cutting people out of his life for simply being friends with Davidson, including his longtime collaborator Kid Cudi. "JUST SO EVERYONE KNOWS CUDI WILL NOT BE ON DONDA BECAUSE HE'S FRIENDS WITH YOU KNOW WHO," West wrote in a now-deleted handwritten note, which he shared on Instagram on Feb. 12. Per Vanity Fair, he also uploaded and later deleted a throwback photo of Cudi's 2019 birthday dinner with Davidson's face crossed out.
The next day, West elaborated in a separate post and claimed that he asked Cudi to speak to Davidson about his relationship with Kardashian. "BECAUSE FOR YEARS CUDI ALWAYS MADE IT SEEM LIKE IT WAS ME AND HIM AGAINST EVERYONE," he said. "NOW THAT IM FIGHTING FOR MY FAMILY HE NOT BY MY SIDE THIS IS BIGGER THAN MUSIC." But Cudi wasn't having it. "We talked weeks ago about this," he tweeted. "You're whack for flipping the script and posting this lie just for a look on the internet. You ain't no friend. BYE."
On Feb. 13, West took aim at Davidson directly after sharing a text he received from him on Instagram. "As a man, I'd never get [in the] way of your children. That's a promise," Davidson apparently texted. "How you guys [go about] raising your kids is your [business] and not mine. I do hope [one] day I can meet them and we [can] all be friends." West replied, "NO YOU WILL NEVER MEET MY CHILDREN," he reportedly wrote. West also reportedly called Davidson a "d*ckhead" and spread a rumor that he once sent Mac Miller explicit photos of Ariana Grande.
"MY ACCOUNT IS NOT HACKED," West reportedly wrote on Instagram alongside a now-deleted snap of himself holding up a piece of paper with the date. "I WILL BE AT SUNDAY SERVICE AT NOON AND WILL [be] TAKING NORTH AND SAINT TO THE SUPERBOWL SHORTLY AFTER." He also wrote to SNL's Michael Che that he would double his salary so that he wouldn't have to look at Davidson's face ever again. West doubled down when he realized his name was trending higher than the Super Bowl on Super Bowl Sunday.
"HOLD YOUR SPOUSE CLOSE MAKE SURE THEY KNOW HOW MUCH YOU LOVE AND APPRECIATE THEM BECAUSE THERES A SKETE LURKING IN EVERY DIRTY ASS ALLEY WAITING TO HELP DESTROY YOUR FAMILY AND WALK AROUND IN CALVIN KLEINS AROUND YOUR CHILDREN," he wrote, according to Us. "I WISH MY WIFE WAS WITH ME AND OUR CHILDREN SITTING AT THE 50 YARD LINE @kimkardashian ALWAYS REMEMBER WEST WAS YOUR BIGGEST W."
West then called for his fans to berate Davidson in real life. "IF YOU SEE SKETE IN REAL LIFE SCREAM AT YHE LOOSER AT THE TOP OF YOUR LUNGS AND SAY KIMYE FOREVER," he reportedly wrote. Later, he shared a text message he received from Kim, in which she accused him of "creating a dangerous and scary environment" for Davidson. "Someone will hurt Pete and this will all be your fault," she wrote. West then told his fans not to "do anything physical" to Davidson and that he was going to "handle the situation" himself.
Kardashian wasn't the only one fed up with West. On Valentine's Day, Fox confirmed that she and West called it quits. "Y'all would love if I was soooo upset," Fox wrote on her Instagram Story. "The media would love to paint a picture of me a sad lonely woman crying on a plane by myself but it's not true!!" In an earlier Instagram Story that Fox eventually took down, she wrote: "Y'all are straight trash, I haven't cried since 1997 and I especially wouldn't cry over THIS!!"
On Feb. 17, the same day that Davidson rejoined Instagram and Ye posted several things attacking Davidson, Kardashian unfollowed West on Instagram. West no longer follows her either. On the contrary, Kardashian is one of the only people Davidson follows on Instagram, alongside Sebastian Stan and the Staten Island FerryHawks.
While Davidson hasn't responded to West's posts publicly or even posted anything on his new Instagram feed, he did share something that fans are interpreting as shade to West.
On Feb. 21, Davidson updated his bio with a YouTube link that takes followers to a clip from the 1982 film The King of Comedy, which features character Rupert Pupkin saying, "Better to be king for a night than a schmuck for a lifetime." His fans started applauding the SNL star in the YouTube comments section, calling his apparent shade at West "subtle" and noting that they're "here for it."
West did not respond to Davidson's apparent shade. However, after the comedian deactivated his Instagram account yet again on Feb. 24, West credited himself for that decision, sharing screenshots of the now-deleted account and an article saying West's fans flooded Davidson's page with comments calling him West's favorite nickname. "Ran Skete off the gram," he captioned the post. "Tell your mother I changed your name for life."
West's post is just one example of what Kardashian mentioned in her latest divorce filing on Feb. 23. In court documents obtained by PEOPLE, she expressed that West's social media posts are causing her family distress and criticized his efforts to halt their ongoing divorce, asking the judge once again to expedite the divorce process.
"I very much desire to be divorced," Kardashian wrote in a declaration. "Kanye has been putting a lot of misinformation regarding our private family matters and co-parenting on social media which has created emotional distress. I believe that the court terminating our marital status will help Kanye to accept that our marital relationship is over and to move forward on a better path which will assist us in peacefully co-parenting our children."
March 2022
According to TMZ and People, a judge granted Kardashian's request to be "legally single" on March 1. The reality star's name is now officially "Kim Kardashian," sans the "West." Kanye reportedly wasn't at the hearing, but he did release a poem about divorce on Instagram less than 48 hours later.
"Divorce feels like full-blown Covid. Divorce feels like your doctor don't know shit," he wrote. "Divorce feels like you're walking on glass. Divorce feels like you're running through a glass wall. Divorce feels like you're being bullied in a class hall. Divorce feels like you're getting beat up in the mall."
On March 2, West also released his music video for "Eazy" which caused quite a stir online. In it, West decapitates and buries alive a cartoon version of Davidson, proving that he's still at war with the SNL star. According to Entertainment Tonight, Davidson and Kardashian both saw the video and had different reactions.
"He finds the fact that Kanye included a cartoon version of him in his music video hysterical," a source told the news outlet. "He is almost flattered by it all because it is so ridiculous to him … [Pete] is not threatened by Kanye in any way, shape or form." The insider also said that the comedian is using this experience to grow.
Kim, however, doesn't find it funny at all. According to People, "she thinks it's way too violent and is upset. She's really upset with Kanye that he'd do this. She's completely over all of this and she wants it to stop." Later, West addressed the controversy surrounding the video on Instagram.
"Art is therapy just like this view," he wrote next to a now-deleted image of a church on fire. "Art is protected as freedom of speech. Art inspires and simplifies the world. Art is not a proxy for any ill or harm. Any suggestion otherwise about my art is false and mal intended."
Fortunately, it doesn't seem like West's video got in the way of Kardashian and Davidson's romance. In a March 9 cover story for Variety, the reality star spoke about their relationship publicly for the very first time and revealed if he will appear on the new Hulu series, The Kardashians, which premieres on April 14.
"I have not filmed with him," she said. "And I'm not opposed to it. It's just not what he does. But if there was an event happening and he was there, he wouldn't tell the cameras to get away." But fans might see Davidson in Season 2. "I think I might film something really exciting coming, but it wouldn't be for this season," she explained.
Although Pete won't make an appearance quite yet, their relationship will definitely be a topic of discussion. Kardashian said that viewers will find out "how we met and who reached out to who and how it happened and all the details that everyone wants to know" this season. "I'm definitely open to talking, and I definitely explain it," she promised.
On March 11, Kardashian took things to the next level, posting photos of Davidson to her Instagram account for the first time ever. "I love this," Khloé Kardashian wrote. Several other friends and family members also showed support for the couple in the comments, including Scott Disick, Simon Huck, Paris Hilton, and more.
Unfortunately, there's still one person who can't get on board: Kanye West. On Sunday, March 13, Davidson shared screenshots from a text conversation he had with the rapper, which he reportedly shared on David Sirus' Instagram account. "Yo it's Skete, Can you please take a second and calm down. It's 8am and it don't gotta be like this,' Davidson wrote, according to Daily Mail.
"Kim is literally the best mother I've ever met," the SNL star continued in the text messages. "What she does for those kids is amazing and you are so f*cking lucky that she's your kids mom. I've decided I'm not gonna let you treat us this way anymore and I'm done being quiet. Grow the f*ck up."
"Oh you using profanity, Where are you right now?" West responded before Davidson came through with the ultimate clapback. "In bed with your wife," he wrote alongside a selfie of him in bed. In the photo, the comedian appears to have a tattoo of Kim's name, meaning the couple may be more serious than anyone realized.
West and Davidson's back-and-forth didn't end there. "Happy to see you're out the hospital and rehab," West reportedly wrote. "Same here," Davidson responded. "It's wonders what those places do when you go get help. You should try it." The comedian then offered to speak with the "Hurricane" artist face-to-face.
"I'm in LA for the day if you wanna stop being a little internet b*tch boy and talk," he wrote. "You don't scare me bro. Your actions are so p*ssy and embarrassing. It's so sad to watch you ruin your legacy on the daily." In turn, West invited Davidson to attend his Sunday Service.
"Why don't we meet after Sunday service and saints game," Davidson wrote back. "I'll be at the BHH we can have food and talk it out in my room. Privately one on one. Man to man." He also warned West that his actions are "dangerous" and will scar his family for life. "Please handle these matters privately bro I beg you."
West ignored most of Davidson's message, but told him to come to Sunday Service. In response, Davidson offered to help West on his mental health journey. "Let me help you man. I struggle with mental stuff too. It's not an easy journey," he wrote. "You don't have to feel this way anymore. There's no shame in having a little help. You'll be so happy and at peace."
Davidson ended the conversation by saying how patient he's been, even as West continued to bash him in public. "You have no idea how nice I've been to you despite your actions towards me," he wrote, adding that he has personally stopped SNL from making fun of him on the show.
"I've stopped stand-up comedians from doing bits about you cause I don't want the father of my girls kids to look bad out there," Davidson continued. "I have your back even though you treat me like sh*t because I want everything to be smooth. But if you continue to press me like you have for the past 6 months, I'm gonna stop being nice."
While Davidson may be losing his patience, Kardashian is trying to keep her cool. During an appearance on The Ellen DeGeneres Show, Kim explained that she "protects" Kanye for the sake of their four children. "I think that's just who I am and I always had such a good example in my mom and my dad and their relationship," she said. "So I'm always just hopeful and no matter what goes on, it's the father of my kids. I'll always be protective."
Kardashian went on to say that she wants her kids to "see the best of the best" in Kanye, since he's their father. And although it can be challenging at times, the reality star thinks it's important to keep forging forward with her kids' best interest in mind. "I just try to—as hard as it can be sometimes—I do try to ignore it and try to do whatever's best for the kids," she added. "Take the high road."
Elsewhere in the interview, Kim addressed the rumor that Pete got a tattoo of her name on his chest. "He has a few tattoos. A few cute ones," she said. "But the 'Kim' tattoo isn't a tattoo. It's actually a branding." Branding, for those who are unfamiliar, is a form of body modification that burns a design into the skin. "But that's what tattoo people do, right?" she asked. "They get tattoos of what's going on in their life."
While she didn't reveal exactly how many tattoos Davidson got in her honor, Kardashian did share which one she likes the most. "I think my favorite one, it says here, it says, 'My girl is a lawyer,'" she revealed. "That one's really cute." If nothing else, Pete's tattoos are proof that their relationship is getting more serious. Plus, some fans — and even Pete's own mom — think that babies may be in their future.
According to Page Six, when the Instagram account @kardashianunit shared a steamy photo of the couple making out in the car, one fan commented that the Skims founder "will be pregnant by the end of the year." Neither Kim nor Pete addressed the comment, but according to the outlet, the comedian's mom seemed super excited at the prospect of possibly having a grandchild in the near future. "Yayyyy," Amy Davidson reportedly responded before eventually deleting the comment.
Kim, on the other hand, doesn't seem to be thinking about babies nearly as much as she's thinking about which photo she should share on Instagram next. "I have the cutest pictures of us, and I want to be like, 'Oh my god, we're so cute,' but then I'm like, 'Don't be so desperate. Don't be posting so much, just give a glimpse,'" she told Ellen. "It feels good. I think it's just in life, like no matter what it is, I encourage my friends and the people that I love just to be happy, and I went for it. I went for it, and you know what? I'm in my 40s, like, f*ck it—sorry—just go for it, find your happiness. I went for it and I took my time and I found it and it feels so good, and I want to hold on to that forever."
April 2022
On April 3, it appears that Kardashian and Davidson took a big step in their relationship. For the first time since the two celebrities were linked romantically, the comedian was spotted with at least one of the fashion mogul's children. TMZ snapped a short video (head to TMZ to watch) of Pete driving in Kim's pink electronic car with North West along for the ride. The two were joyriding in Los Angeles in what appears to be Scott Disick's gated community.
TMZ noted that it's not odd for divorced parents to introduce their children to a new love after half a year, but Kanye has been very vocal about how he doesn't want the Saturday Night Live star anywhere near his children. Still, that hasn't kept Kim from pursuing her relationship with the comedian.
On April 11, a few days after the red carpet premiere of The Kardashians, Kim shared two photos of her and Pete grabbing a "late nite snack." She also recently opened up about their first kiss, which happened during their Aladdin-themed SNL sketch in October.
"When we kissed, I was just like, 'Hmm!' It was a stage kiss, but it was still a little zing," she told ET. "It wasn't anything like a super, crazy feeling. I was like, 'Wow, I really haven't kissed anyone else in 10 years, so maybe I'm just, like, being stupid and it's just nothing. And then a few days later, I was like, 'Hmm, there is some BDE action.'"
On April 21, rapper Pusha T dropped his new album It's Almost Dry, which features West on two songs (though he's credited as a writer and producer on many more). On both songs, he references his family drama. On "Dreamin of the Past," he performs the line, "Born in the manger, the son of a stranger / When daddy's not home, the family's in danger."
West also appears on "Rock N Roll" alongside former frequent collaborator and ex friend Kid Cudi. On "Rock N Roll," West's verse is dark and appears to be about heartbreak and hurt. His moment includes the line, "I ain't come to pick up the kids to pick a fight." The rapper seems to be referencing Kardashian and their four children.
Meanwhile, Kid Cudi recently made it clear that this would be the last time he and Ye would rap on a song together, tweeting, "Hey! So I know some of you heard about the song I got w Pusha. I did this song a year ago when I was still cool w Kanye. I am not cool w that man. He's not my friend and I only cleared the song for Pusha cuz thats my guy. This is the last song u will hear me on w Kanye -Scott."
May 2022
Kardashian and Davidson kicked off May by walking their first red carpet together. The pair got all dressed up and posed for pictures at the 2022 White House Correspondents' Dinner. Kardashian stunned in a glittering silver gown, while the SNL cast member kept things simple in a traditional black suit and white shirt, but he made sure to remain true to himself by wearing sneakers to the upscale event.
The same day, reports began to surface that Davidson had gotten a third tattoo related to his girlfriend. His latest addition seems to be focused on not just the star, but her family as well, as it reads "KNSCP." Eagle-eyed fans, who caught the letters via paparazzi snaps, believe they stand for "Kim, North, Saint, Chicago and Psalm," with the last four being the names of the children the fashion mogul shares with ex-husband West. Davidson already has the phrase "MY GIRL IS A LAWYER" tatted and Kim's name branded on his body.
This article was originally published on