The Kardashians Reveals Kendall Jenner Lost The Vogue Cover To Kim K
"There's not an upset bone in my body because I think it went to the right person," Kendall said.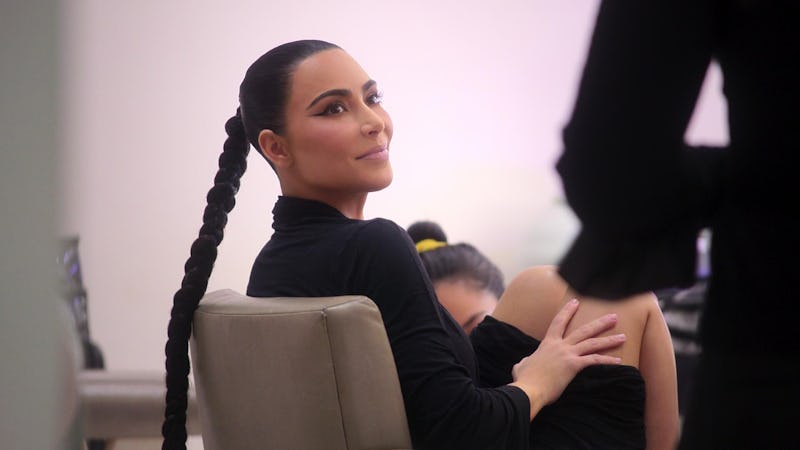 Hulu
Kim Kardashian made waves when she covered the March 2022 issue of Vogue and dished about her ongoing divorce from Kanye West and new relationship with Pete Davidson. However, as revealed on the May 26 episode of Hulu's The Kardashians, her sister Kendall Jenner was apparently offered the Vogue cover before the publication changed its mind.
While Kim was shooting her Balenciaga campaign, her momager Kris Jenner told her that Vogue had done a "fantastic" cover try with Kendall and offered her the cover of the March 2022 issue — but then she got a call from the model's agent. "He says, 'Good news, bad news,'" she recalls, laughing. "I go, 'What? What's the bad news?' He goes, 'I'm not sure that Kendall's gonna be right for this cover.'" Kim responded with a genuine "Oh my God" before Kris revealed the good news: "He said, 'They asked Kim to do the cover.'" It's not known why Vogue had a change of heart, but they probably couldn't resist the Davidson buzz either.
"I'm so excited I'm going to be on the cover of Vogue, like I don't care how many times you'd be on the cover, it'll never, ever get old," Kim said in a confessional. "This one just feels extra special to me, and I'm so honored to be a part of it." However, she did feel sympathy for her sister but not enough to break the news herself. "I feel so bad, it's very bittersweet" she told her mom, who said she didn't know how to tell her. "It's your problem," Kim replied. Kim did, however, suggest that Kendall's agent tell her without saying her sister got it instead. "Oh, then she's just gonna pick up a Vogue magazine and you're on the cover?" Kris replied, laughing.
Before Kris could deliver the news, Kendall's agent took care of it, and she reacted with grace, saying she was "happy to give it up" to Kim. "I'm happy for my sister, and she should be really happy," Kendall said in a confessional. "There's not an upset bone in my body because I think it went to the right person."
In another confessional, Kim revealed that she would have had even less sympathy for her sister if they were in this predicament 15 years ago. "Oh I probably would've murdered Kendall myself to get the cover if it was an option between the two of us," she admitted. "With my desperation back in the day, she would've been buried before she got this cover." Considering Kim and Kendall both have countless international Vogue covers and remain the only Kardashian-Jenner sisters to front U.S. Vogue, now with three covers each, it's safe to say they're both winning.