Kylie Jenner Roasts Kendall For Her Cucumber Cutting Skills On TikTok
Kendall's cutting technique on The Kardashians was turned into Twitter memes, and Kylie has joined in.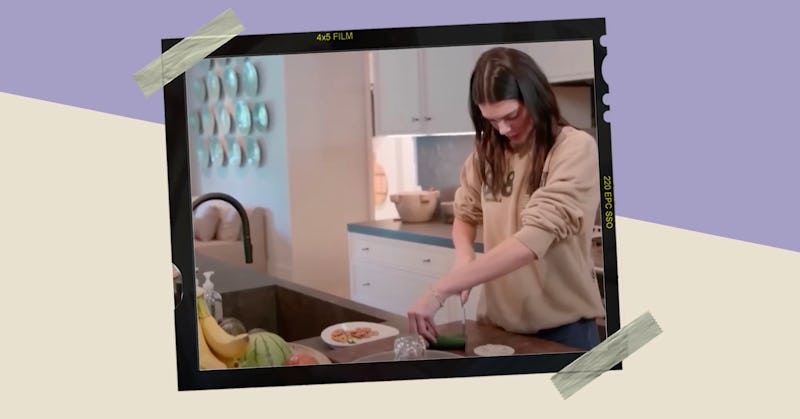 The Kardashians is filled with surprising revelations and glimpses into the Kardashian and Jenner clan's new relationships, but the moment fans have latched onto most is... Kendall Jenner cutting a cucumber. On the May 12 episode of the Hulu series, Kendall visibly struggled while chopping the vegetable, crossing her arms over each other while holding the knife in one hand and gripping the cucumber with her other hand. "I'm definitely not a good cutter, so don't zoom in on me," she told the cameras. "I'm not professional whatsoever." The scene caused an onslaught of memes and commentary on the family's privilege, and even her sister Kylie Jenner got in on the action.
On May 23, Kylie posted a TikTok video of her and Kendall dancing at Kourtney Kardashian and Travis Barker's wedding reception in Portofino, Italy on May 21, set to the song "Tear in My Heart" by Twenty One Pilots, and she had the perfect nickname for her sister. "Me and cucumber girl," she captioned the post. There's only one way to settle this sibling rivalry: let's see how Kylie cuts her cucumbers.
Kendall's cutting abilities first worried her mom Kris, who asked her chef to help before Kendall insisted she could do it herself. But when it only got worse, fans had a field day, creating the most hilarious memes and making themselves feel better about their own culinary skills. Even Kendall responded to the mayhem on Twitter, retweeting one of the memes and agreeing with a user who called her knife technique "tragic."
Hilariously, Kendall proclaims to be good in the kitchen, telling Architectural Digest in December 2020 that she loves cooking for her family and friends at home. "This house has prompted me to spend more time in the kitchen," she said. "I'm always in there trying to up my chef game. At this point, I'm a pretty good cook. Kylie and I were super-lucky to have guidance from our older sisters and a mom who really has her sh*t together." Perhaps Kris should've stepped in this time to show her how to properly cut a cucumber.