Kit Harington Announced Rose Leslie's 2nd Pregnancy With An Adorable Story
Their son is "about to get the shock of his life."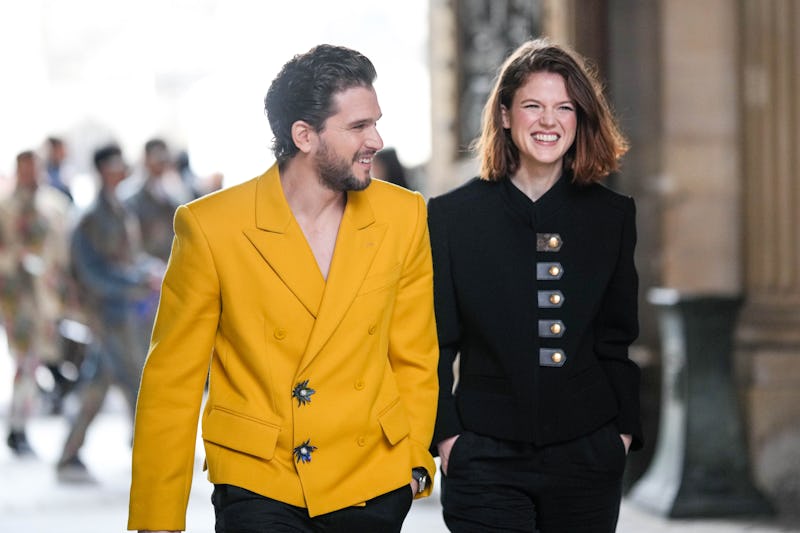 Edward Berthelot/Getty Images Entertainment/Getty Images
The best love story to come out of Game of Thrones remains Kit Harington and Rose Leslie's. The former co-stars are now parents to a 2-year-old son, with another baby on the way. When Harington appeared on The Tonight Show Starring Jimmy Fallon on Friday, Feb. 3, he surprised the host by announcing Leslie's pregnancy as he gave an adorable update on their toddler.
After a quick trip down memory lane to the unexpected 2021 skit "Kit Harington Straight Up Goes For It," the two started talking about the Ruby Baby star's child. Harington did some low-key parental bragging as he shared that he and Leslie think their son "might be quite smart." (He did, however, call it "surprising seeing as we're both actors.") Then he got to their big life update: "He's about to get the shock of his life, which is that he's about to get a brother or a sister," he said.
Fallon seemed genuinely stunned by the reveal. "You serious?" he asked, before adding, "That's unbelievable!" Eventually, the two got to what Harington and Leslie's son thinks of the development, and the actor described his adorable confusion. "I'm not sure he's quite conceptually understood it just yet," he said. Apparently, when they point at Leslie's growing belly and say "Mummy's baby," he points at his own tummy and says, "My baby."
The Tonight Show reveal was a worthy follow-up to Leslie's 2020 pregnancy disclosure. She posed for a cover story in the UK's Make magazine and let the photos inform the public. Though she didn't get into the details of her pregnancy, she talked about their Tudor-style home and how nice it was to think about "all the families passing under those ancient beams."
The couple's son was born in early 2021, and they welcomed him privately before they were spotted out and about with him that Feb. 16. Their rep told E! at the time the new parents were "very very happy!"
Years before they were a mom and a dad, Harington and Leslie began dating while starring as on-screen love interests on Game of Thrones. He later recalled to Vogue Italia how they fell in love while shooting the second season in Iceland in late 2011. Explaining why their three weeks there were his best memory, he said, "Because the country is beautiful, because the Northern Lights are magical, and because it was there that I fell in love."
Fast-forward to 2017, and the two were ready to get married. They announced their engagement that September, and Harington revealed on The Jonathan Ross Show that he was already trying to figure out how Game of Thrones production could work around their wedding so their colleagues could attend. In the end, it worked out, and the two tied the knot on June 23, 2018 in the presence of several GoT cast members.