Kourtney Kardashian Isn't Happy With The Kardashians' Edit Of Her Engagement
"I am in one of the best places I've ever been in my life, and it's time for our show to catch up."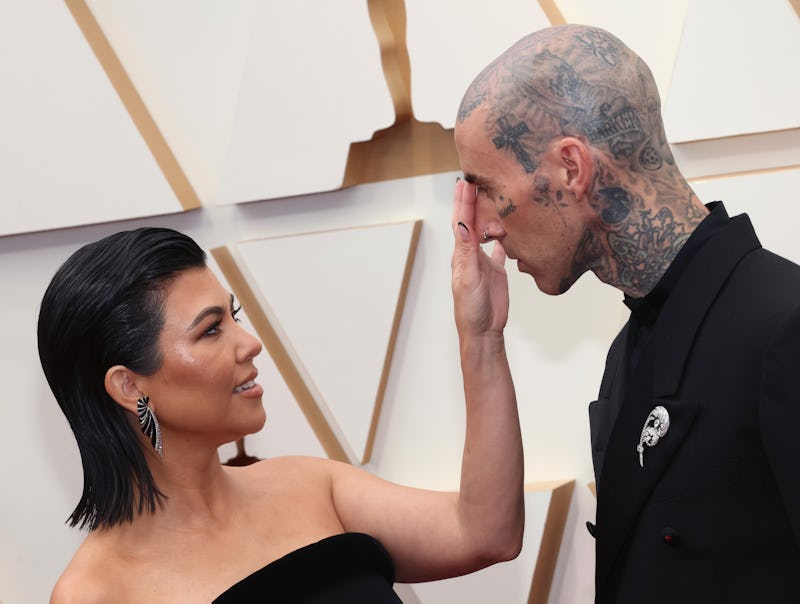 David Livingston/Getty Images Entertainment
Kourtney Kardashian is getting fed up with reality TV — again. On the June 9 episode of The Kardashians, the Poosh founder expressed frustration with the editing of her family's new Hulu show while filming for the series, particularly the decision to include her ex Scott Disick's reaction to her engagement to now-husband Travis Barker.
"We film and have the best time ever, and then we've been watching the edits and we're just so annoyed because they're just swirling us in with this drama," she told her friend Stephanie Shepherd. "Especially when I saw my engagement episode, editors or whoever, are taking it as, 'Let's take Kourtney, she's the chosen one to be the drama.'"
As Kourtney explained in a confessional, she, her sisters, and mom Kris Jenner are all executive producers on The Kardashians, meaning they have a say in what makes the cut and can give notes on how their stories are being told in each episode, which is more control than they ever had on their E! show Keeping Up With the Kardashians. But that's still not enough for the eldest sibling. "I am in one of the best places I've ever been in my life, and it's time for our show to catch up," she said. "It's enabling this old narrative and buying into something that just doesn't really exist."
"I wish they would take that out and put it in the next episode and give us our respect. Let us have our moment."
As Kourtney told her friend, she didn't even remember that her family mentioned Scott at the engagement until she saw the episode. "I wasn't like, 'God, everyone's such f*cking assholes for bringing up this,' because it wasn't a part of the night," she said. However, she did acknowledge that viewers would be naturally curious about Scott, and had a solution. "I wish they would take that out and put it in the next episode and give us our respect," she said. "Let us have our moment."
As seen on the episode, Hulu decided to keep the conversation in there anyways, and even showed Khloé paying Scott a visit after the engagement to check on him in the same episode, making Kourtney question why her family was feeding into the narrative. "Like what you said to me on the phone, you're like, 'Why isn't everyone empowering you and celebrating that you've done all this work for years, and now have this healthy relationship that I deserve? How could this be taken negatively?'" she recalled.
Nonetheless, Kourtney concluded by affirming that she's on good terms with Scott, while pushing how important it is for her to move forward. "It is all good," she said. "We've been broken up for like seven years. I'm allowed to create new memories and new ways of doing things."