Kourtney Kardashian Sharing A Photo Of Travis Barker's Blood Might Be A Celeb Trend
Theories point to the history of famous couples wearing and gifting each other vials of blood.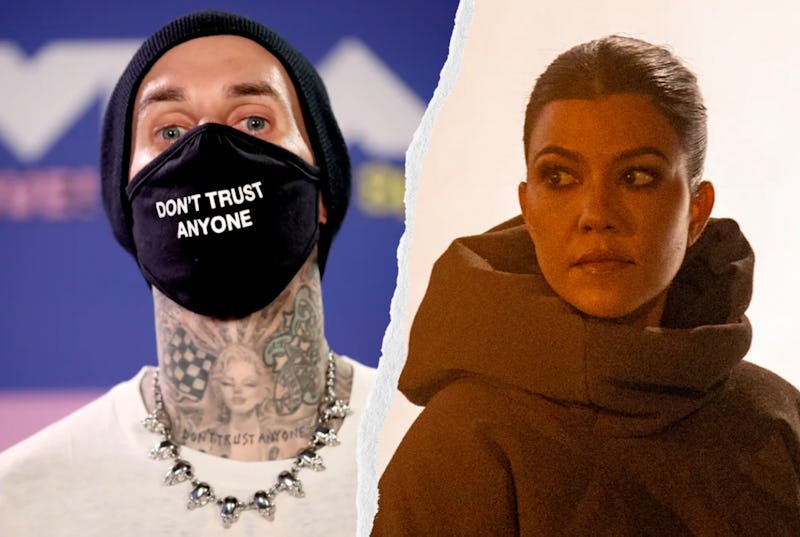 Rich Fury/Marc Piasecki/Getty Images
Kourtney Kardashian and boyfriend Travis Barker have had no problem sharing their affection and dedication to each other in sometimes shocking ways. First, there was the PDA, then there were tattoos, and now they seem to be taking it even further — by showing us their love is definitely more than just skin deep and clearly thicker than water. The 42-year-old reality TV star just shared a photo of what appears to be a vial of Barker's blood on Instagram. The tube, which was initially shared by the Blink-182 drummer, has his birth date scribbled on it. She reposted the story with a simple black heart as the caption, leaving followers with zero context or clue as to why the pair is posting and reposting photos of a vial of blood.
However, there are a few theories that may explain the perplexing Instagram posting, one being the history of celebrity couples and their propensity toward showing their love for each other by wearing and gifting each other vials of blood. For example, how could we forget the infamous '90s coupling of Billy Bob Thorton and Angelina Jolie, who showed their love by donning jewelry containing (you guessed it) human blood?
In an interview with The Hollywood Reporter in 2014, Thornton explained the couple's interesting choice of accessories. "Vial of blood is very simple. Angie came home one day with a kit she bought which is a ... you know those lockets you buy that are clear and you put a picture of your grannie in it or something like that and wear it around your neck? That's what it was," he explained, adding that "she thought it would be interesting and romantic if we took a little razorblade and sliced our fingers, smeared a little blood on these lockets and you wear it around your neck just like you wear your son or daughter's baby hair in one. Same thing."
Right. Just like wearing baby hair. Whether or not that explanation makes you cringe or croon it seems to be a ritual that has made its way into another celebrity couples relationship, namely pop-punk pairing Megan Fox and Machine Gun Kelly.
On Valentine's Day 2021, Kelly shared an Instagram carousel with photos of the duo as well as a clear necklace containing a red dot of liquid with the caption "i wear your blood around my neck 🔪🩸". In case fans thought he was joking, he clarified the caption on The Ellen DeGeneres show in May, saying that Fox took it upon herself to gift him with a pendant of her blood. "Some people give, like, a handkerchief to their partner or whatever," the "Bloody Valentine" singer shared before adding, "She gave me her DNA."
Handkerchief. DNA. Same thing. So, since Kelly and Fox have been known to double date with Kardashian and Barker, have they influenced the pair to make some jewelry of their own? PEOPLE shared that it might be tied to medical issues the drummer had with blood clots in the past, so perhaps Kardashian is just supporting his good health? Maybe. Either way, it's safe to say the Kardashian-Barker bond is going strong.