Lizzo's TikTok Workout Video Is A Reminder To Celebrate Your Inner Transformation
"The best transformations are the ones only you can see. Celebrate yourself."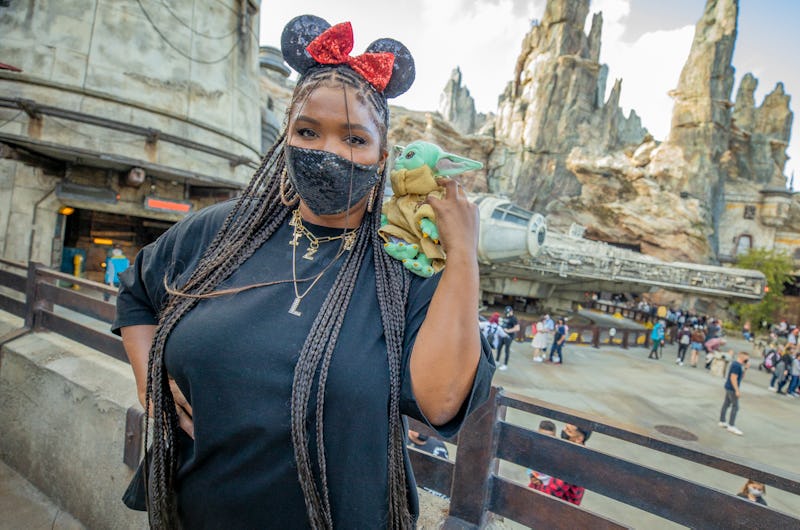 Handout/Getty Images Entertainment/Getty Images
Lizzo — your favorite mental health advocate, songwriter of self-love anthems, and woman who coined the phrase "every big girl should do whatever the f*ck they want with their bodies" — is back at it again. This time, she's reminding fans of the power and importance of inner transformation.
In a new TikTok video, Lizzo shared scenes of herself completing different workouts such as jumping rope, exercising with kettlebells, and even pulling the weight of another person on a sled while walking backward (literally, how?). However, in true Lizzo fashion, she makes it clear that it's not just what's on the outside that counts, captioning the video with, "The best transformations are the ones only you can see. Celebrate yourself."
This caption and message isn't a surprise coming from the three-time Grammy winner. The 33-year-old pop artist has been sharing moments from her workout journey with fans on TikTok over the past year, all while making it clear she's not exercising to lose weight.
In April, the "Truth Hurts" singer took to the TikTok to call out the body positive movement, saying, "The people who created this movement — big women, big Brown and Black women, queer women — are not benefiting from the mainstream success of it," then adding, "Our bodies are none of your f*cking business. Our health is none of your f*cking business."
Lizzo has also taken to the social media platform to make it clear that mental health should always come first and foremost. In May, she got candid with fans, explaining how experiencing loneliness and sadness had made her feel like a burden. She also shared how she got to the other side of that sadness, telling fans, "I'm feeling better. I had a really rough night and a very emotional morning just thinking about my relationships and life. You know how it is. It gets dark. I'm definitely glad I reached out in any way I could and TikTok was one of those ways."
More recently, she leveraged TikTok to say that every little thing is worth celebrating. In a video showing the singer in black biker shorts, she shared, "Today I'm working out in shorts and I'm gonna keep it real with y'all: not much has changed, physically, about myself, but a lot has changed here, mentally. Here, emotionally," she continued, "I accept myself. These shorts are a little long so they won't chafe, but I'm doing it! Yay!" She appropriately captioned the TikTok, "ITS A BIG DAY YALL! Celebrate how far you've come! Even if it ain't far to some!"
Shoutout to Lizzo, for showing fans the full range of human emotions and reminding us that "feeling good as hell" is always the main goal.