Logan Is At The Center Of A Bachelorette Love Triangle
The videographer seemed to win both Rachel and Gabby over.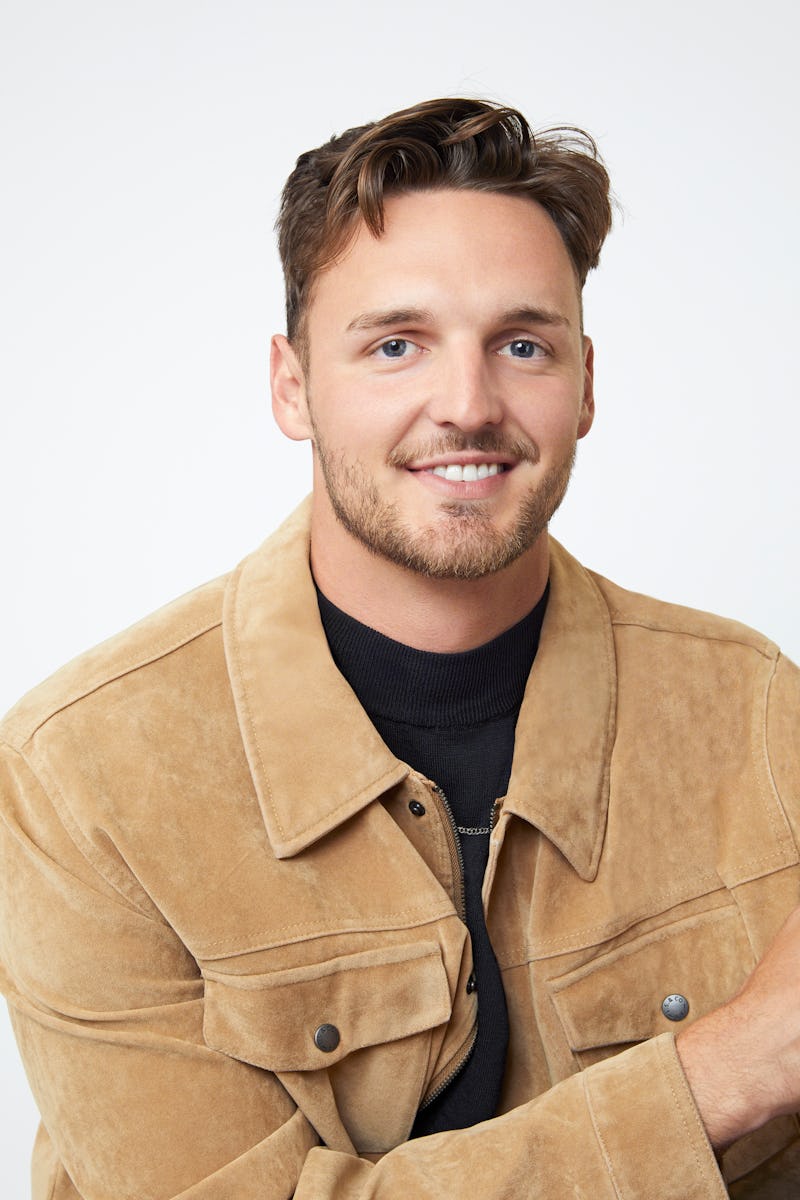 Ricky Middlesworth/ABC
When ABC announced Gabby Windey and Rachel Recchia as the leads of The Bachelorette Season 19, there was always a chance that they'd end up liking the same guy. Based on the premiere episode, that already seems to be the case with contestant Logan Palmer. A 26-year-old from San Diego, his limo entrance involved holding two baby chickens in his hands, which didn't seem to initially win them over.
Later though, he was one of the few contestants who managed to speak to both of them and win them over. Rachel admitted she was "very attracted" to Logan because he was funny and spontaneous; Gabby, meanwhile, called him "endearing" and said he was a contestant she was keeping her "eye on for the future." When Week 2 rolled around, Logan is chosen to go on a group date with Gabby and Rachel. He charms (and kisses) both Bachelorettes, but it's ultimately Rachel who chooses to give him her group date rose.
Knowing The Bachelorette, this potential love triangle is likely going to become a major source of drama for the season, so here's everything to know about the man in the middle of it all.
Logan's Job
Logan is a videographer, per his LinkedIn. His current title is production technician at Raindrop in San Diego, where his duties include set design, camera operation, and movie production. Before that, he was a camera operator for the San Diego Padres and a videographer and editor for KUSI television. He graduated with a degree in strategic communications from Northern Arizona University.
Logan's Instagram
Logan shares some of his videography work on his Instagram, which also has photoshoots from when he's helped out friends with their own projects. Featuring on his page are also pictures of his guitar — which he seems to have affectionately named "Shelly" — and plenty of photos of palm trees and the beach. This makes sense, considering his official ABC bio notes that he's a typical "California beach boy who loves the sun and surf."
What Is Logan Looking For?
In a TikTok Live last month, host Jesse Palmer described Logan as "super laid back" but someone looking for a deep connection. He also joked that Logan is into spontaneity: "He's not afraid to skinny dip. He also loves corndogs. Logan will take chances, people."
According to his bio, Logan admittedly loves "to hang with his boys," but he's ready to settle down for the right person. He describes himself as "witty, self-aware, and goofy" and wants someone who is "a free spirit" like him. His ideal date is cuddling by a bonfire under the stars, and he wants someone who's "artsy" yet "low maintenance."
How Does Logan Do On The Bachelorette?
Logan's lifelong crush is apparently Elaine from Seinfeld, so we'll have to wait and see if either Rachel or Gabby can live up to Julia Louis-Dreyfus' iconic character. In the first two episodes, he's managed to capture both Bachelorettes' interests, earning a group date rose from Rachel in Week 2. At first, Gabby was also considering giving Logan her rose, but after talking with Rachel and learning that Logan also kissed her co-lead, Gabby says her heart dropped. "Rachel feels very strongly about Logan. I want to be able to give her that space in order to nurture," Gabby admitted in a confessional. "It's truly not worth stepping on Rachel's toes in this scenario."
That might seem to be the end of this particular love triangle. But considering that the season keeps showing the men discussing the drama and awkwardness that would ensue if the women ended up liking the same guy, the Bachelorette producers will probably be keen to keep Logan around as long as possible.
This article was originally published on