Love Island's Olivia Hawkins Shares A Surprising Connection To Emma Watson
Here's everything you need to know about the hopeful contestant.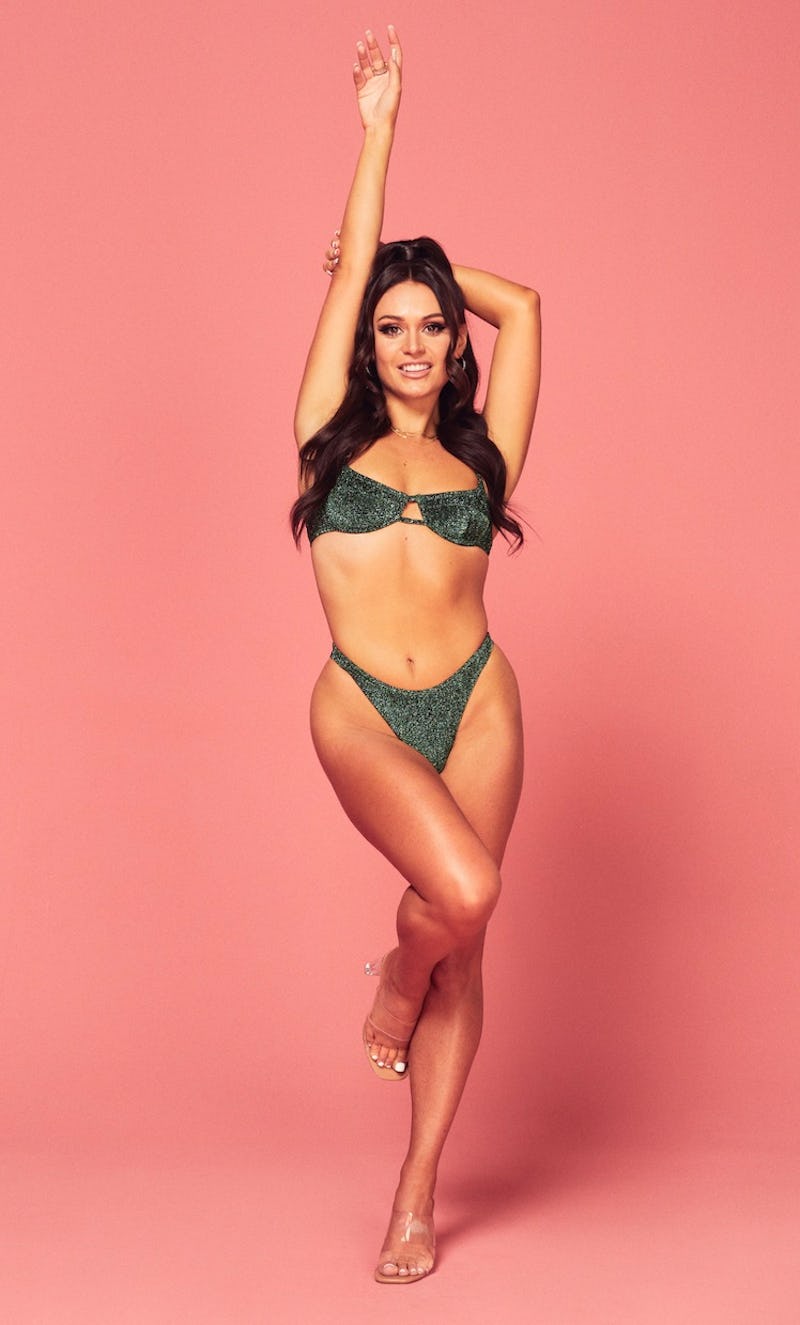 ITV2
With this year's plucky Love Island contestants now unveiled and in the villa, Olivia Hawkins is hoping to finally find someone to "settle down" with, having never been in a relationship before. The 27-year-old Islander has previously been a body-double for Michelle Keegan and Harry Potter's Emma Watson, and also snagged a small role as a waitress in a James Bond film. Off screen, Olivia has also been a ring girl for the boxer and rapper KSI, displaying different numbered signs during matches to show which round fighters are currently on. Let's hope she also finds her match on Love Island.
What Is Olivia's Job?
Brighton-based Olivia is an actor, and as well as making a cameo in the aforementioned Bond franchise, she's also filmed with action thriller veteran Jason Statham, and the pair had "a nice 10-minute convo about life." Remembering her time working with Keegan, the Islander tells Bustle: "She is absolutely stunning and has a great voice, everyone on set was also very kind — I loved the experience."
Irrespective of Olivia's journey on Love Island, she is sure of her profession as an actor. "Performing has always been my passion. That's not even a question I'll go on with my career," she says.
What Is Olivia's Instagram?
Olivia currently has 20.2k followers on Instagram, and at present, her bio has been changed in line with her fellow contestants, reading: "I'm off to find love in the Love Island villa. See you soon!" On @livhawkinss you'll find golden-hour selfies, breathtaking sunsets, yachting snaps, and her excellent Ariana Grande Halloween costume from 2021.
And the Islander stands by ITV's decision to pause contestants' social media. "I think it's such an amazing change. I don't want to put pressure on my friends and family to run my account. It's my choice to go to the villa, not theirs, so it's fair," she explains to Bustle.
What Else Is There To Know About Olivia?
Olivia hopes to bring "fun" and "vibes" to the villa. "I'm a very confident, bubbly person…. maybe a little bit of drama!" she tells ITV. But there is one habit of hers that the Islander is scared about showing on television. "I haven't told producers this but I do sleep talk and sleep walk. I'm just hoping I don't do it because that could be quite embarrassing, or entertaining let's say. I had a shower in my sleep once, obviously it woke me up. My mum was shocked and said 'it's 2 a.m what are you doing?'" she recounted to Bustle.
The Islander is big on personality, while she can't think of any previous contestants who she would click with, she knows what to expect going forward. "I love someone who's confident, chatty and has good banter, especially someone I can click with," she tells Bustle. Unlike other contestants, Olivia hasn't seen too many episodes of past Love Island seasons. "I want to take the experience as it comes."
This article was originally published on