Lupita Nyong'o Says It's "So Hard" Coming To Terms With Chadwick Boseman's Death
"It's hard to think of him in the past tense."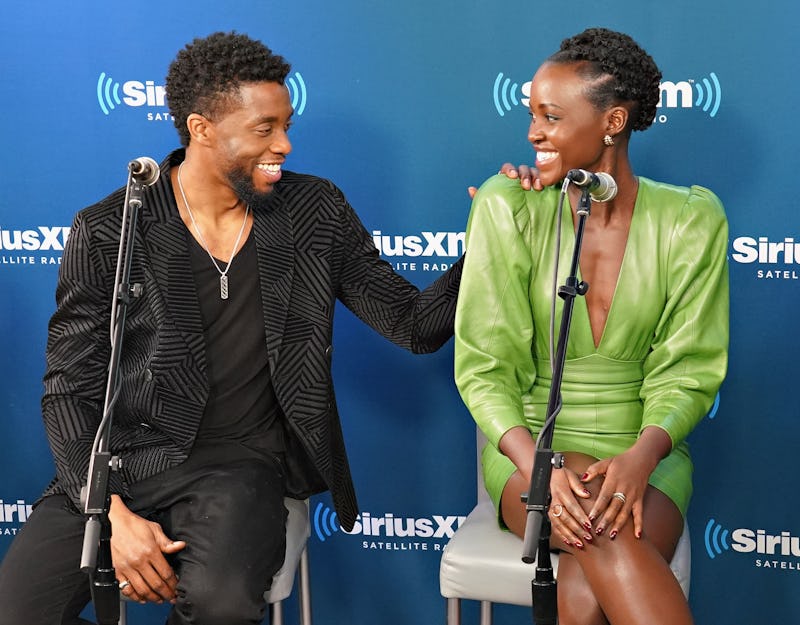 Cindy Ord/Getty Images Entertainment/Getty Images
When it comes to the untimely death of Black Panther star Chadwick Boseman, Lupita Nyong'o is still grieving. "It's still so hard for me to come to terms with his passing," the 12 Years a Slave star told Ellen DeGeneres in a new interview that's set to air on Tuesday, April 6. "He was my friend and so it's hard to think of him in the past tense still," she added.
Boseman died in August 2020 after a secret four-year battle with colon cancer. Since his death, he's received many posthumous awards for his work, including the award for Best Actor for his performance in Ma Rainey's Black Bottom at the Screen Actors Guild Awards on Sunday, April 3. But even more important than the trophies he won were the relationships he developed with his co-stars, many of whom were constantly impressed by his dedication and professionalism.
"He led the movie with such compassion and just presence," Nyong'o told Ellen of Boseman's work on Black Panther. In the first film, Boseman played the lead role of T'Challa, and according to Nyong'o, he was a strong leader offscreen as well. "When Chadwick came on set, he was present and he brought his entire being to that movie and he was just so humble as well, you know. That leadership will be missed."
This, of course, isn't the first time Nyong'o spoke candidly about the loss of her dear friend. On March 3, the 38-year-old actor sat down for an interview with Good Morning America and reassured longtime fans of the Black Panther franchise that although the sequel will be "different" without Boseman, director Ryan Coogler had some ideas up his sleeve that would honor the star in the way fans would want.
"In true Marvel form, I have nothing to tell you," she said when asked for details about the impending sequel. "It's gonna be different, of course, without our king to back into that world, but I know that all of us are dedicated to carrying on his legacy in this new Black Panther. And [director] Ryan Coogler has some really, really exciting ideas that I look forward to bringing to life with the rest of the family."
Despite all the excitement that's ahead, Nyong'o isn't the only member of the cast who knows that the future of the franchise will be totally different without Boseman. "The thought of doing it without him is kinda strange," Letitia Wright said in an October interview with Net-A Porter. Michael B. Jordan echoed that sentiment in a January interview with People. "[I] had a really tough year losing somebody close to me, and what that means for that franchise is devastating," he said before hinting at a possible return to the franchise. "It's family. We created a family over there, so to be able to be in that world again is something that, I think, will always be on the table in some capacity."