Fans Of Scenes From A Marriage Will Be So Into The BBC's New Drama
Starring Nicola Walker and Sean Bean.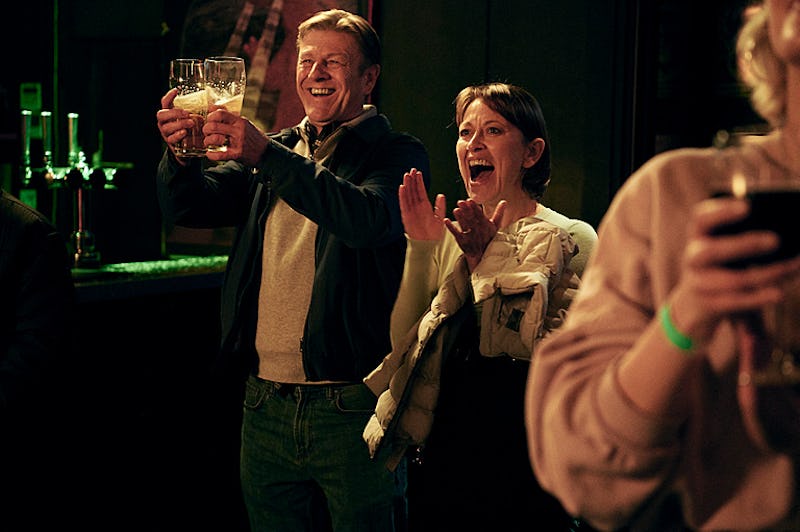 BBC / The Forge / Rory Mulvey
Screen depictions of marriage and relationship are becoming more authentic by the production - just think of HBO's Scenes From A Marriage and the Academy-Award winning Marriage Story. Moving away from all the rom-coms of years gone by, these raw and honest films and TV shows are becoming increasingly popular. And the BBC is adding a new series to your watch-list: Marriage.
Created by BAFTA-winning writer Stefan Golaszewski, the BBC special is a four-part series starring Sean Bean and Nicola Walker. The series was first announced by the BBC as they revealed six new dramas they commissioned back in May 2021, including the TV adaptation of Dolly Alderton's much-loved memoir and Candice Carty-Williams' brand new series. So, here's everything we know about Marriage.
Marriage Plot
The BBC series plot sees married couple Ian (Bean) and Emma (Walker) grapple with the ups and downs of their three-decade long marriage. With a mix of humour, emotions, and suspense, Marriage will explore the realities of a long term intimate relationship as we see them deal with all parts of a marriage - the good, the bad, and the ugly. So far, so honest.
According to the BBC, Marriage kicks off with a couple's return from holiday, and the abrupt crash back into a reality where Ian has been made redundant, and Emma is flourishing at her own job. At the same time, Ian is grieving after the death of his mother, and Emma is juggling a huge professional turning point with an ambitious young boss on the scene, and weighed down by the responsibility of caring for her elderly dad. "We see them dealing with the insecurities, the ambiguities, the hopes and the fears that are part of all marriages, as the drama explores the risks and the gifts of a long-term intimate relationship," reads the official synopsis. "Sometimes funny, sometimes moving, always revealing."
The show's events take place over the course of just twelve days, and show a meaningful snippet of what makes a relationship. "I guess I'm trying to write about what it is actually like to be a person instead of what it is like on television or in fiction," explains the show's writer and creator Stefan Golaszewski. "People find things difficult and they don't really know what they feel. They think they feel one thing but often feel something else. They often don't know what to say to each other which seems to be like a more truthful depiction of what it is like to be a person"
Marriage Cast
Game of Thrones and Time star Sean Bean will be taking on the role of Ian, while Nicola Walker, of Unforgotten fame, will star as Emma. (Read: major feels.) Speaking about her new role, Walker said: "This is a unique project. Stefan has created such a beautiful, funny and complicated world and I'm excited to be stepping into Ian and Emma's marriage with Sean."
Bean also shared his reaction to securing the role. He said: "I'm thrilled to be playing opposite the talented Nicola Walker and I'm looking forward to bringing Stefan's intimate scripts to the screen."
"It's been very easy being married to Sean Bean for 27 years on this!" joked Walker, adding: "My most memorable scene was applying cream to Sean Bean's thigh area. It was a beautiful moment and one that I never expected as Ian had a nasty rash! It was a tremendous day in my professional career. Luckily it was in a tasteful position for camera!"
Other stars have been announced as part of casting including James Bolam (New Tricks, The Likely Lads) as Gerry, Emma's father, Henry Lloyd-Hughes (The Inbetweeners, Ragdoll) as Jamie, Emma's boss, and Chantelle Alle (We Are Lady Parts, Mood) as Jessica, Ian and Emma's daughter.
Marriage Release Date
The first episode of Marriage will air on August 14, on BBC One at 9pm. From the following day onwards, the rest of the four-part series will be available to stream on iPlayer – with each episode clocking in at an hour long.
This post will be updated as more information on Marriage becomes available.
Contributions by Aisha Rimi, Nasra Ayub, and El Hunt.
This article was originally published on