Everything To Know About The Masked Singer Season 7
It's already off to a messy start.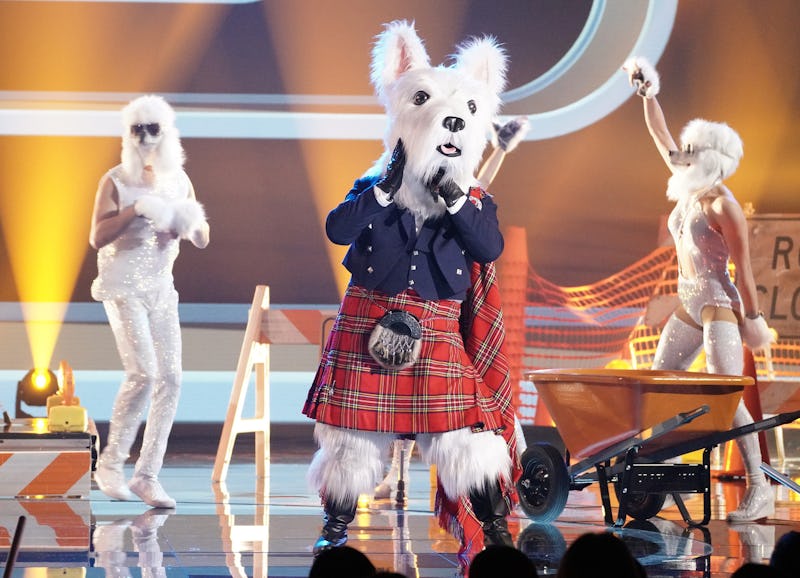 Michael Becker/FOX
The Masked Singer is back, and this time with a new format. Rather than having performers compete individually, Season 7 includes teams broken into "The Good, The Bad, and the Cuddly." Each episode features at least one performer from each category battling on behalf of their group. We'll have to wait and see how this new format plays out through the finale, but in the meantime, here's everything to know about Season 7 — including that controversial Rudy Giuliani moment.
The Masked Singer Season 7 Costumes
On Team Good are Prince Frog, Firefly, McTerrier, Armadillo, and Ringmaster. Team Bad is comprised of Hydra, Queen Cobra, Ram, Jack in the Box, and Cyclops. And Team Cuddly has Space Bunny, Lemur, Baby Mammoth, Mrs. Teddy, and Thingamabob.
As costume designer Marina Toybina told Art of Costume in 2020, the Masked Singer team is always pushing the boundaries of what's possible. "We are creating works of art. Even to this day, my mom watches the show and she says, 'Oh, that's so pretty!' And I'm like pretty? That took six weeks of carving!" she said. "The blessing of doing the show is now being able to be so well adapted and aware of different techniques of creating fabrics, textures, using 3D printing, fabricating, and working with animatronics. I never in a million years thought that I would know anything and everything about carving foam and how to sculpt a mask!"
The Masked Singer Season 7 Theories
Judge guesses so far have included Danny McBride for Cyclops, Alicia Keys for Firefly, and Peyton Manning for Ram. Meanwhile, fans on Reddit think Cyclops is Michael Rooker, Firefly is Teyana Taylor, and Thingamabob is Australian footballer Jordan Mailata.
Will Jamie Foxx, Bjork, or Lindsay Lohan — all of the judges' favorite guesses from throughout the seasons — finally appear in the competition? Will the show finally listen to the fans asking to make Joel McHale a permanent judge? And will they ever bring back the amazing Niecy Nash?
The Masked Singer Rudy Giuliani Controversy
On Feb. 2, Deadline reported that Donald Trump's former attorney, Rudy Giuliani, was unmasked during the premiere episode of Season 7. The report stated that when Giuliani was revealed, Ken Jeong and Robin Thicke exited the stage "in protest" while Jenny McCarthy and Nicole Scherzinger stuck around and "bantered" with the former New York mayor.
That clearly didn't happen in Episode 1, but Newsweek confirmed that The Masked Singer didn't cut Giuliani's appearance. It simply hasn't happened yet. "The show's general format features three groups across the season, and like most productions, the groups are not necessarily taped sequentially," Jean Guerin, FOX Entertainment's vice president of PR, said. "So we don't always know the order they will air." Expect to see the controversial moment some time in the next few weeks.
This article was originally published on