Everything We Know About Matt James' Current Relationship Status
The Bachelor stars were reportedly FaceTiming daily to work on their relationship.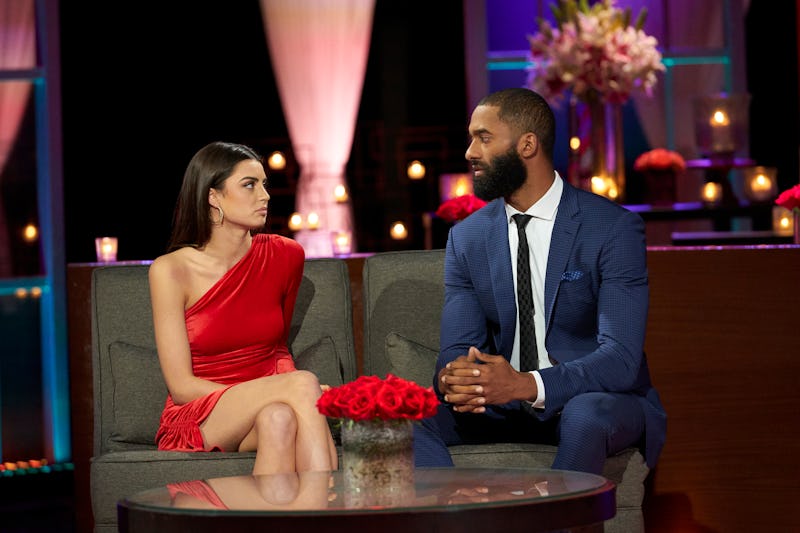 ABC
After weeks of speculation, Matt James confirmed he and Rachael Kirkconnell broke up following his Bachelor season during After the Final Rose. Though she was a frontrunner all season, they split as her racism scandal overshadowed their connection. Matt was understandably upset as her past racist actions continued to come to light, but her expressing that she would give him space as she took time to learn how to be anti-racist naturally led viewers to wonder how that was impacting her and Matt's relationship. As of April 2021, it seems Matt isn't ready to let Rachael back into his life despite their recent reunion in New York City.
"As Rachael acknowledged in her apology, there's a lot of work that needs to be done," Matt told ATFR host Emmanuel Acho in March. "I have to take a step back and allow her to put in that work. And I look forward to seeing her put in that work." Acho then asked how the breakup conversation went, and Matt revealed that it wasn't easy. "It was as tough, as you could imagine. It's heartbreaking," he explained. "If you don't understand that something like that is problematic in 2018, then it's hard for me to believe. … It's as simple as that."
It was a tough separation, so it's understandable that Matt previously said he wanted to take time to be single and focus on himself, his career, and his community. Still, some fans were initially convinced he was dating Heather Martin, who previously competed on Colton Underwood's Bachelor season and tried to join Matt's a few weeks in after hearing how highly Hannah Brown spoke about him. Matt was shocked to see Heather show up (in a minivan, no less), and he didn't necessarily seem upset about her crashing the show. However, because she arrived so late into the season, he decided to send her home out of fairness to the other women.
After the finale, it seemed like the two might've given things another shot. Heather was seemingly edited out of the "Women Tell All" special (suspicious if true), she and Matt tagged San Clemente, California, as their locations on Instagram, and, lastly, they both reportedly shared they were eating hummus on the same day. Not exactly damning evidence, but is still an odd coincidence.
His mom, Patty Cuculo James, also appeared to embrace their supposed relationship. When Heather launched her clothing brand, Tilted Three, on March 5, Patty was one of the first to leave a positive review. "Love this and congratulations on making this happen," she commented under a photo of Heather on the brand's Instagram. "I love your #doitafaid motto. So empowering." The brand (likely Heather) responded: "Thanks so much Ms. Patty!" with a heart emoji. So she definitely appears to have the stamp of family approval.
However, during an April 6 appearance on The Ben and Ashley I Almost Famous Podcast, Heather denied any romance between the pair and said she hasn't seen Matt since filming the show. "I think he has a lot going on in his life," she said. "He's going through a ton. I can't even imagine." She also said that while producers helped her make it happen, it was her idea to show up to Nemacolin in a minivan, and she knew "it wasn't going to be open arms" from the other contestants upon her arrival. As for being edited out of the "Women Tell All" special, she ominously said, "I don't know what I'm allowed to say these days."
After all this unfolded, it appeared Matt and Rachael were working on repairing their relationship when they were spotted together in New York City on April 6. Those rumors came to a screeching halt on April 9, however, when Us Weekly reported they were on completely different pages. "There seems to just be a big miscommunication between them," the outlet's source said.
Another insider claimed that while Rachael was in the city and spending time at his apartment, Matt was "talking to another girl," which isn't a great sign for a potential reconciliation. It was also apparently a shock to Rachael, as they had reportedly been "working on their relationship privately," FaceTiming daily. "Rachael is very emotional right now because she was very hopeful that things were going to work out," the source added, revealing that it "doesn't seem like they will be getting back together."
This article was originally published on