Megan Barton-Hanson Wants "A Fully LGBTQ+" Love Island
"We need to get to a place where everybody feels comfortable to live authentically."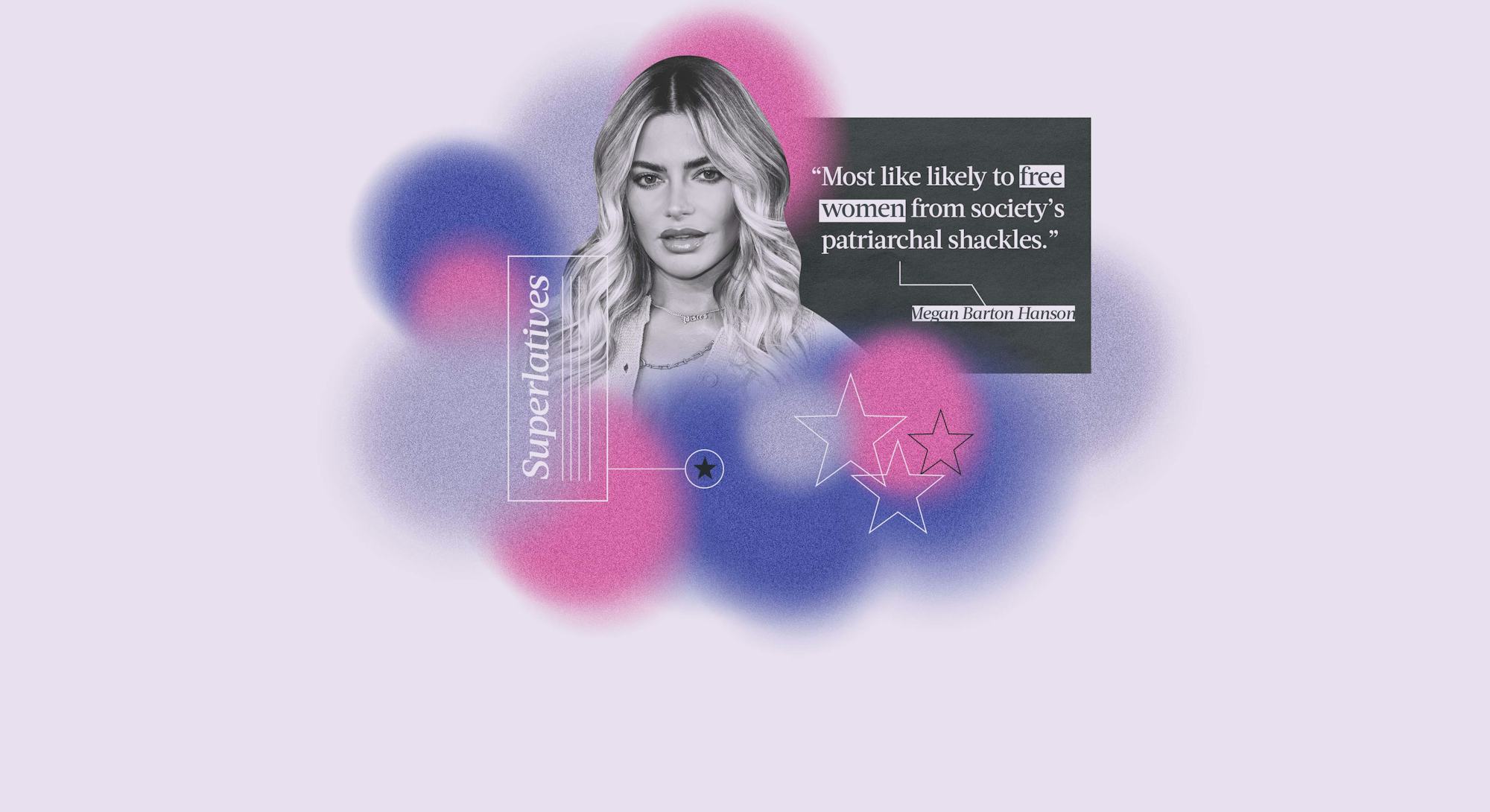 Jeff Spicer/Getty Images
In 2018, Megan Barton-Hanson was one of the breakout stars of Love Island series 4 – a reality show centred around heterosexual relationships. Ironic, when you consider the show's format is quite the contrast to Barton-Hanson's reality. Although she "hates labelling" her sexuality, the former reality TV star has in the past identified as bisexual. Today, she identifies as being "more pansexual."
Before entering the famed Love Island villa, Barton-Hanson informed producers of her attraction to women. "They never gave me much feedback on that. I guess it wouldn't have worked out logistically for them," she tells me over Zoom. "We definitely need a fully LGBTQ+ Love Island cast one day... we need to speed this s*** up."
She cites being open about her sexuality as one of her proudest moments as a member of the LGBTQ+ community. However, Barton-Hanson is glad she came out publicly after leaving the Love Island villa behind. "Bisexual people are sometimes viewed by society as being greedy or overly sexual," she explains. "I got a lot of backlash on the show because I was a sexual woman. So, at the time, the last thing I would've felt comfortable doing was reveal that I like dating women as well. I was afraid of being judged further."
The reality star has since come a long way, openly covering "taboo and private" topics including sexuality, relationships, mental health, and beyond, on her very own podcast You Come First. For Barton-Hanson, the 50th anniversary of the Pride movement in the UK provides another opportunity to celebrate her authentic self. "I'm really excited for Pride this year. I've only ever been to one Pride parade, and it was amazing. Just full of diversity and there was such a sense of community." This year, attending Brighton Pride is "the goal."
Reflecting on Pride UK's 50th anniversary this year, Barton-Hanson says its "amazing" how far the community has come, though not without acknowledging her privileged position as a "white glamorous female" (her words) and adding that there is still plenty of work to be done. "In the future I'd love to see more acceptance for bisexual men," she notes. "The messages I get from people struggling with their bisexual identity are usually from men. I think men are scared to be open about wanting to explore their sexuality because society will just tell me 'oh you're just gay' and that really needs to change."
Below, Barton-Hanson reflects on some of her earliest role models and offers her advice to marginalised members of the LGBTQ+ community.
Megan Barton-Hanson Q&A
What Superlative Would You Pick For The 2022 Pride Yearbook & Why?
I had a think about this, and I'd say most like likely to free women from society's patriarchal shackles. It feels really narcissistic to say, but it is everything I stand for.
What Were Some Of Your Go-To Songs Or Artists In High School?
I have such a random and broad taste in music, but growing up I really related to Amy Winehouse. I've been open about my mental health in the past, and when I was younger there were days, weeks, and even months when I just felt numb. The way Amy would sing about feeling down and crying on the kitchen floor – it really spoke to me.
On the flip side, when I'd be getting ready to go out to an under-18's night with my mates, I'd listen to 50 Cent, Dizzee Rascal, Eve, Missy Elliot, and Gwen Stefani.
Who Is An Important Role Model In Your Life & What Have They Taught You?
I was really badly slut shamed at school, simply because I was a young woman who was comfortable with her sexuality. I didn't watch Sex And The City, but I guess I gave off Samantha energy. So, one of my role models has definitely been Amber Rose. She made her own money and used her body to be financially stable. She didn't need a man. She didn't have to marry a man. She just owned her sexuality and her curves.
I've also got Frida Kahlo tattooed on my arm. I know that's such a feminist cliché, but I think she's an icon. She was bisexual and so brave to have been living her life the way she did.
What Are Your Self-Care & Mental Health Tips?
For me, there is no quick fix for mental health and self-care. Sometimes I feel great, other times I feel like s***. But a therapist once told me to speak to and treat myself like I would a small child. You wouldn't speak negatively to them. You wouldn't give them food and drink that is bad for them. You would treat them with care – so I make sure to treat myself and my body with love.
I also like waking up early and going to the gym. I recently started boxing and it's the one thing that really takes me out of my mind. I can just focus on the combination of punching and burning calories. It's my best self-care routine because I always feel like I've achieved something if I'm active early in the day.
How Do You Feel About Trans Rights In The UK Today?
I don't want to see people being judged on their gender identity anymore. We need to get to a place where everybody feels comfortable living authentically, because life is hard enough as it is.
If I could offer any advice to young trans people, it would be to be your authentic self. I know that isn't easy, but just simply being yourself can be so powerful – and hopefully inspire others around you to do the same.