Your Definitive Guide To Love Island 2022
Here's everything to know about Season 8.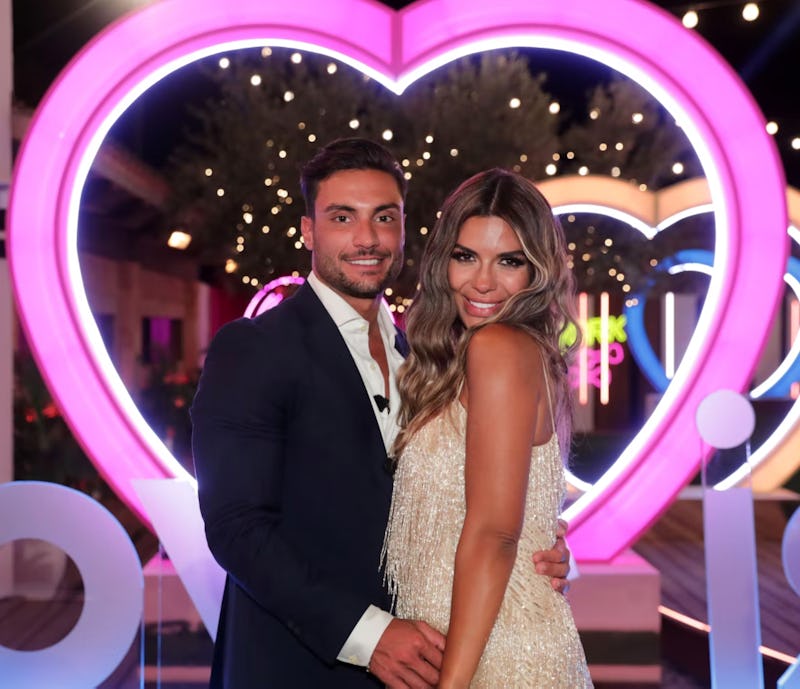 Matt Frost/ITV/Shutterstock
Love Island Season 8 has reached its conclusion, and David Sanclimenti and Ekin-Su Cülcüloğlu have officially been crowned this year's champions. The pair finished in first place ahead of the 2022 runners-up Gemma Owen and Luca Bish, third place couple Dami Hope and Indiyah Polack, and fourth place pairing Andrew Le Page and Tasha Ghouri. This year's villa action has kept fans on the edge of their seats for the past two months, sparking some brilliant Love Island memes in the process. For all major details about the 2022 season, find out everything there is to know about Love Island Season 8 below.
Love Island 2022 Duration
Love Island Season 8 began airing on Monday, June 6 and concluded on Monday, August 1. The series aired nightly at 9 p.m. on ITV2 and ITV Hub. Fans were also treated to the return of Love Island: Aftersun with host Laura Whitmore dishing all the goss on Sundays at 10 p.m. on ITV2 and ITV Hub.
As for viewership, fans have been streaming the new series more than ever before. As per the Daily Mail, Season 8 had earned more than 100 million streams as of June 29, with the grand finale attracting an impressive 3.4 million viewers.
Love Island 2022 Cast
The ever-changing group of islanders continued to expand as the weeks went on. Here is the entire cast of Love Island 2022:
A paramedic by day, Paige describes herself as quite "mumsy" and a "good cook", and is hopeful she'll finally find the one.
With a career as microbiologist, Dami is a pretty busy man. But he's still passionate about love and as an Aries, wants to find his compatible star sign.
Indiyah is tired of dating in the world of social media and is looking forward to potentially building a "real connection" in the Love Island villa, whilst bringing some "flavour and vibrancy".
He might be one of the younger contestants but Liam has a fair few (questionable) chat up lines under his belt, ready for his time in the villa. He left less than a week in, taking the decision to depart himself.
You might already recognise Tasha from a viral ASOS campaign she was involved with in 2021, and now, she's Love Island's first ever deaf contestant. She describes herself as "wild", a "party animal", and "very loyal".
Swapping the Italian sun for the streets of Manchester, Davide is well aware of his "Italian charm" and the effect it has on the ladies but now he's looking for something more serious in the hope of finding his "soulmate".
With the blessing of her dad, football legend Micheal Owen, Gemma is starting her Love Island journey in an effort to find love but also to "have a really fun" summer.
Ikenna is all about the "spontaneity and excitement" and would describe himself as "not really shy", which could make for a potentially chaotic addition to the mix..
Andrew has truly lived the jet setter's lifestyle, spending the majority of his time in the United Arab Emirates, but now he wants to find someone to share that life with.
Working as a nanny, Amber is very used to be around kids and has a lot of patience with them but she finds adults pretty annoying. She's also not afraid to call it how it is, saying a date should "just have a personality and make me laugh."
Luca is a big believer in the power of Love Island and as someone who came out of a four-year relationship recently, wants to find love and connection during his time in the villa.
Based in Essex but known for her work as an actress in Turkey, Ekin-Su has one goal in mind: finding the love of her life. While she can be "quite picky", she's ultimately "looking for a serious man and a serious relationship."
Viewing her time on Love Island as a "once in a lifetime opportunity", Afia wants to find the love of her life IRL rather than on a dating app. Afia was dumped from the island on June 13 when Jaques decided to couple up with Paige.
There's more to Jaques than just being Gemma's ex, and that includes making a girl "feel special". He's keen on bringing "good vibes" to villa life as well as "laughs".
As for what he'll bring to the villa, Jay says he'll be "a supportive islander" who will "bring a lot of fun", "some good laughs," and "maybe some indecisive decisions".
Not afraid to "step of a few toes" to get what she wants, Danica is looking for someone to fit her extroverted personality. The professional dancer says she's "quite a relatable person" who "likes to be silly."
Singer-songwriter Antigoni has already been linked to Love Island S4's Jack Fowler, so now it's her time to find love in the villa. "I'm a Cypriot girl and I love being in the sun," she said. "I've got nothing to lose!"
Charlie's walking into the villa with three girls on his mind – Ekin-Su, Paige, and Tasha. He's "very competitive" and knows what he wants, so the boys better watch out.
Fans were left reeling when it was announced that Series 4's Adam Collard would be rejoining the villa as "the ultimate bombshell." His surprising Love Island return was deemed controversial, to say the least, and arrived a couple of years after his highly-publicised breakup with fellow former contestant, Zara McDermott.
One of the late additions to the Love Island cast, professional footballer Jamie is entering the villa on a mission. Done with playing the field, he's ready to settle down.
This professional model feels that now is the right time to make a splash in the sun-soaked villa. The self-confessed former "Jack the lad" has shared that he is "more mature and ready to find love."
Operations Manager and content creator Nathalia has big plans for the villa. She's determined to bring "fun, flirtation and fire."
This professional dancer was encouraged to join the show by her nearest and dearest. "My friends were like, 'Why haven't you applied for Love Island before? You're literally perfect for it,'" she shared.
25-year-old Deji Adeniyi is an accounts manager from Bedford. He says his sex life is "amazing," but his love life isn't so great. He's looking to improve his chat, and is "very protective" of his feelings.
As for who has the most followers out of the bunch, 22-year-old Summer Botwe is sitting pretty at 55k on Instagram. The events decor business co-owner from Hertfordshire was once an extra in EastEnders when she was younger, starring opposite Lacey Turner's Stacey Slater.
When 22-year-old model Josh Samuel Le Grove isn't posing or boxing, you can find the Essex boy roller-skating around London. He regularly posts about his skating antics to his 33k followers on Instagram.
Aside from being a nightclub manager in Newcastle, 21-year-old Jazmine Nicol is also a fashion model. She regularly works for Pink Boutique, sharing posts with the brand to her 27k followers on Instagram.
Gemma's got some competition in the famous dad department, because 23-year-old Jack Keating happens to be Boyzone singer Ronan Keating's son. Born in Dublin and living in London, Jack works in social media marketing.
27-year-old Coco Lodge from Surrey is a graphic designer, but she also works as a ring and shot girl. She lets boxing and MMA crowds know what number round a fight is on and serves shots in nightclubs and bars.
Cotswolds native George Tasker is a bit of a daredevil and world traveller judging by his Insta. The 23-year-old labourer has just come out of a long-distance relationship — 10,000 miles long, in fact, as his ex-girlfriend was living in Australia.
Youth support worker Chyna Mills has been single for the past two years, and has been focusing on herself. The 23-year-old from Leeds has decided that now's the time to put herself back out there whilst still putting herself first.
22-year-old Manchester model Samuel Agbiji is described as "confident, clumsy and a bit of a fool" by his family. He's guaranteed to bring some laughs into Casa Amor.
Southampton-based Mollie describes herself as a "golden egg," meaning that she doesn't cheat and she's "very loyal". Salmon can also be very picky, though, which is why she's decided to enter the villa so she that can narrow down her choices.
Roofing company director Billy is all about the vibes, whether they be good or bad. The 23-year-old from Surrey is also a romantic. He once asked a girl to be his girlfriend by spelling it out with candles in his garden.
Cheyanne Kerr from Barnsley already has 49k followers on Instagram, and she can expect a whole lot more now that she's entered the villa. The cabin crew worker reckons she'll have a solid connection with fellow Italian Davide.
Love Island 2022 Villa
Following the conclusion of the 2021 series, speculation that Love Island planned to move from its idyllic Majorcan villa to a brand new location was rife among fans. "This series is going to be the longest ever and it's from a brand new location so it's all very exciting," an insider previously told The Sun.
Sure enough, the widely-rumoured brand new Love Island villa was unveiled on the show's launch night on June 6. Per Metro, the upgraded villa is located in Sant Llorenc des Cardassar on the Spanish island of Majorca.
But why did producers decide to move away from the previous Love Island villa? Well, the answer is pretty simple: it wasn't available for filming. "We didn't own [the last villa], we rented it, and we are choosing a new house for this summer so that is all secrecy. It is going to be marvellous," ITV's managing director of media and entertainment Kevin Lygo said.
Love Island 2022 Twists
To the delight of fans, the infamous Casa Amor twist made its return during Season 8. On July 1, the Love Island girls and boys were divided, with the ladies taking up residence in the vamped-up Casa Amor villa. The existing boys and girls were introduced to a new batch of islanders, putting some of the strongest relationships into question. As ever, the post-Casa Amor recoupling brought some intense drama that led to the (temporary) break-up of fan favourites Dami and Indiyah.
Later in the series, Love Island Season 4 alum Adam Collard entered the villa as "the ultimate bombshell" to the shock of contestants and viewers alike. During the aftermath of Collard's surprise arrival, original Season 8 islander, Jacques O'Neill, decided to walk away from the villa for good.
Another shocking twist arrived during the Love Island Season 8 final, during which the much-anticipated prize money twist was scrapped without warning. "The winning couple will split a huge £50,000. And, this year, we are not even asking them to choose between love or money," host Laura Whitemore revealed at the top of the live finale show, leaving many fans both disappointed and confused.
"Wait, so they're not choosing love or money? Not angry just disappointed," one viewer commented on Twitter. "I'm so sad that split or steal stuff got removed, it was so interesting," another fan wrote.
Love Island 2022's Sustainable Fashion Sponsor
In a rather dramatic shake-up, Love Island 2022 swapped fast fashion with preloved styles from eBay. Announcing the new collaboration via Vogue Business on May 19, executive producer Mike Spencer said: "We strive to be a more eco-friendly production, with more focus on ways in which we can visibly show this on screen."
eBay UK's head of fashion Jemma Tadd added: "The impact of Love Island and its stars across the UK is undeniable and together we want to inspire the nation to choose preloved first when shopping. Even if this means buying or selling one or two preloved items to start with, it's a step in the right direction."
On hand to help source preloved goods is celeb stylist Amy Bannerman, who called her new role – Love Island 2022 stylist – as "an all time career high" via Instagram. "Brace yourselves, we've found some gems!"
Love Island 2022 Water Bottle
The water bottles were back for Season 8, but with a glitzy upgrade. The much-loved merch now comes with the name written in gold font. Very on-brand. You can also buy all-new personalised white waffle robes, matching eye masks, passport covers, and even luggage tags. So, why not make your long, hot summer a personalised one?
The Love Island shop now also sells greetings cards with all the show's unofficial catchphrases. Send your crush a "you're my type on paper" card, or ask your housemate to take the bins out with a "can I pull you for a chat?" note. All are available to buy on the official Love Island shop.
How To Apply For Love Island 2023
If you couldn't get enough of this year's Love Island action and fancy giving it a go yourself, you're in luck, because applications for next year's series are now open.
To apply, simply fill out the Love Island 2023 registration form on the ITV website. To take part, you must be over the age of 18 and be able to take part for a minimum of 10 consecutive weeks. You must also have a valid passport, of course.
This article was originally published on