Meghan Markle's 'TIME' Most Influential Honor Makes Her Sound So Similar To Princess Diana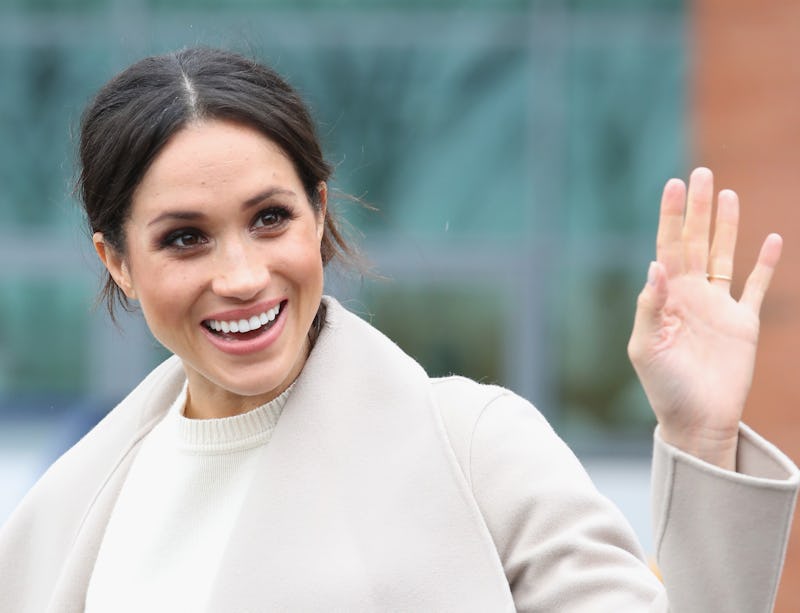 Chris Jackson/Getty Images Entertainment/Getty Images
If anyone deserves to be on TIME's 100 most influential people of 2018 list, it's Meghan Markle. One of her dear friends agrees. Quantico star Priyanka Chopra honored Meghan Markle making the TIME 100 list by writing a brief piece praising the soon-to-be member of the British Royal Family. In it, not only can you tell how much Chopra admires her friend, but also why she believes Markle is exactly where she belongs — in the royal spotlight.
"Somewhere among biryani, poutine and endless conversations, I realized just how deeply Meghan Markle cares for the world," the Baywatch actor's note begins. "With her, what you see is real, and what you get is a relatable young woman with her heart and mind in the right place. Her compassion, evident in the causes she supports, and her drive to break down stereotypes — obvious in her actions — will connect her to a generation in much need of kindness."
But that's not the part of Chopra's dedication that stands out the most. It's what she says next, explaining how Markle has already made a huge difference and will continue to do so once she officially becomes a royal.
Chopra writes,
This ever-smiling, strong free spirit found her prince, fell in love and in turn made a cynical world believe in fairy tales again. But more than anything else, Meghan is an important influencer in a world that needs strong public figures to respect and look up to. People the world can be inspired by. Meghan, standing shoulder to shoulder with Harry, will be a princess for the people.
Similar to Princess Diana, who was known as the "People's Princess", Markle has made a huge impact in peoples' lives already. She's not your typical princess. She's broken boundaries in all kinds of ways and is representing women of color. Markle is an idol for many, but especially women and young girls who aren't used to seeing someone like themselves in a royal role. The former Suits actor has already changed the royal family for the better and challenged the royal status quo in a multitude of ways. She's a modern-day princess, who seems to be ensuring the monarchy adapts with the times.
Furthermore, Markle and Harry invited members of the public to their wedding. From the beginning of their engagement, the couple made everyone aware how important it was for them to include the public in some way on their special day. "Prince Harry and Ms. Meghan Markle have said they want their Wedding Day to be shaped so as to allow members of the public to feel part of the celebrations too," Kensington Palace said in a March statement.
Members of the public won't actually be attending the wedding or reception, but, in addition to seeing the carriage procession, some will be allowed inside the walls of Windsor Castle to watch the arrival of Markle and Harry and their wedding guests. This is how much the public means to them.
Markle and Harry have also interacted with the public in other ways. During many of their appearances over the past few months, Harry and Markle have made it a point to stop and speak to those waiting for their arrival. For example, Markle gave advice to a little girl about becoming an actor, like herself.
On International Women's Day in March, Sophia Richards (above), a student at Oasis Academy in Warndon, England, told People about her encounter with Markle. "Meghan told me that I can achieve whatever I want to achieve. And Meghan said she would like to see me on TV when I become an actress." Richards continued, "It was a dream come true. I will never forget this day."
Markle is absolutely a "princess for the people". She's been giving back to others even way before she started dating Harry. Whether Markle was speaking out about sexism as a kid or giving a speech about gender equality as an adult, the 36-year-old has been a major influence.
She's perfect for the royal family, which is exactly what Chopra previously told Harper's Bazaar Arabia. As the magazine's February cover star, she gushed about Markle and said, "I don't think anybody else would be able to do it the way she will. She's just right for it." Chopra continued, "She's an icon, truly, that girls can look up to, that women can look up to. She's normal, she's sweet, she's nice, she thinks about the world, wants to change it and this was even before any of this happened."
Chopra couldn't be more right. Markle makes an amazing royal. Can you imagine all of the great work she'll do after she officially joins the Royal Family? She and Harry are a true power couple, which is why he also made TIME's influential people list.
Elton John wrote a few paragraphs praising Harry and his achievements. "Harry and I have bonded over a passionate desire to end the global AIDS epidemic, a disease for which his mother did so much important early work to fight stigma and build awareness," John wrote. "He is equally passionate when it comes to reducing the stigma surrounding mental-health issues — blowing a much-needed breath of fresh air into the British stuffiness that has kept vital conversations lurking in the shadows."
Separately, Harry and Markle are inspiring, but together they make an even stronger and more influential duo. You might even call them the royal couple for the people.