Bachelorette Fans Are In Shambles After Michelle Rejected Brandon's Proposal
It sure seems like Michelle will pick the "6-foot, 8-inch Adonis of a man" instead.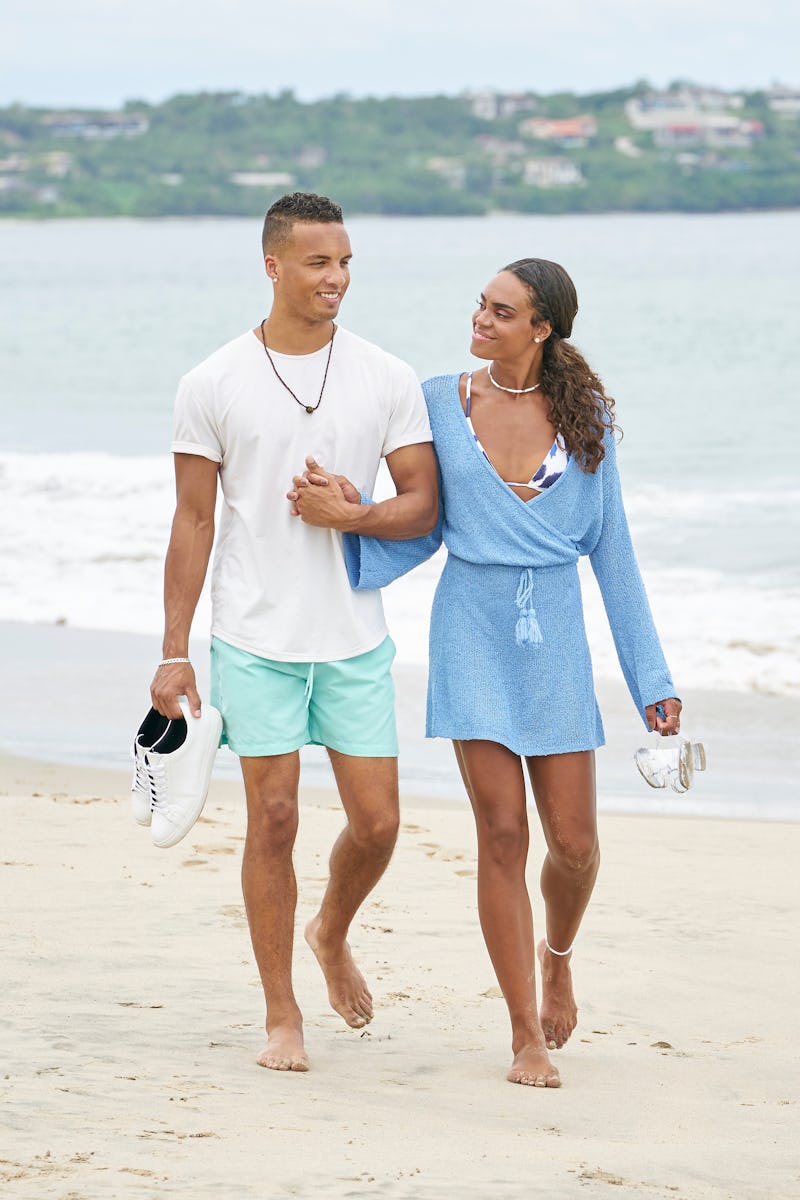 ABC/Craig Sjodin
After a successful meeting with Michelle Young's parents, Brandon Jones continued to pour out his feelings for the Bachelorette during the Dec. 21 finale. But as ABC mixed in footage of Michelle and Nayte Olukoya connecting, fans grew concerned that Brandon would lose out to the "6-foot, 8-inch Adonis of a man" who has "a smile that sparkles like the stars," as ABC once described him.
During the initial segments of the finale, it certainly felt like Brandon was on the fast track to an engagement. The episode kicked off with Michelle telling the cameras, "I didn't know that men like Brandon existed," adding, "This man will do anything for me and wants to make me feel comfortable and wants to make me feel loved." In fact, it wasn't just Michelle who was thrilled by Brandon. Her parents were equally taken. Michelle's dad explained that Brandon reminded him of himself, while her mom stated that she'd be "so happy" about him proposing to Michelle and joining the family. By all accounts, including Brandon's, it seemed as though they were destined for an engagement. "I love you. I just love you," he told her.
However, as the episode continued, it was clear that Michelle's feelings for Nayte might be stronger than her feelings for Brandon. Fan's were openly fearful for Brandon's exposed emotions.
Some fans were hoping Michelle would eliminate Brandon before the final ceremony and spare him the heartache.
Other viewers also sympathized with Michelle's parents, who were clearly over the moon for Brandon at the beginning of the episode.
Brandon started off the final ceremony by saying, "This is it. I feel like I'm going to get engaged today." But after his sweet proposal, Michelle ultimately turned him down, leaving him completely heartbroken but still supportive of her decision, just as he said he would be. "My heart's just on the floor, just in f*cking pieces. At the end of the day, I'm still thinking about her and her happiness."
During the live After the Final Rose special, Brandon came out to recount everything that was running through his mind after the breakup. At one point, Kaitlyn Bristowe revealed she took a somber photo of him on the beach after the split. As one does, I guess? The photo clearly stirred up some emotion in Brandon, making the split all that more difficult to witness.
In seeking closure from Michelle, Brandon accidentally dropped an F-bomb while explaining just how much he missed her parents. Though Kaitlyn wasn't thrilled with the live TV slip-up, Bachelor Nation loved the hilariously honest moment.
Twitter also cheered on Brandon as he questioned her relationship with Nayte.