Chris Harrison Has Reportedly Left The Bachelor Franchise For Good
His final rose comes in the form of a large payout.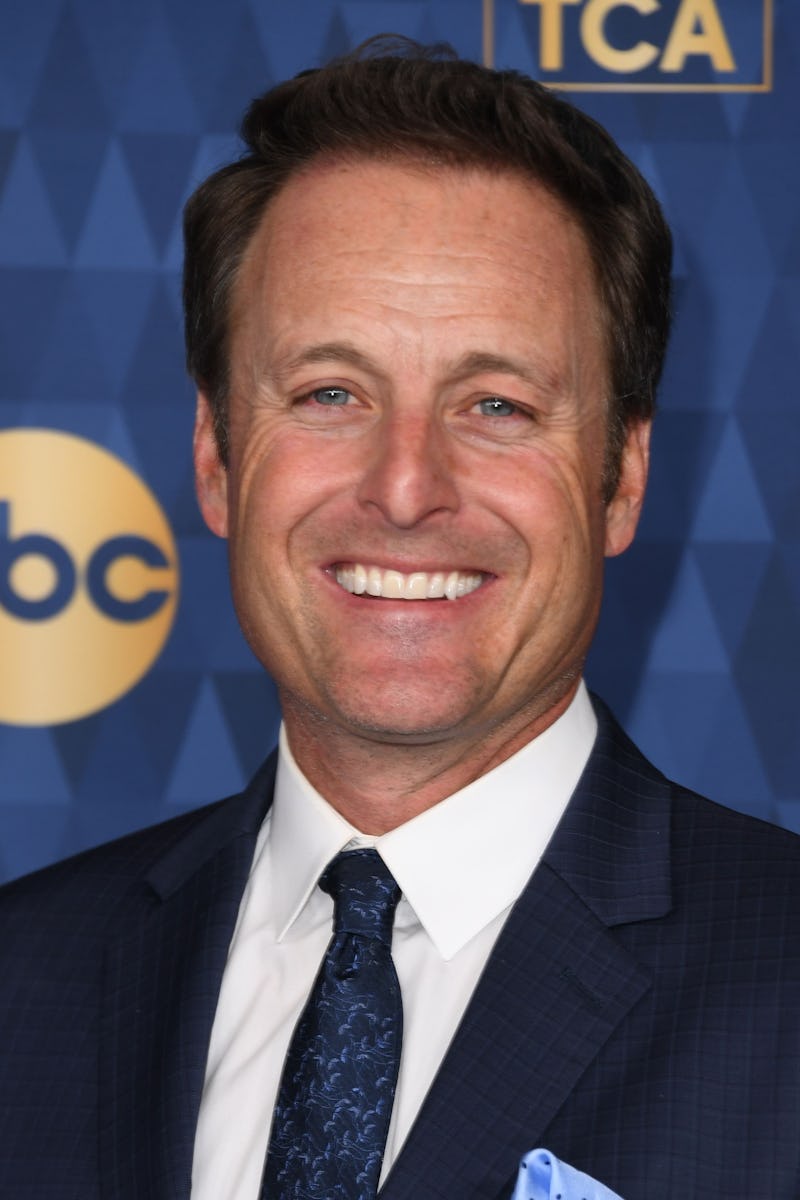 VALERIE MACON/AFP/Getty Images
Longtime host Chris Harrison is officially exiting the Bachelor franchise following his racism controversy earlier this year, Deadline reports. After nineteen years hosting The Bachelor, The Bachelorette, Bachelor in Paradise, and other series spinoffs, Harrison will reportedly receive an eight-figure payout and "promise to keep his mouth shut" regarding the behind-the-scenes conversations that led to him stepping down. Harrison, ABC, and Warner Bros. Television have yet to release official statements on the decision, though per the publication, recent exchanges between the parties have been anything but romantic.
Harrison stepped aside from the Bachelor franchise earlier this year after a Feb. 9 Extra interview with former Bachelorette Rachel Lindsay in which he addressed contestant Rachael Kirkconnell's alleged racist past and controversial attendance of a 2018 antebellum plantation-themed party. During the interview, Harrison claimed he wasn't defending her but also argued that 2018 was a very different time from 2021, adding that fans' criticism of the photos was a "slippery slope" in asking contestants about their past actions.
"The woke police is out there," he told Lindsay. "And this poor girl Rachael, who has just been thrown to the lions, I don't know how you are equipped when you have never done this before, to be woke enough, to be eloquent enough, to be ready to handle this."
Following the chat, fans immediately began calling for Harrison's resignation. On Feb. 10, he issued a public apology to Bachelor Nation and specifically to Lindsay. "While I do not speak for Rachael Kirkconnell, my intentions were simply to ask for grace in offering her an opportunity to speak on her own behalf," he wrote on social media. "What I now realize I have done is cause harm by wrongly speaking in a manner that perpetuates racism, and for that I am so deeply sorry." He also announced that he would not be hosting the "After the Final Rose" reunion special as well as other Bachelor hosting duties temporarily.
While he's been on a break from hosting duties, several individuals have stepped in. Emmanuel Acho hosted the "After the Final Rose" special, while former contestants Tayshia Adams and Kaitlyn Bristowe are currently hosting The Bachelorette, and comedian David Spade has been announced as the host of the upcoming Bachelor in Paradise season. Per Deadline, this week's Bachelorette season premiere was ABC and WBTV's unofficial goal for finalizing negotiations for Harrison's official exit from the franchise. Hours after its first episode aired on June 7, the publication reported the announcement.
Following the news, Bachelor fans took to social media to share their thoughts on Harrison's exit and the reported eight-figure check he received on his way out.
Some fans also came to Harrison's defense, blaming "cancel culture" for his exit and claiming that he's a "good man who made a mistake."
Prior to the official announcement, fans also expressed their thoughts on the Harrison-less premiere episode of The Bachelorette, with many praising the hosting abilities of Adams and Bristowe.