Twitter Is Stunned About Kim Cattrall Joining The Sex And The City Reboot
"And just like that Samantha Jones will save the show once again."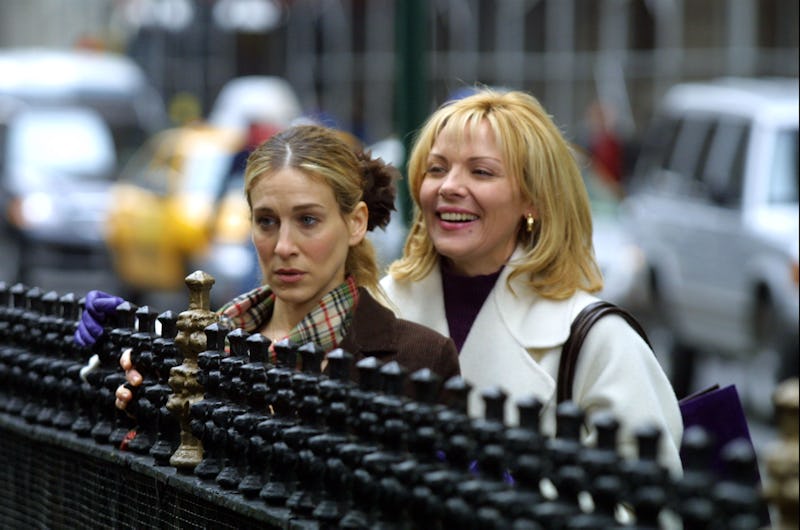 Tom Kingston/WireImage/Getty Images
Hell has frozen over. Kim Cattrall is returning to the Sex and the City universe as Samantha Jones by making a cameo on And Just Like That Season 2, as reported by Variety on May 31. Cattrall confirmed the big announcement on her Instagram the next day by reposting the outlet's headline in celebration of Pride Month. "Happy Pride," she wrote, alongside rainbow and trans flag emojis. The star was famously not asked back for Max's reboot after she withdrew from a now-scrapped third movie, causing tensions with the cast, including lead star Sarah Jessica Parker.
Cattrall will only appear in one scene in the season finale, in which she has a phone conversation with Parker's character Carrie Bradshaw. However, sources told Variety that she filmed her scene on March 22 without seeing or speaking to any of the cast, including Parker, or And Just Like That showrunner Michael Patrick King. Former Sex and the City costume designer Patricia Field, who has not been involved in the reboot, dressed Cattrall for her onscreen cameo.
While Cattrall did not appear in the first season of And Just Like That, her character was kept alive. Samantha moved to London after Carrie dropped her as a publicist, straining their longtime friendship, but they slowly continued to engage over text messages. In the season finale, as Carrie was visiting Paris, they made a plan to meet up.
Despite Samantha's inclusion, both Parker and King have been adamant that they didn't see a way for Cattrall to return to the show, and she was in agreement, telling Variety in May 2022, "That's a no." However, the actor reportedly changed her mind after Casey Bloys, chairman and CEO of HBO and Max Content, approached her about returning as Samantha as production for Season 2 was underway.
Celebrities and fans alike flooded Cattrall's Instagram comments to celebrate her return, with Kris Jenner writing, "FABULOUS!!!!!!!" Needless to say, Twitter was also ecstatic about her change of heart.
Some other people used memes to predict how Cattrall's return would pan out on the show.
Many fans also praised Cattrall for only returning to And Just Like That on her terms, which included not interacting with any of the cast.
Season 2 of And Just Like That premieres on June 22, but Cattrall's cameo will not air until the season finale in August.