Twitter Went Nuts Over Lady Gaga's Makeup-Free Oscars Performance
Gaga's makeup artist shared the "aftermath" of her bare-faced transformation on her Instagram Story.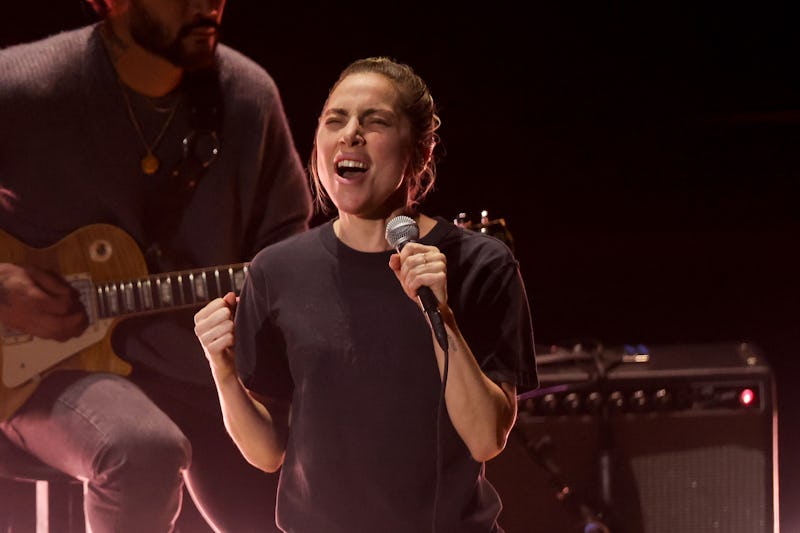 Rich Polk/Variety/Getty Images
Days after producers said she wouldn't perform at the 95th Academy Awards, Lady Gaga took the stage at the 2023 Oscars to perform "Hold My Hand," her Oscar-nominated song from Top Gun: Maverick. Given how her number was put together last minute, Gaga kept it stripped back both musically and aesthetically, and Twitter was shook by just how intimate the performance was.
Rather than having a presenter introduce her, the camera panned to Gaga already sitting onstage, where she introduced her own performance and explained the meaning behind her nominated song. "It's deeply personal for me," she said. "We all need each other. We need a lot of love to walk through this life. We need heroes sometimes. There's heroes all around us. ... You might find that you can be your own hero, even if you feel broken inside."
The Oscar winner removed all of her makeup from the red carpet, donning just a black T-shirt, ripped black jeans, and Converse to perform the film's theme song. She started singing "Hold My Hand" only accompanied by her pianist, with the camera providing very intimate closeups of Gaga's expressions, before the rest of her band joined in for the climax as she let out the high notes.
Gaga's performance look was a huge switch from her red carpet look just an hour earlier. Makeup artist Sarah Tanno gave her a full face before going to the ceremony, revealing in an Instagram post that she only used products from Gaga's Haus Labs beauty range. After walking the red carpet, she then removed every bit of Gaga's makeup. Tanno even posted the aftermath of the transformation on her Instagram Story, sharing a photo of heavily used makeup wipes, swabs, and cotton pads.
The Oscars audience gave her a standing ovation, and Twitter couldn't get enough of her surprise appearance. True to form, there were many memes.
Many Twitter users also poked fun at the camera angles for Gaga's performance, which recalled her very intensely intimate performance of "Shallow" from A Star Is Born at the 2019 Oscars.
A few days after the Oscars, Gaga shared a TikTok video of her rehearsing "Hold My Hand" on the piano in the same gown and glam beauty look that she rocked on the red carpet, pointing out the contrast in her performance. "The rehearsal no one saw," she wrote. "Love you all, thanks for being so supportive of a song that means so much to me."
Get you an Oscar nominee who can do both.
This article was originally published on