Lady Gaga Is Performing At The 2023 Oscars After All
The Oscar nominee was initially not going to perform "Hold My Hand" from Top Gun: Maverick.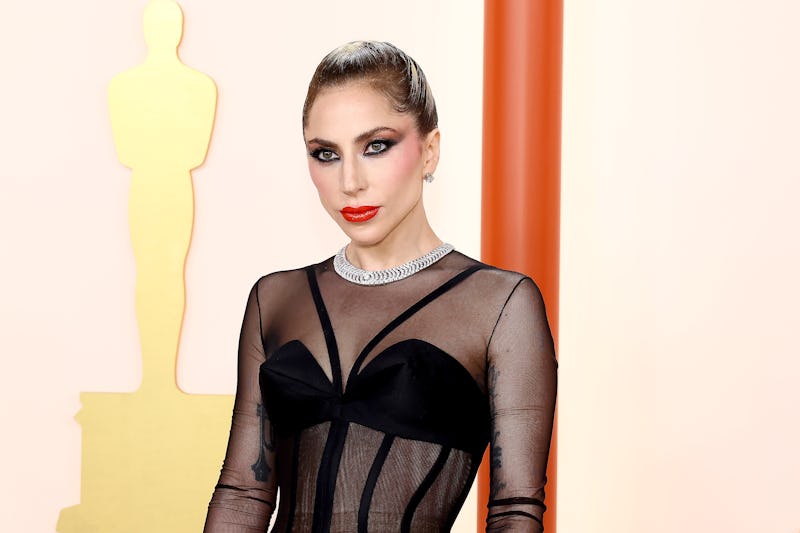 Arturo Holmes/Getty Images Entertainment/Getty Images
Lady Gaga soared sky high with the theme song to 2022's Top Gun: Maverick, with "Hold My Hand" earning her an Oscar nomination for Best Original Song. Given her history with the Oscars, including several stunning performances and touching moments presenting with Liza Minnelli, fans are wondering what Gaga will bring to the ceremony this year. Lady Gaga will reportedly perform at the 2023 Academy Awards after all, just days after Oscars producer and showrunner Glenn Weiss announced she would not perform due to her schedule filming Joker: Folie à Deux, in which she stars alongside Joaquin Phoenix's Oscar-winning role as the Joker.
Several "insiders" have reported to Variety, under the condition of anonymity, that Gaga will now perform "Hold My Hand." The Academy has not officially confirmed the reports, but Gaga did walk the Oscars red carpet alongside her co-nominee and collaborator BloodPop, likely indicating that her last-minute performance is a-go.
Weiss initially announced in a press conference on March 8 that Gaga could not put together a performance that lived up to her standards while preoccupied on the Folie à Deux set. "We invited all five nominees," Weiss explained, per Variety. "We have a great relationship with Lady Gaga and her camp. She is in the middle of shooting a movie right now. Here, we are honoring the movie industry and what it takes to make a movie after a bunch of back and forth… It didn't feel like she can get a performance to the caliber that we're used to with her and that she is used to."
After the nominations were announced on Jan. 24, Gaga celebrated her fourth Oscars nod on Instagram and thanked the Academy for her recognition. "Writing this song for the film Top Gun: Maverick was a deep and powerful experience that I will never forget," she wrote. "So grateful for the magic of music and cinema. Love you my co-writer @bloodpop I'm on set filming now big love to little monsters!"
Regardless of her attendance, Gaga's track record alone gives her a good shot at winning. She was first nominated for Best Original Song in 2016 for "Till It Happens to You" from The Hunting Ground alongside 14-time nominee Diane Warren before winning the category for "Shallow" from A Star Is Born in 2019. She also received a Best Actress nomination for playing Ally in A Star Is Born. Many fans think this should've been her fifth Oscar nod, given how she was snubbed for her role in House of Gucci in 2022 despite receiving Best Actress noms at the Golden Globe, Critics Choice, SAG, and BAFTA Awards.
In Best Original Song, Gaga faces off against Rihanna's "Lift Me Up" from Black Panther: Wakanda Forever, David Byrne and Mitski's "This Is a Life" from Everything Everywhere All At Once, Warren's 14th nomination for "Applause" from Tell It Like a Woman, and "Naatu Naatu" from RRR, which beat both Gaga and RiRi at the 2023 Golden Globes. With Gaga's name now being added to the roster, all five Best Original Song nominees are now set to perform their nominated songs at the Oscars.
This article was originally published on