Twitter Is Startled By Raquel Leviss' Throuple Suggestion On The Vanderpump Rules Reunion
At the end of the final reunion episode, Leviss admitted that she and Tom Sandoval were lying about the timeline of their affair.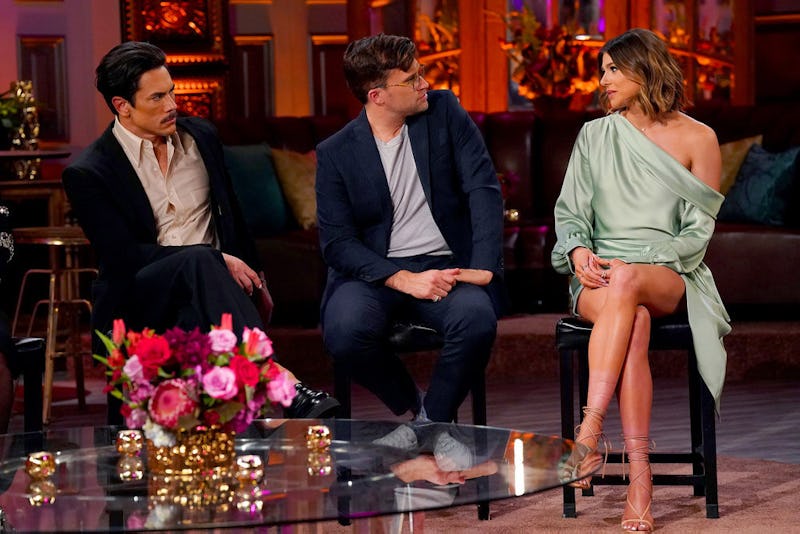 Nicole Weingart/Bravo
After weeks of anticipation, the long-teased #Scandoval revelation from the Vanderpump Rules reunion has been... well, revealed. In the final minutes of the last Season 10 reunion episode, Raquel Leviss admitted several more details about her ongoing affair with Tom Sandoval that negated his purported timeline of how and when it started, and perhaps most shockingly, her suggestion that they become a throuple with Ariana Madix, his girlfriend of nine years.
Sitting down for her final on-camera interview of the season, Leviss admitted that she and Sandoval hooked up for the second time in Mexico when the cast was there for Scheana Shay's wedding, contradicting Sandoval's claim that they only had a one-night stand while filming Season 10. "He feels like it would be less hurtful to say that this wasn't going on for so long," she said. Leviss also attempted to lie about going to Sandoval's hometown of St. Louis, despite there being photographic evidence of her doing so, before a producer cracked down on her. "It freakin' happened," she admitted.
Perhaps most puzzlingly, Leviss suggested that she join Sandoval and Madix's relationship and become a throuple. "I was like, 'Maybe, what would Ariana think of having me as an addition?'" she recalled. "And he was like, 'No, no, no, she would not be into that.' Because I love Ariana as a person, and then also I'm in love with Tom Sandoval, so it didn't seem that far-fetched as an idea. But it was not something in question. God, he's gonna kill me." Needless to say, Twitter was utterly startled.
Leviss went on to claim that Sandoval asked her not to disclose certain information. She ended her interview in tears, admitting that she and Sandoval hooked up at his and Madix's home while Madix was away at her grandmother's funeral. "I know the reason why Tom wanted to lie about it is because it's a really bad look to hook up with someone's boyfriend in their own house when they've gone out of town, especially for a funeral, of all things," she said. "This f*cking kills my soul. I'm so sick of lying. I hate being deceitful." Of course, Twitter was utterly infuriated on Madix's behalf.
The reunion taped on March 23, just a couple of weeks after the cheating scandal unfolded. However, in an interview with Variety published before the Season 10 finale aired on May 17, executive producer Alex Baskin teased major "new information" that not even the cast was aware of. "I will put it this way: There are revelations, and they are revelations that not all of them know now," he said, adding that it was the reason why "we need a little space" before they start production on Season 11.
Immediately, Bravo fans started theorizing what the new bombshell could be, speculating that Raquel could be pregnant, she also slept with Tom Schwartz, or Lisa Vanderpump knew about the affair the whole time, all of which were debunked. Baskin further hinted at the revelation in a June 7 interview with The Hollywood Reporter, saying "the timeline evolves" with a laugh. "What I would say is, by any reunion standpoint, it is a super-explosive event and it is a big twist," he added, noting that it only came to light "a few days" after filming the reunion.
Vanderpump Rules has already been renewed for Season 11, but it's not yet confirmed who exactly will return to the show in light of #Scandoval.