Memes & Tweets About Taylor Swift's Eras Tour Opening Night Concert
Swift kicked off her first tour in five years on March 17, and Swifties on Twitter are overjoyed.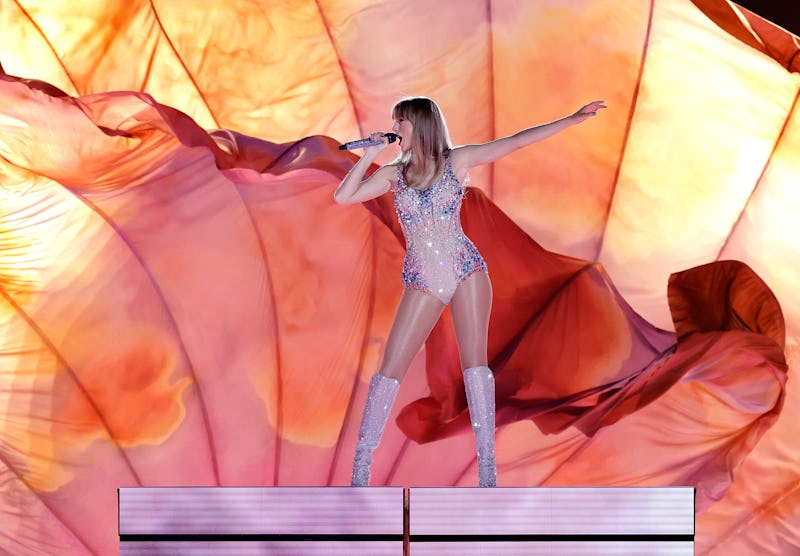 Kevin Winter/Getty Images Entertainment/Getty Images
This night is sparkling, and Swifties won't let it go. On March 17, Taylor Swift officially kicked off the long-awaited Eras Tour, her first trek in five years, at Arizona's State Farm Stadium in Glendale. Fans who weren't able to attend opening night have been following live on Twitter and Instagram, and to say they're overwhelmed by Swift's new show would be an understatement.
As promised by Swift when it was announced in November, the Eras Tour is "a journey through the musical eras of my career," with a setlist that spans all 10 of her studio albums, from her 2006 self-titled debut to 2022's Midnights. As explained by Swift herself while addressing the audience for the first time, her show would go "one era at a time," starting with her 2019 album Lover.
After the tour's first opening acts Paramore and Gayle rocked the stadium, Swift made her grand entrance to the tune of Lover deep cut "Miss Americana & The Heartbreak Prince" before heading straight into fan favorite "Cruel Summer," a combo that immediately shook all Swifties.
After the Lover section, Swift took it back to 2008 with the next act, dedicating it to Fearless (Taylor's Version) and giving Swifties all of the nostalgic feels. Afterwards, she performed songs from her second 2020 surprise album evermore, proving that she remembers it exists.
Her next two albums were 2017's Reputation and 2010's Speak Now. The latter act only included one song, which some Swifties had opinions about, but her singing fan favorite track "Enchanted" still made them particularly emotional.
Next up was the Red (Taylor's Version) act, which ended with none other than "All Too Well (10 Minute Version)."
Finally, after "All Too Well," Swift performed songs from her Grammy Album of the Year-winning folklore for the first time.
After heading out of the woods (pun intended), Swift took the audience back to 1989 to get them dancing once again. For her first acoustic "secret song" of the Eras Tour, which she will switch out every night on tour, she performed "mirrorball" from folklore. Swift then went to the piano and performing her 2006 debut single "Tim McGraw," sending fans into a nostagic spiral.
Finally, Swift arrived at her newest album Midnights for the final act, performing new songs like "Lavender Haze" and "Midnight Rain" for the first time, and ending the show with "Karma."
Long live Taylor Swift.