The Bachelorette's Michelle Young & Nayte Olukoya Explained Their Breakup
The two announced their split in separate statements.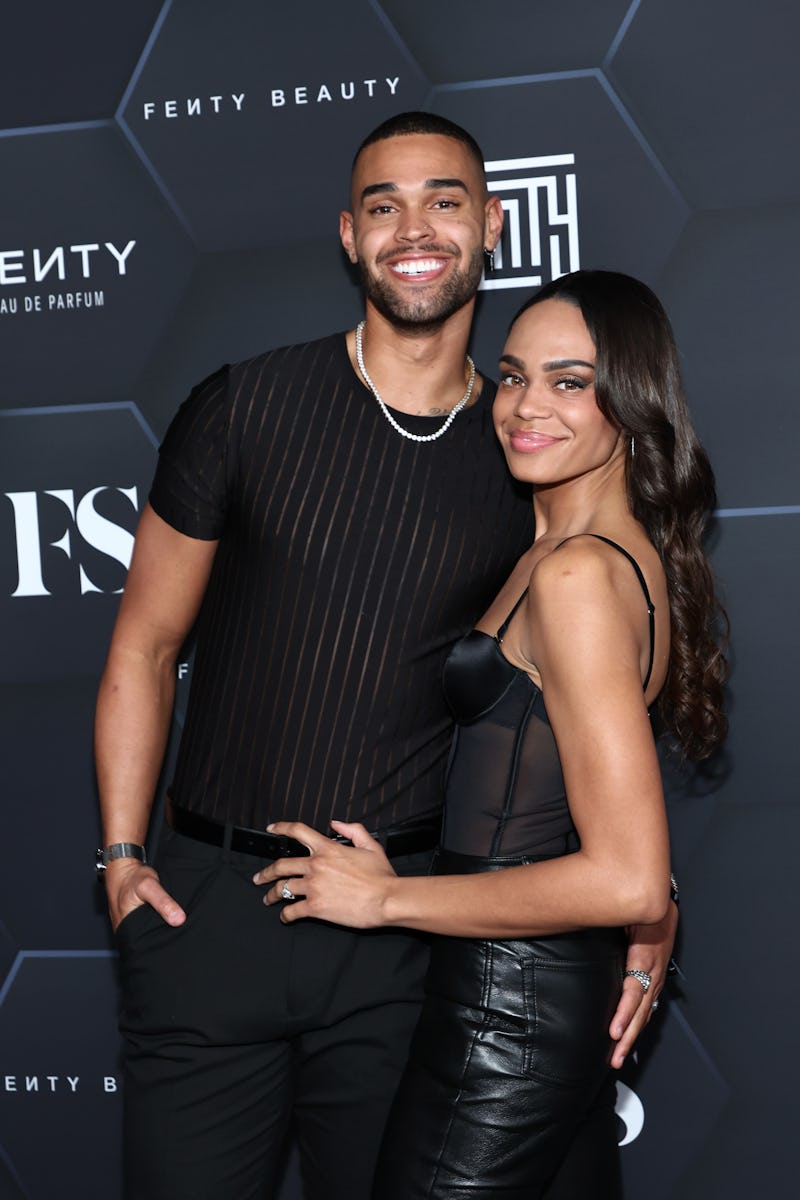 Mike Coppola/Getty Images Entertainment/Getty Images
Just six months after The Bachelorette's Michelle Young and Nayte Olukoya debuted their status as Bachelor Nation's newest engaged couple in the Season 18 finale, the two announced the end of their journey together in separate Instagram statements. Each half of the former couple posted a story on Friday, June 17 that announced their split. Young noted that "having a relationship in the public eye has not been easy," while Olukoya sadly indicated that they weren't meant to spend the rest of their lives together.
"When we both started this journey, we were looking for our Soulmates. Our forever. Our best friends," he wrote, in part. "However, as we grow and learn, we also realize that sometimes somebody that you hold dear to your heart isn't somebody that you're meant to spend the rest of your life with."
The two each highlighted how "real" the relationship was. "I'm struggling to say that Nayte and I will be going our separate ways but I stand with him in knowing the heaviness that is present in both of our hearts as this relationship has been very real for us," Young wrote. Olukoya, meanwhile, asked fans to keep in mind how real it was, noting that they are "human beings going through a breakup, and we all know breakups are difficult."
Despite the end of their relationship, the two seem to be closing this chapter amicably. They shared that they'll continue to support one another, with Young's statement addressing Olukoya directly. "To you, Nayte, you quickly became my best friend and the love I have for you is incredibly strong. I will never stop wanting to see you succeed," she wrote. He similarly described them as best friends and added, "Michelle and I will always cheer each other on, but moving forward, we will be cheering from a distance."
Of course, as they mentioned, breakups aren't easy. The former Bachelorette described "the heaviness that is present in both of our hearts," and said that she's "deeply hurting and will need time and space to work through this heartbreak." Similarly, Olukoya asked for "privacy so that we can mend our hearts."
Prior to their breakup statements, there hadn't been obvious signs that the end was coming. On June 4, Olukoya celebrated his now-ex-fiancée's birthday with a sweet Instagram post. "Happy birthday to this special woman right here!" he wrote. "I admire how strong and caring you are. You have a heart of gold and I appreciate you for so much, Michelle. Can't wait to see what this year brings you." He even added, "I love you toots. Cheers to 29."
Young's most recent post featuring the two of them was on April 27, and it showed them smiling and hugging. "I hear hugging increases serotonin levels…or at least keeps you warm," she captioned the photo. Her then-husband-to-be commented multiple times, including with the people hugging and face throwing a kiss emojis.
A number of fans on Twitter were truly shocked by the split. "Nayte and Michelle please say it ain't so," one wrote. Another fan added, "I'm sincerely hurt, what they had seem[ed] so special." The reaction is understandable, considering the public watched Olukoya go from Young's Bachelorette front-runner to her loving fiancé of several months. This is hardly Bachelor Nation's first breakup, of course, but it's understandably sad for everyone involved, fans included.