Too Hot To Handle Stars Larissa & Nathan Are Flirting All Over Instagram
"I'd butter your crumpet."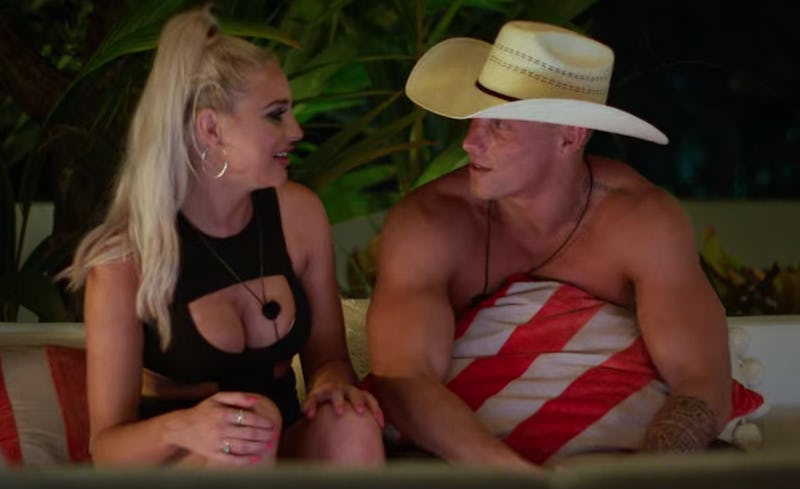 Netflix/screenshot
Spoilers ahead for Episodes 1-4 of Too Hot to Handle Season 2. Just as in Season 1 of Netflix's reality series Too Hot to Handle, Season 2 challenges a new group of singles to refrain from sex in pursuit of a $100,000 prize. Each time they have any form of intimate contact, they lose money. So far, several of the contestants have already broken the rules, but not Nathan Webb and Larissa Trownson. Larissa says the lawyer in her is keeping her above aboard, but the trailer appears to show her kissing Nathan at some point, so maybe things heat up between them.
Initially, Nathan expressed interest in Carly Lawrence — and Larissa expressed disinterest in Nathan. (He and his blonde hair don't check the first box on her list of Bs: brunettes, banter, and balls). But as Nathan started to see Larissa's not-so-serious side come out, he liked what he saw. "I overlooked her and I really shouldn't have," Nathan said. "I want her to see that I'm perhaps different than guys she may be used to."
Will Nathan be able to change Larissa's mind about blondes? Only time will tell, but the two have remained pretty flirty online since filming the show. "Butter wouldn't melt," Larissa captioned a sultry selfie taken a few days before Too Hot to Handle's Season 2 premiere. "I'd butter your crumpet," Nathan commented alongside a heart-eyes emoji. Larissa responded with a flame emoji. "Southern style," she wrote.
On another one of Larissa's posts from earlier in June, Nathan commented, "Miss you." But Larissa just wrote back, "Miss you sharing your food with me," which seems more friendly than girlfriend-y.
Meanwhile, fellow Too Hot to Handle star Melinda Berry has commented flirty messages on a lot of Nathan's pictures, despite only having eyes for Marvin Anthony thus far on the show. "Howdy cowboy," she wrote alongside a heart-eyes emoji when Nathan posted the Season 2 trailer. And on one of his selfies, she wrote, "Howdy handsome," with five heart-eyes emojis. Should Larissa be worried about Melinda? Honestly, it may just be that this cast is extra friendly with each other.
Aside from Larissa and Nathan's online banter, there aren't many clues about their relationship status after the show. Since returning from filming, they've both mostly posted solo thirst traps on Instagram. Nathan has posted several TikToks, but most of them just feature him looking sexy and shirtless. In one video he introduced his followers to his "girl," but it was just him showing off his cute dog.
Elsewhere, Nathan hinted in an Instagram caption that 2021 was "already on track to be my best year yet," but he could be referring to anything — like going on the show — not necessarily finding love. After all, he lives in Dallas, Texas while Larissa lives in New Zealand — not exactly an easy distance to make a relationship work.