Niecy Nash Steps Into Her First Pride Month As A Married Woman
"I don't know what all I'm supposed to know ... but I'm sure the greatest love of my life can guide me through it all."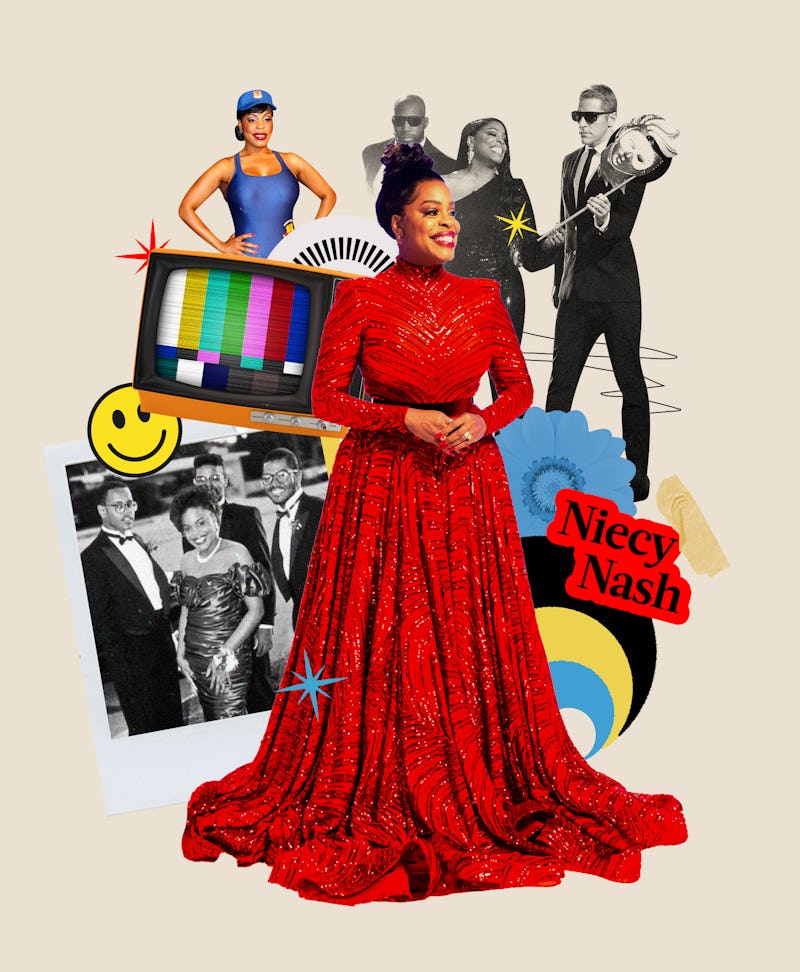 Kevin Winter/Getty/FOX/GLAAD Media Awards/subjug/Niecy Nash
Niecy Nash has unflinchingly lived her most authentic life. "I've always been myself, even when I dated boys," she tells Bustle. Now, she's not dating boys anymore, because in August 2020, Nash surprised fans — and even herself — when she fell in love with singer Jessica Betts and married her in an intimate backyard ceremony. "I had no idea what to expect," she says of sharing the news with everyone. "I just knew I loved who I loved, so the fact that so much love and so much support came our way, I learned that there was more acceptance in the world than I thought."
But don't call it a coming out. The popular comedian and TV host embraces joining the LGBTQ+ community after years of being an ally and rejoicing in seeing their Halloween costumes of her famous characters such as Claws' manicurist-in-chief Desna Simms or Scream Queens' Denise Hemphill, perhaps the worst security guard of all time. However, she doesn't put a label on her sexuality. For Nash, marrying Betts was a simple matter of following her heart and putting her happiness first.
Even if the people that you love don't love the decisions you make, we have to either trust that, one, they will still love you or, two, your higher power will send you a surrogate family.
"I wasn't a person who was not living my truth," the 51-year-old explains. "I lived my truth and I loved the people that I loved when I loved them. And now I love someone else, but in deciding whatever, wherever you want to be in life, you can't put other people's feelings about your life before you. Even if the people that you love don't love the decisions you make, we have to either trust that, one, they will still love you or, two, your higher power will send you a surrogate family."
Professionally, it's business as usual for Nash, whose new chapter hasn't affected how she approaches her career. "Who I am and what I do is two totally different things," she says. "I could have still been married to men and could have played a queer woman on TV with no problems." The fourth and final season of her TNT show Claws, which just premiered on June 6, comes to a close after debuting four years ago. Claws fans will see Desna and her nail salon crew polish their claws one last time to tie up loose ends. "You will finally get to see Desna get everything that she wanted — and then you will see whether or not it was all worth it," Nash teases.
Nash is in the thick of filming Monster: The Jeffrey Dahmer Story, where she plays Glenda, Dahmer's real-life neighbor who was suspicious of the serial killer from the jump. "You finally get to see how this Black woman was disbelieved by the police only to find out if you had listened to her, so many lives would have been saved and so much sooner," she says. The project reunites Nash with Scream Queens creator Ryan Murphy. And if Scream Queens, the cult-classic teen horror series, gets a third season, as widely rumored by fans, she would return in a heartbeat. "Ryan will always have me at hello," she admits.
Nash doesn't recall attending Pride festivals in the past, so 2021 will be the first time she's celebrating in June with the community — as long as she's invited to the fun stuff.
"When people think everybody is inviting you and you're going to be busy, they don't invite you because they assume you got somewhere to go," she explains. "So we'll see if the people show up for me." Note to all Pride planners: Nash would be the life of every party.
Niecy Nash Q&A
What advice would you give to your 16-year-old self?
My 16-year-old self was kind of popping. I think my 16-year-old self would need to give myself now some advice. I guess if I had to give my 16-year-old self any advice, it would be always take the time to feel what you feel, especially the dark things. Give yourself permission to feel it, but don't stay there.
Where do you see yourself 16 years from now?
The same thing that I'm doing now: making a lot of love, drinking expensive champagne, and still working.
What are your proudest moments as a member of the LGBTQ+ community?
I would probably have to say, it's just making the decision to love out loud, whether I was married or not.
Where and how are you celebrating Pride in 2021?
Oh, this is my first go-round. I'm looking forward to being invited to the things. I don't know what all I'm supposed to know or not know, but I'm sure the greatest love of my life can guide me through it all. But I don't even know what to expect.
Who inspires you in the LGBTQ+ community?
I'm a really huge fan of Lena Waithe. I'm a huge fan of Laverne Cox, and also Christian Siriano. Those are the people who come top of mind, the people who I can say are right in my immediate circles. I just love the folks who are unapologetically living their lives. The girl who played my daughter in When They See Us, Isis King, I absolutely love her. I would say Angelica Ross, Janet Mock. Those are the people who I gleaned from.
What LGBTQ+ charity do you love?
I don't know all the charities. I just got here. But I do appreciate the folks who stand in the gap for LGBTQ and trans youth, like the transitional places, the housing [such as the National Center for Transgender Equality and Covenant House]. You never want to feel like because you made a life choice, it affects where you lay your head. So I do like the people who stand in the gap for the youth.
What's the best advice you've got from LGBTQ+ peers?
I guess the best piece of advice I would get was to just be myself. ... They just told me to relax and be myself. And I was like, "Well, I know how to do that."