7 Of The Best Soundsystems & Mas Bands To Seek Out At Notting Hill Carnival
From classics like Genesis Mas to DisYa's surprising lineup.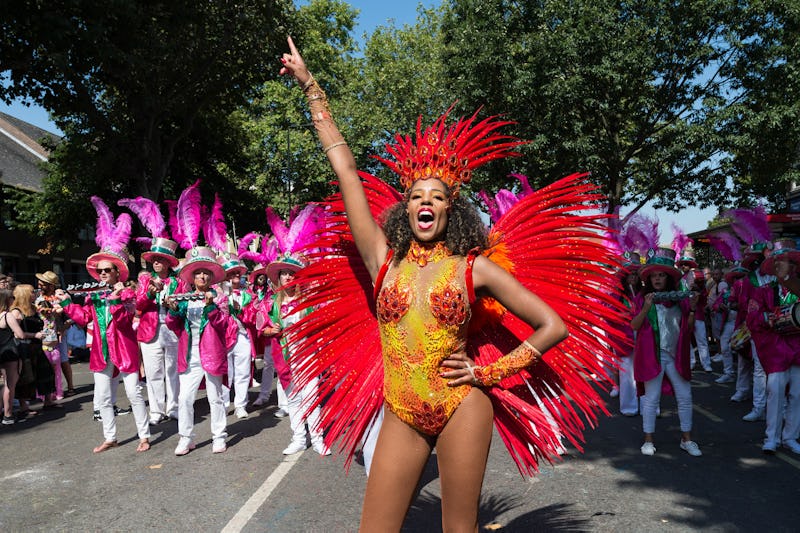 Future Publishing/Future Publishing/Getty Images
After two long years, Notting Hill Carnival is back. Having been cancelled due to lockdown and forced online, the annual street festival is making a welcome return, as is tradition, on the August Bank Holiday weekend. Revellers can expect all the delicious food, amazing costumes, brilliant dancing and, of course, excellent music we have all missed in recent years.
While the music is undoubtedly a huge draw – and we will get into that shortly – understanding Carnival's rich and complex history is key. The three-day festival is now the world's second largest Carnival, second only to Rio de Janeiro's event in Brazil.
A celebration of Caribbean culture, it dates back to the 1960s, and even further back in the Caribbean. But the London event was originally created in response to the murder of Antiguan carpenter Kelso Cochrane in 1959. At the time, racial tensions ran high in the area and many felt the investigation into Cochrane's murder was lacklustre. In a bid to unite the community, Trinidadian activist Claudia Jones started an indoor Carnival, then known as the Caribbean Carnival. Years later, local activist Rhaune Laslett built on the idea and created a children's street fayre, which is widely regarded as the first outdoor Carnival. To this day, Carnival still has a children's day, traditionally the Sunday, while Monday's celebrations are reserved strictly for adults.
Sunday at Carnival is also traditionally when the judging of the Mas (short for masquerade) bands occurs. Particularly prominent in Trinidad and Tobago, Mas dates back to the emancipation of slaves in the Caribbean, prior to which slaves would mock the "upper class" though elaborate costume and masks. Today, the elaborate costuming and parades are a celebration of London's culture, diversity, and inclusivity.
The best bands and sound systems playing over the weekend keep the true message of Carnival at heart. With that in mind, here are the best soundsystems and Mas bands seek out this weekend.