Olivia Colman's On-Air Prank On Paul Rudd Is *Peak* Colman
"The Colman pranked the Ant-Man."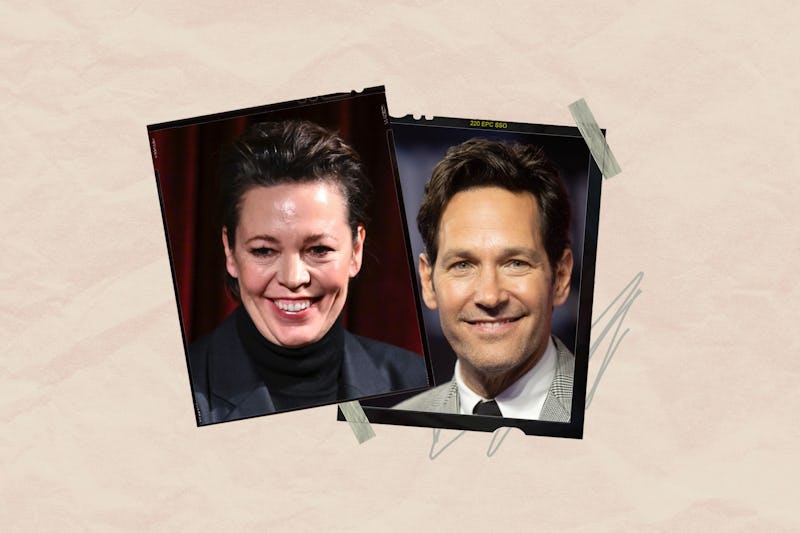 Samir Hussein/WireImage / Daniel Zuchnik/Getty Images for The Academy of Motion Picture Arts & Sciences
Along with her immense acting talent exhibited in Netflix's The Crown and The Favourite, Olivia Colman is also widely appreciated for her endearing sense of humour. The actor's hilarious 2020 Oscars speech perhaps being the most notable example. More recently, Colman left BBC Radio 1 listeners in hysterics when she called in to prank her old friend and Hollywood star, Paul Rudd, who was caught completely off-guard by Colman's on-air antics.
While chatting with Radio 1 presenter Greg James on Feb. 17, the Ant-Man star agreed to take phone-ins from the British public and received a call from an unknown woman with a Welsh accent who "wanted to pick" Rudd's brains.
"What would you do if you had a really, like a really good mate, like for over 20 years, and then this friend, yeah, he doesn't live in England, but he's come to England but he hasn't told you about it," the mystery women asked. "Then, not only has he not told you about it, he's come on to a radio show."
Rudd quickly realised that the phone call predicament was in reference to himself, before the unknown caller asked if he would be "offended" in that situation.
"Personally, if it's me, absolutely not," Rudd responded. "I tend to give everybody the benefit of the doubt."
Radio 1 presenter James then asked the caller to identify themselves, and upon learning it was Colman all along, Rudd exclaimed: "God, you really can do every accent."
After laughing off the prank call, the Hollywood pals reminisced on their 20-year strong friendship, with Colman revealing that the Clueless star used to "stay on the floor of our rubbish flat in South London."
Radio 1 listeners were quick to comment on the hilarious on-air exchange, and many were delighted to learn of the pair's two-decade-long friendship. "The Colman pranked the Ant-Man... brilliant," one Twitter user joked. "Honestly? Life is better after knowing that this friendship exists," another commented.