This Only Murders In The Building Theory Predicts Ben Glenroy Is A Twin
The only thing better than one Paul Rudd is two of them.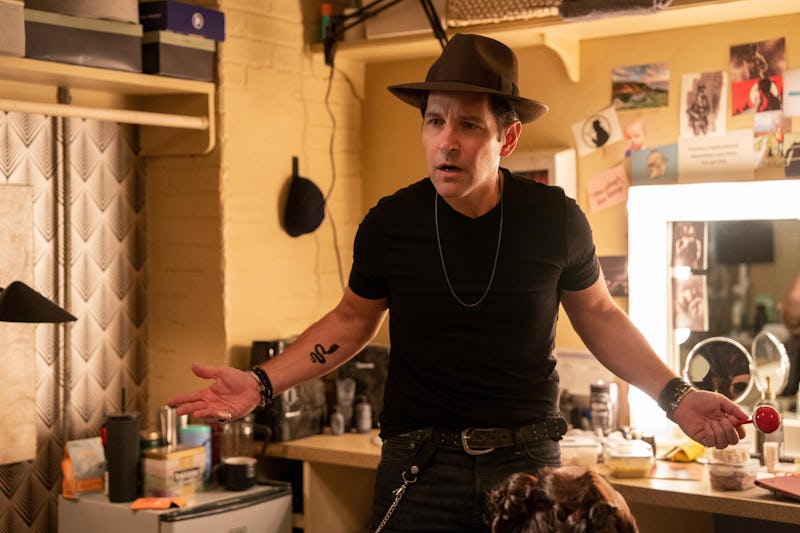 Patrick Harbron / Hulu
Spoilers for Only Murder in the Building Season 3 ahead. Only Murders in the Building fans might be sleuthing harder online than Mabel, Charles, and Oliver. A new Reddit theory speculates that this season's murder victim, Ben Glenroy (Paul Rudd), may secretly be a twin, and the biggest clue is related to an iconic horror movie. A Reddit user pointed out that the wallpaper in Ben's penthouse is eerily similar to the pattern that's seen on the carpet in the Overlook Hotel — another historic building with plenty of room for people to stay — in The Shining.
The possible homage to the 1980 thriller doesn't stop there, though. The creepy twin girls who have been immortalized in the movie could be another thing that links The Shining back to Only Murders. Some fans have taken the ghostly pair as a hint that Ben himself might be a twin, which would explain how he appeared to survive his onstage poisoning before actually falling to his death in an elevator shaft at the Arconia. Another point to support the twin theory is the last time viewers see Ben, he answers a phone call: "Oh yeah, Ben has to take this." Referring to himself in the third person seemed odd unless he meant a twin.
If this theory is accurate, then it actually may have been Ben's identical twin brother who died in the Season 3 premiere.
It's important to note that Ben, a fictional actor making his Broadway debut in Oliver's (Martin Short) new play, resided in the same Arconia penthouse that was previously home to former celebrity residents Sting in Season 1 and Amy Schumer in Season 2. This apartment has been redecorated each season to fit the celeb character, with Sting's place embracing a rockstar aesthetic with dark leathers and textures and Schumer's apartment being much more bright and neutral in tone. Thus, the wall pattern reminiscent of The Shining could very well be an intentional choice to plant this hint. 
Even if this theory turns out to be correct, it still doesn't solve the mystery of who actually killed Ben (and possibly his twin) to begin with, which Oliver, Charles (Steve Martin), and Mabel (Selena Gomez) are investigating. Current suspects include Tobert (Jesse Williams), the filmmaker who's also documenting evidence from the murder case, and all of the people involved in Oliver's play, from Kimber Mia (Ashley Park) to Loretta Durkin (Meryl Streep). If twins are involved, then it's very possible that multiple people were involved in the job.