Will There Be A Party Down Season 4? The Cast & Crew Would "Love To Do More"
There is one obstacle, though.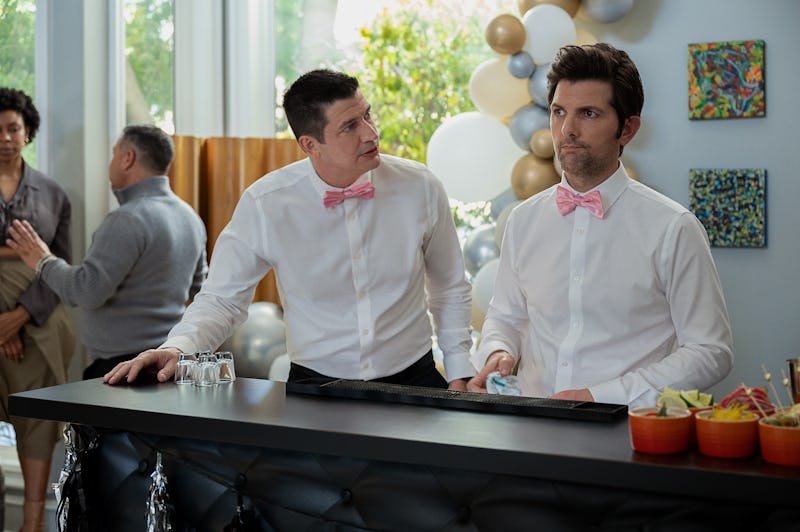 Starz
Party Down Season 3 was the long-awaited follow-up to Starz's cult sitcom about Hollywood catering waiters, and it's been received well — with reviews praising the season for preserving the original run's tone and chemistry. The A.V. Club described it as "a rare TV revival that works."
So far, Party Down Season 4 has not been renewed by Starz. But series co-creator John Enbom told ComicBook.com, "We'd love to do more." The stars have also voiced their support for another round. But they, like viewers, are aware of how long it took Season 3 to get the go-ahead. "In 12 years, people are going to love Season 3," Ryan Hansen told The New York Times.
Hopefully, it doesn't take not that long, though. Here's everything to know about a potential Party Down Season 4, from the cast member who promised to return to a possible filming timeline.
Party Down Season 4 Cast
The Party Down cast is one that genuinely likes to spend time with each other. "This was the only show I've worked on where people came to work when they weren't working," Starr told the Times. So if the show is renewed, you can likely expect everyone to be back — including original stars Adam Scott, Ken Marino, Jane Lynch, Ryan Hansen, Megan Mullally, and Martin Starr. And of course, Jennifer Garner, Tyrel Jackson Williams, and Zoë Chao joined the party for its latest outing.
Season 3 had one notable absence in Lizzy Caplan, who wasn't able to make the reunion season due to conflicts with other projects. However, she's announced her intention to return for a potential Season 4. "You better believe I'm not missing that one," she told the Times in an email.
Party Down Season 4 Plot
Speaking of Caplan, the return of her character would likely be a pivotal plot point of Season 4. This time around, Casey's absence was explained by her flourishing career — but success is a fickle thing on Party Down. "Most of these [characters] haven't really moved on, or they haven't really become any happier, or more fulfilled in their lives," Mullally told the Times. So no matter what, you can likely expect the Season 4 episodes to revolve around more ridiculous parties.
Party Down Season 4 Potential Premiere Date
Party Down Season 3 wrapped filming in March 2022, Hansen shared in an Instagram post at the time. The finished product premiered a year later. So you might think that if Season 4 gets the green light and films soon, it could premiere by spring 2024. And, well, fingers crossed! However, the challenge is finding a time the entire cast is free to film. As Scott told Collider, "Getting the six weeks where this group of now-very busy people could all get together and do the show was a feat in scheduling and engineering."
Still, Scott concluded on a hopeful note. "That's always going to be challenging, but we did it once, we could totally do it again," he said. "I think everyone would love to do more, but I think it's sort of out of our hands."
This post will be updated with the trailer, release date, and additional plot details as more information on Party Down Season 4 becomes available.