Why Isn't Lizzy Caplan In Party Down Season 3?
Her absence is a case of art imitating life.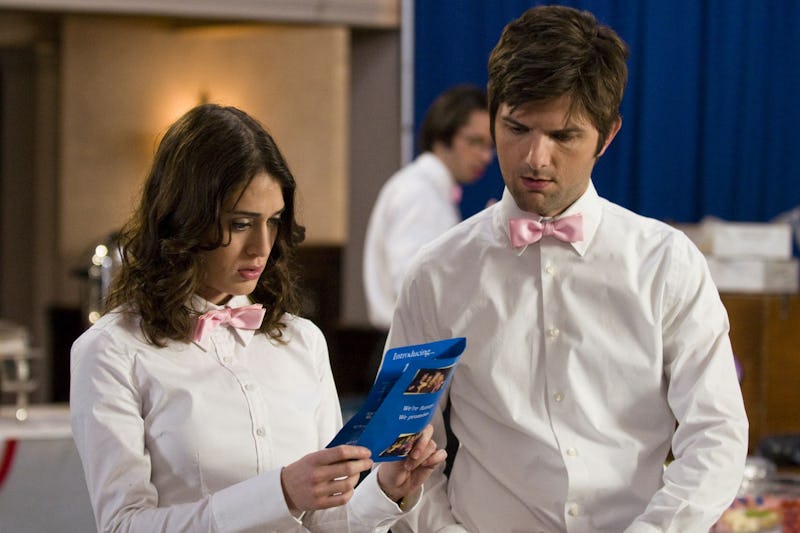 Starz
Like Samantha in And Just Like That... or Sam in the new iCarly, main characters don't always return to their show's revivals for various reasons. In the case of Starz's Party Down, which dropped its highly anticipated revival-slash-Season 3 on Feb. 24, nearly the entire catering crew is back except for one notable character: Casey Klein. The in-universe explanation is that Casey finally had her big break and is filming in New York, which is why she can't meet up with her old co-workers. But what about the actor herself? Why isn't Lizzy Caplan in Party Down this time around?
As it turns out, it's actually an art-imitates-life explanation: she was filming in New York. This isn't too surprising if you've been following Party Down revival news, of course. Back when the project was first announced in 2021, The Hollywood Reporter wrote that Caplan would be filming Fleishman Is in Trouble while Party Down was in production, effectively preventing her involvement. She also began filming a TV adaptation of Fatal Attraction filming shortly after, she told Grazia — and all this after welcoming a son in 2021.
Party Down co-creator John Enbom told /Film that Caplan was "very much a part of it in those early days." Similarly, he told The New York Times that he "originally structured this new season around the on-again-off-again relationship" between Casey and Henry (Adam Scott) but had to pivot when Caplan was unavailable. Scott, for his part, said it was hard working without Caplan, adding that she "wanted to do [the show] badly" in an interview with Entertainment Tonight.
Indeed, while other iconic stars have firmly said "no" to revivals (like Kim Cattrall re: Sex and the City), Caplan has been vocal about how much she wanted to take part in this one. "If I think about it for too long, I start to cry," she told The New York Times in an email. She also told Vanity Fair that she ran into co-star Ryan Hansen at a pumpkin patch, "and we had a little weep about it," she said. "I love them all so much." Caplan offered to fly between New York and Los Angeles to facilitate filming, she told the magazine, but it just didn't work out.
Fortunately, if there's a Party Down Season 4, it seems that Casey will be back. "You better believe I'm not missing that one," Caplan told the Times.