Georgia Clarified Her Post-Perfect Match Timeline With Dom Amid Hookup Claims
Dom and Georgia won the show but broke up soon after filming wrapped.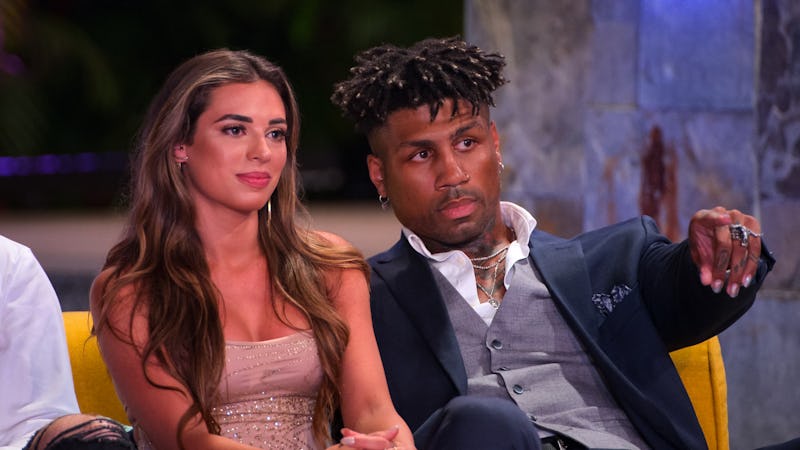 Netflix
Netflix's Perfect Match Season 1 finished airing back in February (and filmed a year ago), but the drama has continued beyond the tropical confines of the show. As you'll remember, Dom Gabriel and Georgia Hassarati were chosen as the winning couple of the season and rewarded with a "pre-honeymoon" getaway. However, they never got to take that trip. Though the couple seemed to be on good terms in a post-show interview with People — simply citing distance as a factor in their split, with Dom saying Georgia has "a beautiful heart" — their breakup is now the subject of controversy with fellow Perfect Match alum Francesca Farago. So, what happened?
In a March 2 couples update video from Netflix, Dom seemed to offer a different reason for the split: Georgia did a podcast with the man who would become her current boyfriend, Too Hot to Handle alum Harry Jowsey. "We were still talking, we were together, and she had to go do a certain podcast," Dom said. "The podcast came out, and the title of the podcast was, 'Georgia and Harry Jowsey fall in love.' Yeah, I'll say I was blindsided."
Harry did say on a podcast that he and Georgia hooked up the day they recorded that episode — the "first day" they met. However, in a March 9 appearance on Nick Viall's podcast, Georgia clarified that timeline. "It was, like, a passing comment months later ... he's cheeky," Georgia said, adding that "he never thought anyone [would] care" about the specifics of their relationship.
And while she and Dom were "still talking" at the time of the podcast, Georgia said there was no overlap by the time she started seeing Harry. "When me and Harry pursued any kind of romantic relationship, I'd ended everything with Dom," she explained. "And the relationship me and Dom had prior to me going on that podcast, it was gonna end. It was not in a good place." (She also said that Dom had plans to hang out with Ines Tazi, who reportedly told Dom she loved him back in Panama. "I expressed how uncomfortable I was," Georgia said.)
So, how is Francesca involved? During Georgia's Viall Files appearance, she made a few claims about her time on Perfect Match that Francesca disagreed with — like claiming that Francesca tried to re-film scenes of her first date with Dom because she regretted letting him go. "This is the craziest sh*t I've ever heard in my entire life," Francesca said on TikTok.
"Not only did that never happen," Francesca continued. "Address what your boyfriend said in that podcast and literally leave me out of it ... the lies are insane."
Francesca also challenged the claim that she told Georgia to pursue Dom as a means of getting Chase DeMoor out of the house. "Lol this didn't happen but ok," Francesca commented on a clip of the podcast.