Ines Celebrated A Breakup After Perfect Match Ended
The Circle: France alum credits Emily in Paris for her casting.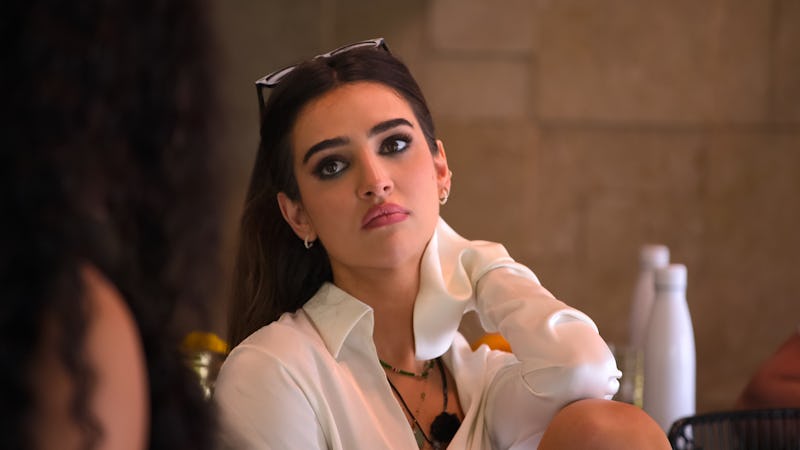 Courtesy of Netflix
After catfishing her fellow competitors on The Circle: France by lying about her relationship, Ines Tazi really was single when she joined Netflix's Perfect Match to find love. Not only returning to reality TV, but even getting involved in the genre in the first place was something the French influencer didn't expect to do. Still, she has an idea why Netflix cast her in the new all-star series, despite being the only international cast member on Perfect Match.
"This is undoubtedly linked to the unalterable attraction of French romanticism, which always makes Americans dream, and of the French woman known for her chic and natural elegance," Ines recently explained to India's Khabar Nonstop. "The Emily In Paris series also contributed to this attraction for the little French girl that I represent."
She also pointed to her dual culture — her father is Muslim and Moroccan; her mother is a French Catholic — as also appealing to producers. "I think I was selected for these reasons: I am full of contrasts and paradoxes, both through the glamorous image that I can convey on social networks but also through my hobbies, my professional or personal journey," she added.
Arriving in Panama to film Perfect Match in March 2022, Ines was most looking forward to meeting Shayne Jansen from Love Is Blind Season 2 and Nick Uhlenhuth from The Circle Season 3. By the end of the first four episodes, which dropped on Feb. 14, Ines had initial sparks with both men, but the romances quickly seemed to fizzle. Though Perfect Match doesn't wrap until Feb. 28, it seems that Ines is single after leaving the show and beginning a new chapter. On Jan. 16, she shared an Instagram photo of a "Congratulations on your break up" cake. "Breaking up from who I thought I needed to be," Ines captioned the shot, adding that she was toasting a new era, which included a move to Los Angeles the same month.
Explaining to Khabar Nonstop that she now wants to express herself via podcasts or social media, Ines, who splits her time between L.A. and Paris, is currently focused on creative endeavors. "After participating in this super American production, I want to focus on more personal projects, linked to my passions and my commitments," she added. "My next projects revolve mainly around fashion. It is an industry in full turmoil, because it is agitated by major identity, cultural and environmental questions. I want to be an actor of this change by joining forces with talents – whatever their background – who feel concerned and share this enthusiasm, while highlighting French fashion! Besides, in Perfect Match I only wore French brands."
After wrapping her time on Perfect Match, Ines has also been modeling, in addition to traveling the world. According to Ines' Instagram, in 2022 alone, she traveled to Morocco, Spain, Israel, and Dubai. Referring to 2022 as being "disruptive & lit" on Dec. 31, Ines wrote that she was "grateful for all the peeps that made it xtra special."