Priyanka Chopra Jonas Opens Up About "High Stakes" Birth Of Daughter Malti
Malti Marie was born 3 months premature in January 2022.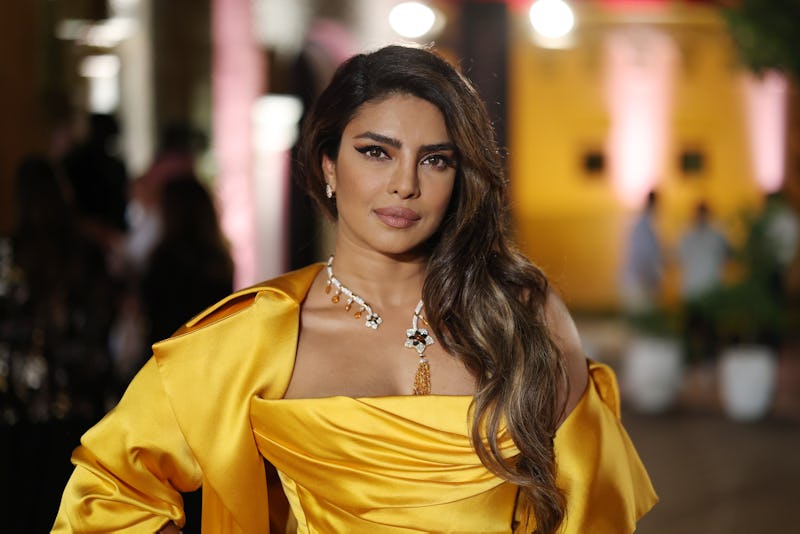 Tim P. Whitby/Getty Images Entertainment/Getty Images
Priyanka Chopra Jonas surprised the world when she announced that she and her husband Nick Jonas had welcomed a daughter via surrogate in January 2022. Now, she's opening up about just how scary her daughter's birth was and how life-changing motherhood has been for the actor.
Malti Marie Chopra Jonas was born premature — a full trimester early — and Priyanka and Nick didn't know if their daughter would survive, as babies born this early are considered at high risk for long-term health complications. "I was in the OR [operating room] when she came out. She was so small, smaller than my hand," Priyanka remembered in a new British Vogue profile. "We spent every single day with her on my chest, on my husband's chest."
Priyanka and Nick have the support of their parents while they navigate parenthood themselves, and the new parents lean on them for emotional support — like when Malti gagged on her first piece of solid food. "They talk me through a lot of this. Like, 'They're gonna gag. It's normal.' But because I'm a NICU mommy, the stakes are so high," Priyanka recalled. "And I have to shed that. I will."
In the days after their Instagram announcement, online trolls descended and accused Priyanka of "outsourcing her pregnancy." In the profile, she reveals that medical complications led to their decision to have a baby via surrogate. "This was a necessary step, and I'm so grateful I was in a position where I could do this," she said, adding that she has no patience for people talking ill about her daughter. "I've developed a tough hide when people talk about me but it's so painful when they talk about my daughter. I'm like, 'Keep her out of it.' I know what it felt like to hold her little hands when they were trying to find her veins. So no, she's not going to be gossip."
Motherhood is also permeating the direction that Priyanka wants to take in her career. Already a New York Times best-selling author, actor, and producer, her focus is to expand South Asian and female representation on and off the camera. "Hopefully I'll open doors for the next generation of girls. Hopefully we'll see more Indian or South Asian actors in Hollywood. I want to commemorate the success and achievements of South Asians outside of India, in the international sphere, because we deserve that position. Why shouldn't we be on the main stage?" she muses. "I want [Malti] to be able to look back and be proud of my choices. I want to do right by her."