Priyanka Chopra & Nick Jonas' Relationship Timeline Includes A Family Nighttime Routine
The couple gives their daughter a bath and reads her a story together every night before bed.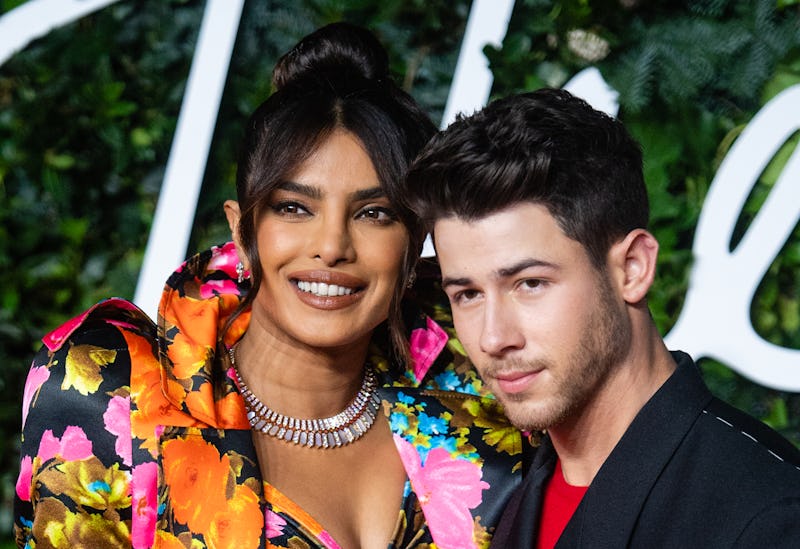 Samir Hussein/WireImage/Getty Images
Arguably, there is no celebrity pairing that was more unexpected than Priyanka Chopra and Nick Jonas — and no famous couple has thrown a better wedding. The stars had vastly different journeys to fame: Chopra went from Miss World to Bollywood star, emerging as one of India's most renowned actors, while Jonas rose through music and Disney Channel, winning the hearts of preteens as a member of the Jonas Brothers. But in the years since they met, both Chopra and Jonas have proven they've never fallen harder for anyone else than they did for each other.
It took a long time for Jonas and Chopra's relationship to become official, but once they started dating for real in May 2018, they were engaged within two months and married after six months. And in January 2022, they welcomed their first child via surrogate, a daughter named Malti Marie Chopra Jonas, whose name wasn't revealed until four months later in April. The couple posted the first Instagram photo of their baby on Mother's Day, letting fans know that their child was in the hospital for more than 100 days before they could take her home. Since then, the couple has documented many of her firsts on Instagram, including her first time celebrating Easter in April 2023. Chopra also shared her family's nighttime routine that same month, and it's super relatable.
Six years ago, if you had told most people — especially Jonas Brothers fans — that the youngest JoBro would end up marrying one of the top Bollywood stars of our generation, they might have laughed (or maybe cried). But their relationship timeline proves that their marriage was a matter of fate and patience.
September 2016: Jonas Slides Into Chopra's DMs
In Chopra's Vogue cover story in December 2018, the couple revealed that Jonas made the first move by DMing her on Twitter. First, he texted friend and Chopra's Quantico co-star Graham Rogers, "Priyanka. Is. Wow." Even Jonas was taken aback. "That's not the way I talk," he told Vogue. But he still got Rogers' recommendation to message her. "I'm hearing from a few mutual friends that we should meet," Jonas wrote to Chopra on Sept. 6, 2016. She responded on the same day, giving him her phone number right away. "My team can read this," she wrote back. "Why don't you just text me." They called their text correspondence "epic," but it was still months before they met face to face.
February 2017: They Finally Meet
After all the buildup, their first meeting could have easily been a letdown, but it wasn't. In fact, it sounds like it was pulled straight out of a movie. Jonas set the scene during their Vogue interview, explaining that they were at the 2017 Vanity Fair Oscars Party when he saw Chopra crossing the room. "I put my drink down, get on one knee — this in front of a bunch of people — and I say, 'You're real. Where have you been all my life?' Like, loud," he remembered.
His grand gesture apparently made an impression. Although Chopra was supposed to be on her way out the door to leave for the airport to fly to India, she managed to squeeze in a drink with Jonas. That drink, of course, was not their last.
May 2017: They Go Out For A Drink
Ahead of their much-discussed first Met Gala appearance, they made time to get together again. They started with a drink at the Carlyle Hotel in New York, and then the evening evolved into a pretty PG-rated hangout at Chopra's apartment. "We hung out for a couple of hours," she said during their Vogue interview. "He patted my back before he left." Yes, she's still mad there was no goodnight kiss, at least. "Your mom was in the house!" Jonas replied. "I thought it was a respectful first night." However, Chopra rebutted with, "It was too respectful if you ask me."
May 2017: They Made Their Met Gala Debut
Chopra and Jonas made their official red carpet debut at the 2017 Met Gala — even though their relationship itself wasn't official yet. According to brother and band member Joe Jonas, the experience was "incredible" for his little brother. "I think she kind of knocked him off his feet," Joe told Vogue. "He was just this little puppy dog." As for the Quantico star, she posted a photo from the event on Instagram, showing a group that included her and Jonas, with the caption, "Good times with good people."
Their joint appearance meant dating speculation kicked into high gear, but they chose to play it coy rather than confirm a romance. "We were on the same table and we already know each other," Chopra explained on Jimmy Kimmel Live later that month. "So he was like, 'Hey, you want to go [to the Met Gala] together?' And I was like, 'Yeah, OK, let's go together.' It ended up working out." Even Jonas told a radio station that he was "single" at the time. That doesn't sound like things had truly heated up yet.
May 2018: Sparks Fly At Another Met Gala
Perhaps there was some truth to their statements. Chopra and Jonas didn't see each other for an entire year after their first Met rendezvous, as they told Vogue. In fact, it took the 2018 Met Gala for them to reunite, after running into each other on the red carpet. However, from then on, the rest was history. After going out together two nights in a row back in Los Angeles, Jonas decided she was the one and called his mother to tell her that he planned to marry Chopra. "This was date three," Chopra told Vogue.
July 2018: They Get Engaged
On July 27, reports emerged that Chopra and Jonas had gotten engaged after two months of (officially) dating. In another movie-worthy moment, Jonas and his brothers shut down a Tiffany & Co. store just to buy the engagement ring, per People. At the time, it was reported that Jonas proposed while in London to celebrate Chopra's 36th birthday. However, the couple told Vogue that he actually proposed on a birthday trip to Crete, and he waited until after midnight so anniversaries wouldn't clash with her birthday celebrations.
"I got down on one knee, again, and I said: 'Will you make me the happiest man in the world and marry me?'" Jonas told Vogue. "No joke — she took about 45 seconds. Forty-five seconds of silence." Apparently, he took her shock as the yes it turned out to be. "I'm going to put this ring on your finger now unless you have any objections," he told her. How romantic.
August 2018: They Confirm Rumors
On Aug. 18, Chopra confirmed engagement reports via Instagram, sharing a photo of her and Jonas from their engagement party in Mumbai, India, her ring in full view. "Taken," she wrote. "With all my heart and soul." Jonas cheekily responded in the comments section, writing, "Wow congrats ... He's the luckiest guy in the world," along with a smug face emoji. He knew what he was doing.
December 2018: They Get Married
After five months of engagement, Chopra and Jonas tied the knot in Jodhpur, India, at the Taj Umaid Bhawan Palace. But as is usual for Indian weddings, a ceremony and reception just weren't enough. The couple threw multiple celebrations from Nov. 30 to Dec. 2, including a traditional Indian ceremony and a Christian service officiated by Jonas' father. "People will need vacations after this wedding," Chopra joked to Vogue before the festivities even began. People reported that they also held a pre-wedding puja at Chopra's home, an intimate prayer ceremony that is often performed to spiritually commemorate a big occasion, like a marriage.
Chopra confirmed their marriage on Dec. 4 by posting a stunning photo from each ceremony on Instagram: one of the couple embracing each other in traditional Indian wedding attire, and one of them walking back down the aisle after their Christian nuptials, with Chopra showing off her extravagant Ralph Lauren gown. "And forever starts now..." she captioned both posts, tagging Jonas and adding a red heart emoji. Chopra continued to share photos from their wedding festivities, including family snapshots from both ceremonies.
May 2019: They Return To The Met Gala
In May 2019, Chopra and Jonas returned to where it all started — the Met Gala. This time around, they made their red carpet debut as not just an official item but a married couple. In a May 7 Instagram post, Chopra wrote that they had come "full circle."
May 2020: They Celebrate Their Beginnings
May 2020 marked the second anniversary of Chopra and Jonas' first date (well, not counting their unofficial Met Gala debut), and Chopra marked the occasion by sharing a photo from an all-important Dodgers game. "2 years ago today we took our very first picture together," she wrote. "Every day since then you have brought me endless joy and happiness. I love you @nickjonas Thank you for making our life together so incredible. Here's to many more date nights."
July 2021: Jonas Celebrates Chopra's Birthday
On July 18, Jonas took to Instagram to celebrate Chopra's 39th birthday (which also marks the day before their engagement anniversary), sharing an image of his wife in a pink lace sari and a throwback photo of young Priyanka wearing a similar outfit. "Happy birthday my love," he wrote. "You deserve all the happiness in the world. Today and every day. I love you."
August 2021: They Get Cheeky On Instagram
Even while on tour with his brothers, Jonas always the time to get cheeky with Chopra — literally. On Aug. 29, the Quantico star shared a selfie on Instagram of her sun-tanning in a bikini, while a shirtless Jonas sits behind her and pretends to cut into her derrière with a knife and fork. "Snack," she captioned the photo alongside the utensils emoji, because what else can you caption that with?
September 2021: Chopra Joins The JoBros On Tour
Chopra joined her husband and his family on the road, sharing some snaps from the journey on Instagram. They went golfing in Arizona and posed backstage, reminding everyone how in love they are.
September 2021: Happy Birthday, Nick
For his 29th birthday, Chopra surprised Jonas with a party, one which looks like it took place in some kind of fancy car showroom. The unidentified room was decked out in banners for the singer and a dinner table set.
November 2021: Roasting The JoBros
In November 2021, Netflix released its one-off comedy special Jonas Brothers Family Roast, which saw stars like Lilly Singh, Pete Davidson, John Legend, and host Kenan Thompson all take turns making fun of the musical trio. Chopra got in on the fun with some of the best lines of the show, including this gem:
"Nick and I have a 10-year age gap. Yes. We do, and there are many '90s pop culture references he doesn't understand and I have to explain them to him, which is fine because we teach other. We teach each other things. He showed me how to use TikTok, for example, and I showed him what a successful acting career looks like."
After the special was released, Chopra admitted that all of her zingers weren't exactly hers. While on Late Night With Seth Meyers, she revealed, "I'll be honest — I'm going to give Nick credit where it's due. He wrote half my jokes because I was so nervous." Give Chopra credit as well though because she made everyone laugh with her delivery.
November 2021: Long-Distance Love Is "Hard"
In November 2021, the superstar couple were apart from one another again, as Chopra was busy filming in London while Jonas was on tour with his siblings. During her appearance on the Ladies First With Laura Brown podcast, Chopra opened up about the difficulties they face as an extremely busy pair and how they make their long-distance relationship work.
"This year has been really, really tough. It was really, really tough to be away from home for an entire year, especially at a time when you can't travel to see your family," Chopra said. "We know each other's hearts and we prioritize each other in everything that we do. We've had individual careers and we're both very clear about never interfering in each other's professional lives."
January 2022: They Welcome Their Baby Girl
In a highly personal Vanity Fair feature, Chopra wasn't shy about discussing that she and her husband did want children. "They're a big part of our desire for the future," the actor said. "By God's grace, when it happens, it happens."
Later that month, the pair shocked the world when they revealed that they weren't just hoping for kids, but that they had just become parents to a baby girl. Chopra took to Instagram to post a very simple announcement, revealing that they were "overjoyed to confirm that we have welcomed a baby via surrogate."
February 2022: A New Mother's Glow
Just weeks after announcing her baby news, Chopra shared her first Instagram post of two sun-kissed selfies, without revealing any more details about her new addition.
April 2022: Their Baby's Name Is...
On April 20, TMZ obtained the birth certificate of Chopra and Jonas' daughter, revealing that the couple named her Malti Marie Chopra Jonas. Their newborn arrived just after 8 p.m. on Jan. 15 at a San Diego hospital.
While they have not confirmed her name or the meaning behind it, Malti is a Sanskrit word of Indian origin that can either mean "a small fragrant flower" or "moonlight." Marie traditionally means "star of the sea," but it is also a Biblical name given how it's the French version of Mary. By choosing a Sanskrit name and a Christian name, Chopra and Jonas continue to honor both of their cultural traditions and upbringings in their relationship.
May 2022: The First Instagram Photo Of Baby Malti
On her first Mother's Day as a parent, Chopra and Jonas shared a sweet photo and a critical update regarding their baby. They took to Instagram to upload a family picture (with the baby's face covered with a heart emoji for privacy) and announced that after 100-plus days in a hospital's NICU (newborn intensive care unit), the baby had finally come home.
Chopra captioned the post by saying:
"On this Mother's Day we can't help but reflect on these last few months and the rollercoaster we've been on, which we now know, so many people have also experienced. After 100 plus days in the NICU, our little girl is finally home. Every family's journey is unique and requires a certain level of faith, and while ours was a challenging few months, what becomes abundantly clear, in retrospect, is how precious and perfect every moment is. We are overjoyed that our little girl is finally home, and just want to thank every Doctor, nurse and specialist at Rady Children's La Jolla and Cedar Sinai, Los Angeles, who were there selflessly every step of the way. Our next chapter begins now, and our baby is truly a badass. Let's get it MM! Mommy and Daddy love you. Happy Mother's Day to all the mothers and caretakers in my life and out there. You make it look so easy. Thank you. Also.. there is no one I'd rather do this with than you. Thank you for making me a mama @nickjonas I love you ❤️"
July 2022: Nick Celebrates Priyanka's 40th Birthday
Chopra and Jonas celebrated her 40th birthday on July 18 with a trip to the beach, as seen in a slideshow of photos that he posted to Instagram, which show the couple kissing on the beach and watching fireworks on the sand. "Happiest birthday to my ❤️ the jewel of July," he wrote. "So honored to be on this crazy ride called life with you. I love you." Chopra reciprocated the sentiment, calling Jonas the "love of my life" in his comments section.
September 2022: Priyanka Celebrates Nick's 30th Birthday
Chopra wasn't the only one with a landmark birthday in 2022. The couple celebrated Jonas' 30th birthday on Sept. 18, with Chopra sharing a video of snapshots from his golf-themed birthday weekend in Scottsdale, Ariz. "Happiest birthday my love," she wrote. "May you always have joy in your life and a smile on your face. I love you @nickjonas. This was a weekend that made my heart so full. It started with wanting to celebrate my husband's 30th but ended up being so much more. All [of] NJ's friends and family filled the room with so much love and joy."
December 2022: Their 4th Anniversary
On Dec. 1, 2022, the couple marked four years of marriage by sharing pictures from their dual wedding ceremonies in India. "And just like that it's been 4 years," Jonas captioned his post. "Happy anniversary my love." For Chopra's part, she shared an adorable photo of them dancing at a reception. "Find yourself a guy that reminds you every day that you're loved," she wrote. "Happy anniversary babe."
April 2023: Malti's First Easter
On April 8, Chopra celebrated her and Jonas' daughter's first Easter. Although Malti was born in January 2022, she had to stay in the NICU until that May, meaning this year marked the first time she was able to celebrate traditionally. To mark the occasion, Chopra posted a slideshow including a selfie with Malti, who's wearing a bunny ears T-shirt that read "Malti Marie's First Easter," and photos of Malti opening and eating chocolate Easter eggs. "Easter Sunday," she captioned the post.
April 2023: Chopra Shares Her Family's Evening Routine
As TODAY's spring cover star, Chopra opened up about her family's nighttime routine. After work every day, she makes the time to give Malti Marie a bath and read a story together before bedtime. "After that, I'm not available," she noted, adding that she and Nick get their own quality time at the end of every day. "[We] have friends over or just sit together and watch a movie."
She also touched on how she found her strength during Malti's 100 days in the ICU after she was born. "I realized very, very early that I did not have the luxury to be scared or to be weak because she was scared and weak. And I had to be her strength as her mom," she said. "I needed to make her feel at every given moment that she's not alone … that we've got her."
Additional reporting by Stephanie Topacio Long.