A TikTok Connects Queen Charlotte To This Kanthony Scene From Bridgerton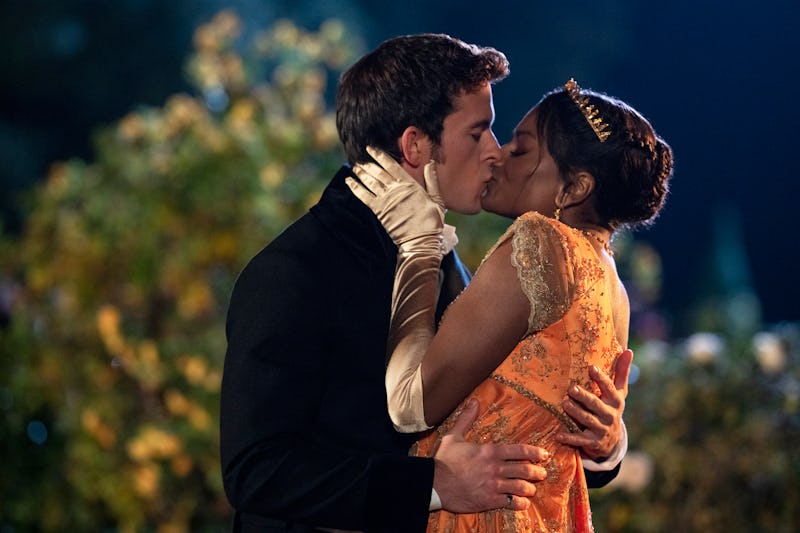 Colin Hutton/Netflix
Though Kanthony stans will have to wait for Bridgerton Season 3 for an official relationship update on the newlyweds, Queen Charlotte does include a few nods to the couple: like when Violet shares that the pair is on their honeymoon, or tells the titular queen that the key to happily married children is them being, well, in love. But as several TikTokers have pointed out, there's another subtle reference to Kate and Anthony that you might have missed on the first watch.
In Episode 6, King George is nervous about appearing at his ball — his first high-stakes social appearance since being crowned king. He tries to back out of dancing with Charlotte in front of everyone, but she offers the words of reassurance he needs to get through it: "Keep your eyes on me. Do not look at them. There is no one here but us." And true to her word, the ensuing dance (set to an orchestral cover of SZA's "Nobody Gets Me") is so intimate that you really do forget they're in front of a very high-profile crowd.
Sound familiar? Back in Bridgerton Season 2, Kate and Anthony had a similar moment on the ballroom floor. After noticing that everyone is watching them dancing, Kate asks Anthony if he wants to stop. "Just keep looking at me," Anthony replies. "No one else matters."
Not only do the moments parallel each other, but as TikToker @aynsley_broom points out, Queen Charlotte has a knowing look on her face as she watches Kate and Anthony dance. "You can even see Brimsley checking on the queen," the user writes in the caption. "These layers are absolutely PHENOMENAL ❤️." Indeed, given how Brimsley once had his own romantic dance moment in Queen Charlotte, it seems he knows better than anyone what Kate and Anthony are feeling — and what Charlotte must be wistful for.
The video, which amassed more than 100,000 likes on its first day, proves that Queen Charlotte and Bridgerton's connection goes even deeper than fans may have realized. According to Golda Rosheuvel, who plays Bridgerton-era Queen Charlotte, this is very much intentional. "The universe sort of swirls round within itself, so it will be fascinating to see whether the fans notice little nuances and Easter eggs that we've put in both productions," she recently told Radio Times. "It's a fascinating way of telling the story."
That may be a good sign for fans hoping to see more play out between the Queen Charlotte and Bridgerton storylines. After all, the new Netflix prequel introduces a few big questions — from Brimsley and Reynolds' fate to the status of Lady Danbury and Violet Bridgerton's friendship after (spoiler alert!) Violet learned of her dad and Lady Danbury's affair back in the day.
Fortunately, Shonda Rhimes told Entertainment Tonight that "there are some story points and story secrets that will definitely be played out in the next season of Bridgerton." She also told Deadline that while Queen Charlotte was "a very specific, closed-ended story," she's "not ruling anything out," such as a potential second season down the line.