Before Queen Charlotte, Sam Clemmett Auditioned For A Major Bridgerton Character
The actor talks to Bustle about his path to Brimsley and how he interprets the butler's solo dance.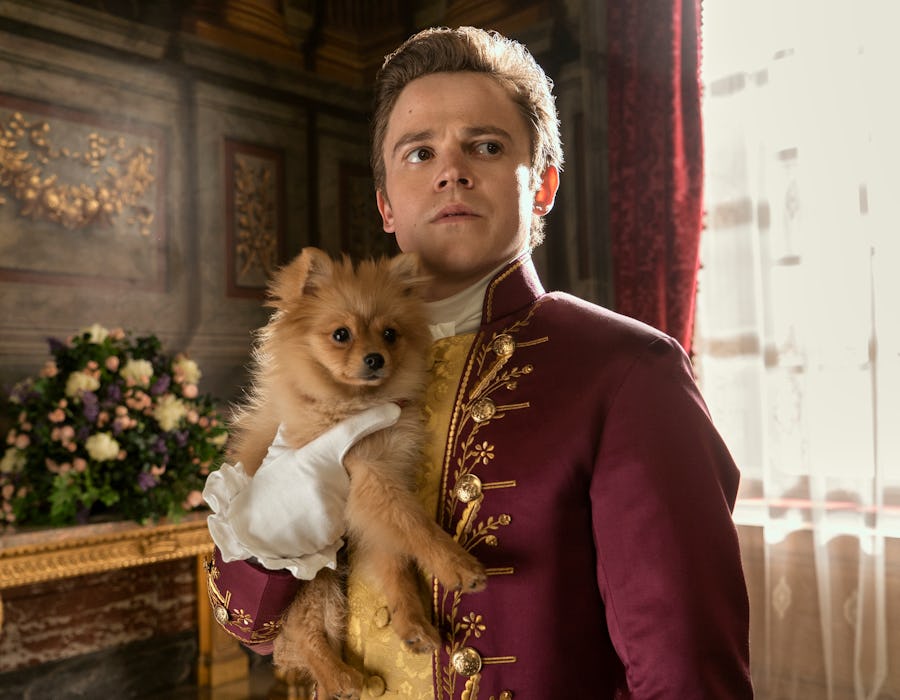 Liam Daniel/Netflix
Spoilers ahead for Queen Charlotte: A Bridgerton Story. Sam Clemmett may seem like a newcomer to the Bridgerton universe, in which he plays the younger version of Queen Charlotte's butler, Brimsley. But the actor's ties to the Netflix franchise existed before its new spinoff about the queen. Back in 2019, he auditioned to play Colin Bridgerton, a part that ultimately went to Luke Newton; and he read for several supporting characters in Season 2. He was offered a role for the latter with a few lines, but his agent advised he wait.
"He was like, 'Just hold out. It'll be worth it," Clement tells Bustle. "So kudos to my agent for doing some of the best agent-ing he's ever done. If it wasn't for him, I wouldn't have been Brimsley."
Brimsley is a key player in Queen Charlotte, serving as a vital source of support for the titular queen (India Amarteifio) while also nurturing a private romance with King George's valet, Reynolds (Freddie Dennis).
Their relationship marks the first LGBTQ+ love story in the world of Bridgerton, a milestone Clemmett doesn't take lightly. "I feel immense pride and honor to be able to tell this part of the story," says the actor, who's 29. "I hope and think we've done it really sensitively, and found the truth of their relationship — which is, you know, two isolated young men that seek solace in one another at a very turbulent time."
Below, the actor opens up about getting advice from franchise alums, how Reynolds and Brimsley's romance plays out, and how this experience compares to his stage role in Harry Potter and the Cursed Child.
There's a closeness between Brimsley and the queen that's also professional, like when Brimsley's reaching out to comfort her in Episode 5. How did you establish that chemistry with India?
India and I sparked up a really close friendship. [There was a] constant conversation between India and the brilliant director, Tom Verica, of "OK, what are the moments that Brimsley can push the boundaries of having an opinion, and how can he try to navigate her through this very turbulent and tricky period in her life without stepping over the mark?" Because it's always duty, duty, duty. For me, some of the most fascinating moments were treading that line. That moment you touched on — without her looking at him [or] him saying anything — that's the foundation of who they become.
Did you get advice from Hugh Sachs, who plays Brimsley in Bridgerton's present timeline?
Hugh was so generous. I was terrified and very nervous to meet him, [but at] the read-through when I met him, he came up and said, "Give me a big hug." He made me feel at ease and gave me all of his backstory that he'd come up with, saying, "This is what I've been using. If any of this is remotely helpful, take it." I took bits here and there. One of the main ins for the character was the physicality Hugh brought to him, because so much of the role [of] butlers is how they hold themselves on a day-to-day basis around the crown.
In Episode 6, Brimsley and Reynolds are privately dancing together, and then the camera cuts to the present, and Brimsley's alone. We don't find out what happened to them. What's your interpretation?
We joke that [Reynolds] is on holiday in the Maldives. We've hung onto [the idea] that they have a forever bond. A lot of people will be like, "Oh, is he dead?" I hope he's still with us! Hopefully one day we'll have all the answers, but without a doubt, they're still very much in love with each other.
Are there any other Brimsley and Reynolds scenes that stand out to you?
There's a scene Freddie and I filmed in Episode 4 [with] a lot of power play going on. We're setting the dinner table for the king and queen. I'm trying to get information out of him; he's withholding information from me. I'm like, "Look, you can trust me. I'm here to serve the crown." And he tells me to step down. That fast-paced dialogue — that back-and-forth — is a representation of their dynamic. It set the tone for us and brought us a lot of joy to film.
This isn't your first time joining a new project in a huge franchise. You played Albus Potter onstage in Harry Potter and the Cursed Child. I imagine it comes with some pressure. How did the experiences compare?
The pressure is absolutely similar. You're handling characters who mean so much to people. I went to the Bridgerton Experience last night in Manhattan, and it reminded me of the power of storytelling. I was watching people get this immersive experience where they feel included and seen, and can be who they want to be. I was really moved by it.
This interview has been edited and condensed for clarity.